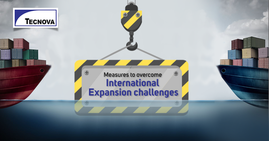 Taking your business to a new market can pose a variety of challenges making your business expansion journey sort of difficult. The thought of operating your company within the boundaries of local regulations and managing stakeholders at the same time that too in a business environment you have limited knowledge of is downright daunting.
Globalization has for sure opened doors of international markets for us but it is our response to underlying challenges that makes our business successful in a different region. If you too are planning to expand your business to a new market, then we've got a list of measures you should consider for the barriers you may face. And this will also serve as guidance before you take final leap of the faith.
Regional Expertise
Establishing your business in a new market requires regional expertise without any doubt. Every different market has its own sets of different idiosyncrasies, which you might ignore in the beginning but are very significant to help your business grow and build a strong foundation. Partnering with seasoned market entry business consultants can prove a great deal.
Regional Partnerships
Partnering with local major players is one of the best strategies to help your business in a new market grow really strong. It also helps in building international reputation. However, you should research well before entering into any sort of a partnership with any local player. The idea is to understand their goals and see if you two are on the same road to a successful journey or not. Ideally, you both should be working together to achieve same goals.
Navigating new laws and regulations of the country
This is one of the most difficult aspects to navigate for a business planning to enter a new market. Different countries have different laws and legislations for international businesses, which pose a variety of challenges when operating a business. Understanding these laws and their implementation is invaluable in developing a business in a different country.
Managing expectations
Managing expectations of all those who will directly be impacted by the operations of your business is very important. You got to invest some time to understand expectations of stakeholders and carefully meet them all even if it requires making some bold decisions. Just make sure that these decisions eventually deliver in the long-term.
Invest some time in research to identify barriers carefully that can stop you from growing your business in an international market. Knowing these barriers can help you implement right solutions from the above list. Partner with a market entry business consultant in India to take your business to new heights.