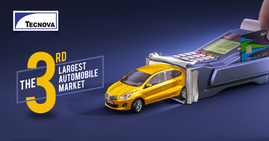 India's automobile industry is one of the largest in the world. It manufactures 25 million vehicles annually, out of which over 3.5 million are exported to other countries. In the year 2019, India's automobile exports grew 14.5% and is poised to grow at a CAGR of 3.05% during 2016-2026. Initiatives taken by the Indian Government and automobile players are driving the country's automobile industry to new heights. With this consistent growth, India is expected to emerge as the third largest automobile market in the world in terms of volume by 2026. 
India has established its position in the heavy vehicle arena as the largest tractor manufacturer, second-largest bus manufacturer, and third largest heavy trucks manufacturer in the world. In India, sale of passenger vehicles has also experienced a rise by 2.7%, two-wheeler by 4.86%, and three-wheeler by 10.27% during 2018-2019. The overall commercial vehicles segment marked a growth of 17.6% in April-March 2019. Since 100% FDI is allowed under automatic route now, the sector is expected to grow even more in the future. India's automobile industry attracted $22.4 billion FDI during April 2000-2019, which is 5.1% of the total FDI inflows.
India's $74 billion automobile industry poised to hit $300 billion mark by 2026
India registered an annual production of 29.08 million in 2018 as compared to 25.33 billion in 2017 at a healthy growth rate of 14.8%. The sector is expected to reach 135 billion by 2020 and 300 billion by 2026 at a CAGR of 15%.
The sub-sectors contribution to the overall market in 2017-18:
Two-Wheeler: 81%
Passenger vehicles: 13%
Three-Wheeler: 3%
Commercial vehicles: 3%
Growth drivers
3 times increase in household income from $6,393 in 2010 to $ 18,448 in 2020. 
India will become the youngest by 2025 with an average age of 25 years. 
72 vehicles per 1000 people by 2025
India accounts for 40% of total and $31 billion of global engineering and R&D spend.
The growth of India's automobile industry is supported by various key factors such as availability of skilled labour at low cost, robust R&D centers, and low cost steel production. The sector offers lucrative opportunities for companies planning to invest in the industry. Contact Tecnova to expand your business to India with top India entry strategies and services.