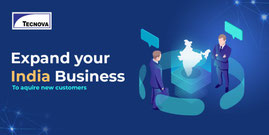 If you're not planning on expanding your business in India, not only are you missing out on economies of scale, you also run the risk of stagnating and losing relevance to your customer. Business expansion in India essentially means acquiring newer customers.
Why Business Expansion is an Effective Growth Strategy
New customers increase demand for your goods or service. The larger your customer base the greater the leverage you earn in negotiating with your suppliers. You can than ask for better input prices and pass on the revenue to further product development or newer distribution channels. This new capital investment will then further boost new customer acquisition, which, in turn will push demand further, resulting in a continued virtuous cycle.
Expansion is also a business strategy that helps you remain within the attention span of your customer in a fast-changing market environment. Even if you're a known brand, competitors keep entering your market space and attempting to fill in the gaps in the way the market perceives your product. These gaps may be real or imagined. One of the best ways to counter competitor strategy is to reinforce the popularity of your product by churning out the sales volumes.
Despite global trade tensions and policy uncertainties, India remains one of the highest FDI-attracting economies in the world. People are still investing in India because there's still good profit being made by global businesses here.
Why Choose India to Expand
When you move to different cities across India, you gain the opportunity to offset slumps in one market by positive movements in another. That is one benefit of India's diversity.
If market intelligence exists about an oft ignored Tier 2 or Tier 3 market where your competitors have not yet expanded, you will gain the advantage of being the first mover. That way, you get the chance to build strong customer connect and recall value before anyone else. You also gain preference in distribution networks with vendors and receive support for future marketing campaigns.
A World Economic Forum report observes how the use of inclusive distribution models for businesses have helped in expanding customer bases in fast growing consumer markets such as India. With one of the world's youngest populations, India also has a significant number of first time consumers. These consumers are eager to try new products and consequently, lesser effort will be required by marketers to convert them into paying customers.
A giant rise in internet penetration will result in over a billion strong internet audience in India by 2030. This trendier, always-connected, millennial audience is more amenable to digital influences than its predecessors.
As ease of doing business in India continues to improve, challenges such as skill acquisition by the new workforce, healthcare, and inclusion of rural India into the integrated market economy would continue to materialize.
As a foreign business in India, an expansion may be your initial strategy for India entry. Alternatively, it may be part of a global push to hedge your investments against risks in a single market.
How to Expand your Business in India
Analyze Markets and Competition

: Expanding your India business is a timed strategy that requires deep insights about the market and prevailing competition.

Finding New Customers

: You may be required to generate new leads in a consumer culture that is not always responsive to the same signals as the rest of the world. Occasionally, finding the right distribution channels could be a problem in an unfamiliar market.

Continue to Monitor Market Indicators:

 As a foreign business, your India expansion plan would require continuous analysis of markets and competitors.

Hire Local Talent

: Acquiring the right talent for your organization may be difficult when you're unaware of behaviors and attitudes. 
For all these reasons, your pursuit of a business expansion strategy may run the risk of failure. To be able to get right research and execution in place you need a local partner who is familiar with the market and the corporate environment.
You also need qualified experts who can help you with company registration in India for new business entities. Tecnova can help you manage a successful expansion strategy through its 100+ strong team of qualified experts and consultants. With over three decades of experience having served 1500+ clients from the US, Europe and the APAC succeed in India, Tecnova is one of the most trusted consulting companies in India.