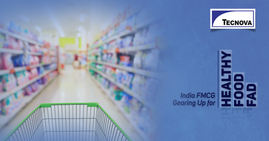 The Indian FMCG sector is slowly rolling the wheels down as it shifts gears to catch up with the growing trend of wellness in the country. This fad has had a large chunk of consumer population today who are ready to pay what it takes to see healthier options on their platter. It however isn't even restricted to any particular class or group. Consumers are actually adjusting their budget to invest money on healthy food items. 
According to a report by Federation of Indian Chambers of Commerce & Industry (FICCI), the evolving retail food service industry identifies health and wellness as two major factors currently driving the FMCG growth in India. The Indian food services industry was pegged at INR 3, 37,500 crore (USD 47.1 billion) in 2017. This business industry is poised to grow INR 5, 52,000 crore (USD 77.05 billion) at a CAGR of 10% by 2022. 
The global wellness industry grew from a $3.7 trillion to a $4.2 trillion market between 2015 and 2017 at the rate of 12.8%. To put that in the economic context, from 2015-2017, the wellness economy grew 6.4 percent annually, nearly twice as fast as global economic growth (3.6 percent).
"Health issues, such as respiratory disorders, skin diseases, food and water-borne diseases are on the rise as a result of growing air pollution and the quality food and water we consume. Poor lifestyle choices and inadequate access to proper nutrition are leading to heart disease or diabetes. This is driving consumers to become more conscious of what they eat. In the past, checking the ingredients written in fine print on packages was not a common practice. Now, more and more consumers have begun to give equal importance to the quality and source of ingredients used in the food," the report says.
Neuro-nutrition these days is gaining immense popularity among consumers. Also called as brain food, it helps brain remain healthy and slows down cognitive decline due to ageing. 
"It is expected that over the next few years, many more will follow this trend. Heritage millets and old-world recipes are being appreciated and are making their way back into kitchens. Whether it is the rise of lifestyle diseases or our love for everything traditional, millets such as jowar and bajra are increasingly being used in cakes, cookies, muffins and crackers extensively. Home chefs, another growing trend, are likely to drive this as they run small kitchens where the recipe for success is a mix of experimentation and quality control," the report adds.   
Indian health food industry stands strong on three foundations today: the app based ordering companies, the packaged food industry, and organic food industry. A lot of companies in the past few years have emerged that are driving the online health food industry in India to new heights. 
"In just a short span of time, these companies have already evolved to cater to seemingly every single conceivable health food need and fad. Whether it is low-carb, high-protein grains and flours, organic produce, healthy versions of old Indian favourites such as rajma or biryani or internationally popular trends, e.g., dried Tibetan lemon, kale chips, activated charcoal drinks, alfalfa seeds or yogurt parfaits, new-age companies offer them all," the FICCI-PWC report states.  
Keeping in view of the gaps for healthy wholesome food alternatives, businesses in the FMCG sector are nowadays carefully steering towards health and wellness segment. The main objective of these companies is to meet the needs of the consumers for minimally processed food items containing natural ingredients while, at the same time, maintaining shelf life and food safety standards. Connect with Tecnova—one of the top management consulting firms in India—to invest in India's FMCG sector today.