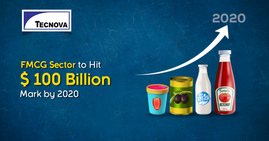 According to a report by India Brand Equity Foundation (IBEF), a trust founded by the Department of Commerce, Ministry of Commerce and Industry, Government of India, the Indian FMCG sector is poised to reach $ 103.7 billion milestone by 2020 at a Compound Annual Growth Rate (CAGR) of 27.86%.
The report further states that the sector has fared exceptionally well in the past few years reaching a mark of $52.75 billion in 2018 from $31.6 billion in 2011. The projected growth of the sector mentioned in the report is 11-12% for the year 2019. 
The highlight of the report is the expected contribution made by the rural segment in the total income, which stands at 11-12% in FY2019 as compared to urban segment's expected 8% growth in revenue. Indian rural segment is undoubtedly the largest contributor to the overall revenue generated by the FMCG sector with a revenue share of 45%. Demand in rural segments of India for quality goods and services has gone up exponentially in the past few years owing to enhanced distribution channels of manufacturing and FMCG companies.
The report says that the Indian FMCG companies are planning to invest in energy efficient manufacturing units to lower costs and benefits the society in the longer term.