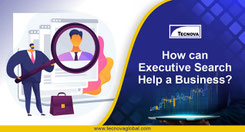 Executive search firms in India assist foreign organizations entering Indian market to find right talents for their executive positions. These firms have years of expertise in searching for the right person for various management positions, ensuring successful execution of business operations.
Companies entering India are aware of India's huge talent pool, but choosing the perfect person for the management position might need more in-depth knowledge. Choosing a firm with experience in hiring executives can substantially ease the process for a foreign company.
Difference between Executive Search Firms and Recruitment Agencies
Though often considered similar, the differences between executive search firms and recruitment agencies are quite significant like-
The primary job of an executive search firm is to find an exact match for that role, whereas recruitment agencies find a suitable candidate for that role. A recruitment agency recruits from a pool of job seekers, whereas business consulting firms hire executives from a pool of passive candidates.
Moreover, a recruiting firm fills all the levels of the roles, whereas executive search firms primarily fill for senior and executive roles. Also, a recruiter works on a contingency basis, whereas an executive works on a retained basis.
Role of an Executive Search Company
Finding a suitable candidate for a top executive position is tough. Executive search firms have years of specialization in recruitment services and make the hiring process smooth. They use their contact, in-depth knowledge of the industry to find the right candidate for such a position.
The roles of an executive search firm are streamlined below.
1. Unique Solution For The Respective Business
Top executive search firms in India often scrutinize the businesses first before launching the executive search. This helps them in choosing the right person that will fit the job. In addition, several businesses prefer India as a suitable destination for its huge availability of skilled laborers. But hiring executives for a top management position is a reasonably tough job.
The solution mainly involves three steps.
Understanding Requirement
To hire executives, it is important to understand what the venture needs while entering India first. This eases the second step, which is to identify the pool.
Candidate Pool Identification
According to data, the value of total employable talent in India was around 46% in 2020, which is a considerably large number. However, it is extremely crucial to identify the right pool of talent that will work for a respective business needs.
The approach to hiring talent is quite skillful. This requires initiating initial interest in the candidate, discussing the job role, and carefully looking for the candidate's background. Good research skills and experience are the ideal solutions for this stage.
2. Engage Actively With Clients To Improve The Search Process
Business consulting firms in India engage actively with their clients to understand their needs and to improve the search process. Communicating with consultants is thus crucial as they offer personalized solutions and assures-
Transparent communication helps a business built trust. Understanding how an executive search firm operates enables foreign firms to ensure they are getting the right talent pool from India's extensive labor market.
While communicating with a new firm, executive search consultants try to understand the in-depth requirements of the business, which helps them realize the exact talent that is required for its management position.
During a client search process, flexibility in hiring is also necessary. Maintaining strict criteria might be fruitful, but as per requirement, flexibility is also important. Executive search firms in India are aware of this fact, and they provide talents that match the business's requirements sufficiently.
3. Create Job Descriptions
While hiring a candidate for the top position in a venture, framing an accurate job description is important. This will fetch the correct applicant. Correct communication with the business and in-depth knowledge concerning operation help executive search firms frame proper JDs that let the applicants know about the position at a much granular level.
4. Finalize Search Plan
Top executive search platforms use their research tools such as their advanced database to finalize between the shortlisted talents faster. The scheme through multiple parameters before finalizing the search plan for a respective job position in a firm.
5. Talent Mapping And Sourcing
Although hiring the persona of a top position is not at all an easy task talent search executive offers comprehensive and time-effective talent mapping and sourcing. As a result, they not only find the talent faster but assist foreign firms in putting the talents in the right roles for successful business execution.
Settling for an executive search firm in India is not an easy task. However, choosing a firm that best matches a company's perspective can be searched through these pointers.
Connections and credibility
Executives with credibility, caliber, and proper connections in the business world are necessary. Top-level executives and leaders suited for C-suites often prefer confidentiality while opting for a position. Only top executive search companies provide such confidentiality and seniority level connections with a proven track record of professionalism.
Persistent expertise in the executive search domain helps build resources that provide a substantial connection with top personals. Furthermore, this expertise helps to identify ideal people with the right sense of responsibility for C-suites.
Proven track-record and well-defined strategy
A perfect strategy is needed to hire personals for CXO. If a firm has proven results to hire these top executives, chances are they can repeat its success as they are now familiar with the market considerably.
For example, Tecnova, a  Top Executive Search Firm in India, has expertise in hiring the best candidates from a huge talent pool that will meet the requirement of the venture. With an extensive connection in the business world, they hire a suitable leader with many qualities.
While venturing into the Indian market, choosing an executive from the massive talent pool does prove challenging for foreign firms. Moreover, failure to select executives for crucial roles can hamper business execution in the long run.  Thus foreign companies must avail of comprehensive executive search support from the best business consulting firms in India. This will help ease the talent hunt process and ensure the right management team that can support business growth.
Reference Links:
https://bit.ly/2ZkXgFD
https://bit.ly/3jyYGDV
https://indeedhi.re/3E82J1M
https://bit.ly/30YgX7g
https://bit.ly/3mcidvD
https://bit.ly/3mb9PfX
https://bit.ly/3jwQLqw