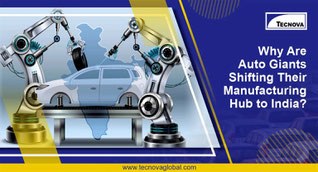 Three major Asian countries India, Japan, and Australia, launched Supply Chain Resilience Initiative or SCRI, with a vision to prioritize certain sectors. The considered sectors include automobiles, petrochemicals, IT services, and others.
As a result of this initiative, Japanese giants are shifting their manufacturing hub in India. This move is also encouraged by financial assistance from the Japanese Government and the favorable manufacturing conditions offered by India.
Major companies are considering shifting their manufacturing base in India due to the unusual disruptions in global supply chain management after the COVID-19 pandemic. Among the 'MITI-V' countries, India is slightly at the forefront of the race due to favourable market demand, Government initiatives, and extensive support from experienced manufacturing consultants India.
According to reports, from FY16 to FY20, the value of auto components in India increased from USD 10.83 billion to USD 14.5 billion. Apart from this, India offers a cost-effective manufacturing base. Additionally, compared with Europe and Latin America, the manufacturing costs are 10-25% less in India.
So, India, the world's 4th largest vehicle market, is booming in the auto sector and is expected to reach USD 300 billion by 2026.
India- The Alternative Global Manufacturing Hub for Foreign Investors
India, often considered China's competitor for the manufacturing sector, is looking for the next big thing in the manufacturing industry. An example includes Japan. The Japanese Government has proposed to offer approximately 23.5 billion Yen (About USD 217 million) for the companies looking to shift their manufacturing base to other countries.
India is certainly a favourable choice for most foreign companies due to its cheap labor costs and attractive Government initiatives. Despite the pandemic, the automobile export shot up in the first half of 2021. As per reports the first half of 2021, automobile exports achieved the highest performance in the last seven years.
The exports increased by 49.9% year on year to 23.6 billion dollars. It should be noted that companies from US, South Korea, Japan, and other countries are not only looking to shift to India as their manufacturing for its rising economy but also for its demographic advantages.
Apart from alluring advantages, the 'Make in India' initiative triggered the ease of manufacturing in India. India is also developing land of 462,000 hectares to attract businesses looking to invest in manufacturing.
Robust Demand: Indian Manufacturing Market
Currently, India contributes around 2% of the global manufacturing output. With a USD 1.82 trillion GDP in FY 2021, it operates below its weight in manufacturing. Despite that, India is seeing a rapid increase in manufacturing and looking forward to dominating the global manufacturing market. Clearly, India hasn't expanded to its full potential despite having all the factors favoring the manufacturing industry.
Manufacturing consulting firms in India help investors understand the market and invest in the most promising sectors like automobiles.
One of the most important aspects that India dominates is the cheap labor costs. Employment in the manufacturing sector will also help India fight the un-employability; that's why India is targeting 100 million jobs in this sector by 2022.
As per estimates of FY2021, this sector's gross value added is currently standing at about USD 348.53 billion. For the third quarter of FY2021, the capacity utilization in this sector is 66.6%. In case of the automobiles sector, the production of domestic automobiles has increased at 2.36% CAGR between FY16-20, with total manufacture of 26.36 million vehicles in FY2020 alone.
The manufacturing industry has several advantages. Those advantages include huge labor resources, less labor cost, adequate availability of raw materials, better quality products, favorable export channels, and others.
Manufacturing consultants India provides additional advantages to look after the benefits and analyses the market in detail.
Government Manufacturing Policy Initiatives
In order to give manufacturing industry a boost, the Government of India has initiated the National Manufacturing Policy. This primarily aims to increase the share of the manufacturing industry up to 25% and create 100 million jobs by the end of the decade.
The Government of India launched this policy by keeping several objectives in mind. Those are:
Simplification of business regulation.
Focus on industry training and skilled labor.
Incentives for small and medium industries.
Simplification for closure of units.
Development of technology with a financial and institutional mechanism.
Small and medium industries.
Employment intensive industry. For example, food processing, leather, garments, texture, food processing, jewelry, and gems.
Industries with strategic significance include IT, hardware and electronics, telecommunication, defense equipment, solar energy, and aerospace.
Industries in which India has an advantage over other countries such as pharmaceuticals, medical equipment, and automobiles.
Capital Good industry such as machine tools, heavy transport, mining equipment, electrical equipment, earthmoving equipment, and machine tools.
Public sector enterprises in the energy and defense sector.
Opportunity for Foreign Investors
India is one of the fastest-growing economies, and it is the fourth-largest unicorn base in the world, currently having 21 unicorns. These are valued at USD 73.2 billion. India is expected to have around 100 unicorns by 2025 and is expected to create around 1.1 million direct jobs.
Manufacturing consulting firms scrutinize the opportunities for the investors and minimize the risk for them.
Apart from this, the Indian Government has also allowed 100% FDI through automatic routes across various sectors to boost production and investments in India. Also, the Government extends the Product Linked Subsidy Scheme, making India's manufacturing sector globally competitive.
Top manufacturing consulting companies India can help with foreign direct investment (FDI) allows foreign funding in India under two primary routes: the Government route and the automatic route.
Tecnova, a leading consultant in India, guides investors to invest in India in different sectors, including automobiles. They guide in consultation, strategize business development and implementation. Tecnova's RISE business model powers marketers looking to enter Asian markets.
This model works in four different levels viz. recruitment, incubation, support, and expansion.
To conclude, the automobile sector in India has many benefits, including low cost skilled and unskilled labor, attractive Government schemes, robust R&D centers, and others. Also, due to rising demands from the emerging middle class, the automobile industry is expected to reach around USD 282.8 billion by 2026.
This auto industry is also expected to shoot up post-COVID-19 pandemic; thus manufacturing consultants India expect this to be one of the most important sectors for investment for foreign investors.
Reference Links:
https://bit.ly/3AEVSM6
https://bit.ly/3CIeGKV
https://bit.ly/3i2ZWi1
https://bit.ly/3kBWb4J
https://bit.ly/3CFOf8x
https://bit.ly/2XNLvYg
https://bit.ly/3o4BsbY
https://bit.ly/3AD5R4h
https://bit.ly/3i2GNMU
https://bit.ly/3hYVHUs
https://bit.ly/3EQoNPB
https://bit.ly/3zO3bzX
https://bit.ly/3kzAIcu
https://bit.ly/3CKNICe