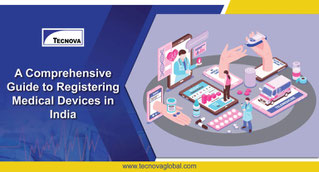 Step by Step: Registration Process of Medical Devices in India
India belongs to one of the top 20 medical device markets in the world. As per various reports, the medical device market in India is expected to reach a valuation of USD 65 billion in the year 2024. Also, favorable Government policies like 100% FDI and support for R&D create profitable opportunities for foreign businesses in this sector.However, earlier manufacturers of medical devices were free to sell their products in the Indian market without any stringent regulation process. But since 2006, all medical devices imported from overseas must comply with a mandatory process of medical device registration in India regulated by the CDSCO.
Given below is a detailed overview of the various classes of medical devices and their registration process in India.
Classes of Medical Devices in India
Medical devices in India are categorized into 4 different classes based on their risk factors. Have a look-
Class A
All low-risk category products fall under this class. This includes thermometers, surgical dressings, bolster sutures, and more.
Class-B
Medical devices that belong to moderate risk categories fall under class B, like hypodermic needles, suction equipment, forceps, rectal balloon, vial adapter, etc.
Class C
Medical devices that belong to the moderate-high risk category fall under class C; this includes bone fixation, vein ablation device, bone cement, etc.
Class D
This class includes all high risk-medical devices like a coronary stent, bifurcation stent, implantable devices, and more.
Step By Step Process Of Medical Device Registration In India
 Determine Whether A Medical Device Needs Registration Or Not
You must first determine whether the medical device you want to sell in the Indian markets needs registration or not. The manufacturing and distribution of medical devices in India are completely regulated by the Drugs and Cosmetic Act, 1940. Currently, there are 22 "Notified Medical Devices" which are regulated by the said Act. Here is a list of some medical devices which require registration for production and distribution in India-
Cochlear implant
Syringes
Endotracheal tube
Spinal needles
Cardiac stent
Dental implant
Annuloplasty ring
Catheters
Tracheostomy tubes
Surgical sealants, among the others
All these devices must necessarily be registered with CDSCO or Central Drugs Standards Control Organization. Also, in some circumstances, the Drugs Controller General of India (DCGI) reviews certain specific product details and may grant a "No Objection Certificate" (NOC) to exempt them from the registration process.
Appoint An Authorized Partner In India
It is a mandatory rule that medical device registration in India cannot be offered to someone who is not from India. Therefore, foreign organizations must have an Indian representative who will undertake the registration process on their behalf. To this end, it is always beneficial to hire a pharma regulatory consulting firms in India that will act as a point of contact for the registration authorities in India. Such consultancy firms will help get device approval, assist in the registration process, and conduct vigilance and reporting.
Please note that foreign organizations must hire only an authorized Indian partner with a wholesale drug license in the form 20B and 21B to assist them in their registration process. Hence they must always choose a leading pharma regulatory consultant in India.
Once the process ends, a manufacturer will hold the registration certificate and thereby can freely appoint distributors to manage their supply chain in Indian market
Submit All Regulatory Documents Under Form 40
Once you have hired a leading pharma regulatory consultant in India to help you with the medical device registration process, you will have to submit a dossier based on all the required documents.
Here is a detailed overview of all the essential documents needed for the registration process-
Form 40
TR6 Challan
PMS ( Post-market surveillance) report
Schedule D(I)
Power of attorney
Quality assurance certificate
Conformity declaration
Master file of the device
Master file of the plant
Sale certificate
Regulatory approvals
CE certificate
Also, you have to pay a fee for the registration process. The CDSCO approved fee for the registration of a single medical device in India is USD 1000 and that for a single manufacturing site is USD 1500. It can take around 6 to 9 months to complete the registration process. Furthermore, if a particular product does not have a predicate in India, a special committee will be appointed to assess the safety and efficacy of the product. In such cases, it can take more than 9 months to complete the registration process.
Obtain Registration Certificate In Form 41
On receiving the documents from the Indian partner, the CDSCO will carry out an investigation and will send the first series of queries after 3 months. Your chosen pharma regulatory consulting firms in Indiawill have to answer the queries and revert back to the CDSCO. Following this, CDSCO will either issue the license if they are satisfied with the answers or else will issue another set of queries.
The registration certificate thus acquired will be valid for 3 years.
Acquire The Import License In Form 10
To obtain the Import license in Form 10, the distributor will have to submit an application in Form 8 and Form 9 to the CDSCO directly. The authority will process such requests within 4 to 12 weeks.
Once you obtain the import licenses and registration certificate, you can initiate shipment of your respective medical devices to the Indian Territory and also distribute them in the market.
However, the authorized Indian partner must immediately report any change, alteration, or adverse events related to the device in other countries to the CDSCO.
How Can Pharma Regulatory Consultants In India Help?
The entire process for medical device registration in India is extremely complex. Without a detailed understanding of the norms and statutory rules, foreign firms can't get a license for importing and distributing their products in the Indian market. A leading pharma regulatory consultant in India like Tecnova offers a comprehensive program of company incorporation and regulatory compliances, which involves-
Framing market entry strategy
Complying with the DCGI rule
Initiating and completing the registration process with DCGI
Dealing with all CDSCO queries
Obtaining a license for imports and distribution and more
With such end-to-end assistance, pharma regulatory consultants in India help foreign firms enter the medical device market in India smoothly.
Hence, new firms in the medical device sector in India must collaborate with a leading consultant and frame a strategic plan. It will help eliminate the hurdles of the registration process and ensure sustainable business growth in the long run.