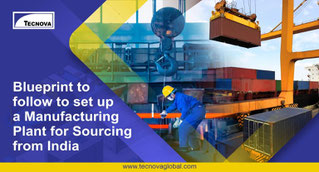 In current times, India is significantly stepping up efforts to attract and improve foreign investments in the country. The "Make in India" drive acts as a boost to the said initiative. Plus, aided by favourable government policies, and comprehensive support from manufacturing consulting firms in India, it creates a lucrative opportunity for foreign investors for sourcing from India.
Factors to Consider When Setting Up a Manufacturing Plant for Sourcing from India
There are many factors that foreign investors have to consider while setting up a manufacturing plant in the country.
Market Demand for Respective Products and Services
Investors in the manufacturing segments must conduct detailed market research to gauge the demand for a respective product or service. Being an emerging market, consumer demand in India is extremely dynamic. Therefore, investors should adequately research and formulate ways to cope with the ever-shifting market demand and assess the future prospect.
The Indian Government introduced the EOU or Export Oriented Units Scheme to boost exports, increase foreign investments and create employment opportunities. EOU scheme compliments the schemes for Free Trade Zone, Export Processing Zone, etc.
Foreign companies who are looking at sourcing from India and wish to export their entire production are allowed to set up as an EOU in India. The scheme offers a number of benefits like reimbursement of GST, fast-track clearance facilities, procurement of capital goods or raw materials duty-free, reimbursement of duty paid on fuel procured from domestic companies, and more.
As per a report, India ranked 42 out of 152 countries in 2019, with a Manufacturing Value Added (MVA) totalling USD 430.25 billion. Also, in the World Bank's Ease of Doing Business Ranking 2020, India climbed up to the 63rd position from 142nd back in year 2014.
Further, in 2019, India's manufacturing portfolio primarily concentrated on chemicals and chemical products, coke, refined petroleum products, nuclear fuel, food and beverages, basic metals, and motor vehicle. However, with rapid infrastructure development and supportive policies, the manufacturing sector in India is now open to further diversification across different industrial sectors.
Investors must collaborate with leading industrial plant setup consultant in India to adequately understand the eligibility criteria for EOU and full-fill all the obligation process for EOU status.
Proximity to Ports for Ease of Export
Another crucial aspect to consider while setting up a manufacturing plant in India is the locations of export ports. Since the manufactured products in India will be sourced to different markets across the world, investors must ensure to choose locations that are within close proximity to the main dry and wet ports for exports.
Some of the top ports in India include the Mumbai Port, Kandla Port, Cochin Port, etc. Apart from this, they should also consider the location of warehouse for effective storage of the finished goods and products.
Investors looking forward to establish manufacturing set up in India must also consider their finance and budget while choosing a location. Investing in manufacturing sites associates a number of setup costs, including the construction of a manufacturing plant, investments in machinery, and workforce, among other essential aspects. Hence, investors must perform thorough due diligence to ensure whether they have sufficient capital to sustain in the long run.
Since the market demand in India's emerging market is constantly shifting, investors in the manufacturing sector must dedicate due focus on scalability. They should ensure a production site has enough potential to substantially and physically accommodate the future rise or changes in demand.
Therefore, investors should duly consider all support systems and spaces like a warehouse, distribution channel, maintenance, security, R&D scope, administrative functions, and more.
Last but not least, Investors should duly check the rules & regulatory requirements associated with manufacturing a respective product or service in the country. Most of these rules are concerned with fire codes, health, safety, and environmental regulations.
In fact, the regulatory compliances are highly specific to the output of a respective industrial project. Therefore, these need to be reviewed with environmental and legal support.
Opportunities for Foreign Investors in India's Manufacturing Sector
Owing to the rapid development in various industrial sectors and the growing demand from the emerging middle class, India's manufacturing sector is booming with new opportunities. In fact, India's manufacturing sector has emerged as one of the key sectors of the country. The sector currently accounts for 16-17% of India's GDP.
The Indian Government has taken several measures to support this growth. It targets to achieve a 25% GDP share and create around 100 million new jobs in the sector. This has created favourable opportunities for foreign investors willing to establish manufacturing set up in India, promising scope for sustainability and improved ROI.
Here is a brief overview of the opportunities for foreign investors in India's manufacturing sector:
Competitive labour rates in India acts as a major benefit for foreign investors in the country. India's labour market proves to be extremely cost-effective for foreign investors in the manufacturing sector for sourcing from India.
By 2030, India's middle class is estimated to have the 2

nd

 largest share in global consumption at around 17%. The country's large population, along with the rapidly emerging middle class, creates a huge market for the various consumers good in the market.
India's 'Power for All' scheme plans to add 93 GW by 2022, thereby increasing demand for electrical machinery. This will create favourable grounds for foreign investments in generation machinery and transmission machinery segments.
India is the world's biggest production hub for dairy, meat, vegetables, and poultry products in the food processing segment. Also, the country has a strategic geographic location and is in close proximity to major food-importing nations.
The country is also witnessing a robust demand in electronic appliance markets.  As per recent reports, the appliance and consumer electronic market in India is expected to reach a valuation of USD 21.18 billion by 2025, boosting production opportunities in the sector.
Government Policies
Along with the robust market demand and favorable opportunities in the market, the Indian Government has also extended beneficial policies. These aim to support foreign investment in the manufacturing sector for sourcing from India. These include:
Indian Government has introduced a Product Linked Incentive scheme in 16 plants for the production of key starting materials, drug intermediates, and APIs (active pharmaceutical ingredients).
The Government has permitted 100% FDI through automatic routes in various segments of the manufacturing sectors.
Indian Government had announced funds worth USD1 billion in cash to each of the semiconductor companies that open manufacturing units in the country in March 2021.
Indian Government has also slashed the base corporate tax rate from 25% to 15% for all new manufacturing firms incorporated after 1st October 2019 and commencing their operations before 31stMarch 2023. This makes India one of the most competitive investment destinations in Asia.
Need for Manufacturing Consulting Firms in India
The manufacturing market in India is growing increasingly competitive. In order to gain a competitive edge and secure a sustainable position in the market, investors must conduct thorough research. They should also understand the regulatory compliances and frame out India-specific market-entry strategies for unmatched profitability in the long run. However, without a clear insight, it is impossible to understand the current market scenario. This is where the need for consultancy firms is established.
With detailed research, industrial plant setup consultants, like Tecnova, help foreign investors in India with company incorporation and regulatory compliance. Such firms also help with partner search vendor development, distribution channel building, and more. This industry-specific end-to-end assistance allows foreign companies to reduce investment risk. Plus, they can efficiently capture the market opportunity.
The manufacturing segment in India shows remarkable growth and potential for a profitable business in the near future. However, investing foreign firms must thoroughly understand the dynamic consumer behaviours. They should also be aware of Government policies, and regulations to utilise the opportunities adequately.
Hence, they must collaborate with leading manufacturing consulting firms in India to analyse the opportunities and challenges. They can, thereby, frame a detailed India-entry strategy to ensure sustainability and eliminate the risk of losses.