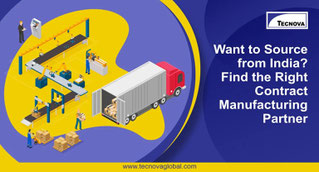 The contract manufacturing segment in India is becoming a new and potential opportunity for foreign investments. As per various market reports, India's demand for contract manufacturing services is constantly rising. This is owing to the growing cost pressure on the companies across sectors.
Along with this, robust consumer demand for finished goods and comprehensive support from manufacturing consultants India are collectively boosting the nation's contract manufacturing market.
In order to support investments in the contract manufacturing sectors in India, the Government has now allowed a 100% FDI through automatic route. This policy supports higher FDI flow, thus making India open to business opportunities. In addition, it positions the country as a favourable destination for manufacturing for foreign players looking for suitable locations to expand their manufacturing operation in the face of the ongoing U.S.-China trade war.
Benefits of Contract Manufacturing Firm while Sourcing From India
There are diverse benefits of contract manufacturing which foreign investors in India are willing to capture:
The primary advantage of contract manufacturing is that it helps businesses save on costs significantly and improve their profit margin. On outsourcing the manufacturing process, marketers eliminate the need for dedicating valuable in-house resources to the manufacturing process.
Further, working with trusted Contract Manufacturer reduces the hassle of juggling between vendors and associated unexpected costs. It also allows you to save labor costs significantly as well.
In-depth Technical Insights
As contract manufacturers build products for various companies across related or versatile sectors, they have in-depth insights. This is in terms of production and costs for various niches. Hence, it offers entrepreneurs in-depth technical insights in production found nowhere else.
Further, the Contract Manufacturers also possess substantial knowledge to spot potential flaws and risks in the production design early. This helps businesses avoid gross mistakes in their products and save from investment losses.
Scaling products with limited resources can be extremely difficult for start-ups or small and medium-scale businesses. It becomes even more of a hassle if a business is going through a peak in demand. Since contract manufacturers have a significantly large amount of resources, they can easily scale up the production whenever necessary. This allows business owners to control demand fluctuations seamlessly.
However, it is also crucial to remember that the said benefits can be enjoyed only with high-quality Contract Manufacturing service providers. Hence, foreign investors must collaborate with reliable manufacturing consultants India.
Trusted manufacturing consulting firms in India offer comprehensive support and perform thorough research to ensure you outsource your production requirements to the right company. It, thereby, adequately aligns with your business manufacturing requirements.
How to Identify Ideal Contract Manufacturers for sourcing from India?
Finding the best contract manufacturer makes all the difference between seamless management of production and supply and inadequacy to channelize the supply chain and cater to fluctuating demands.
Conduct a Feasibility Study
Before collaborating with a Contract Manufacturer, business owners must evaluate their short and long-term production goals. It will help them identify the benefit of outsourcing their manufacturing requirements. They should evaluate all variables like timeline, budget, legal issues, etc., to assess the feasibility of partnering with a Contract Manufacturer.
Conduct Qualitative Evaluation
To identify the best Contract Manufacturing partners from India, investors must conduct a thorough qualitative evaluation. Check whether they have adequate access to raw materials. Also, ensure the Contract Manufacturing partner has the right equipment required to produce your product. It is also crucial to ensure they have the right technologies for post-processing and assembly.
Also, a Contract Manufacturing partner must have a well-organized inventory and adequate work-force to manage the production effectively.
Having evaluated the feasibility, organizations willing to establish a manufacturing operation in India must thoroughly scrutinize the ratings and reputation of the various contract manufacturing partners. It is always beneficial to choose a Contract Manufacturing partner with considerable years of experience in a related industry. Additionally, foreign investors must ensure the contract manufacturers have healthy relations with both the customers and vendors.
Also, since the finished goods produced in India are to be exported to different markets across nations, a contract manufacturer must have proper connections at the customs office. Business owners can also ask for referrals and suggestions from other brands in the same sector.
It is also essential to review the scalability factors of the Contract Manufacturers to ensure they can keep up with the production requirements from time to time. Business owners, therefore, should review whether the Contract Manufacturer has adequate resources to manage production and enough potential to scale it up and down as per market demands.
Review the Estimated Expenses
Investors must also get an approximate quote from the shortlisted Contract Manufacturers. This will allow you to get a clear insight into the expenses involved in raw material procurement. It also covers shipping costs, regulatory compliances, contract fees, tariffs, packaging, and more. With a detailed estimate of the expenses, business owners can gauge the profitability of outsourcing the production.
While looking for Contract Manufacturing partners, business owners must essentially check their experience. This will allow them to assess the manufacturing technologies the Contract Manufacturers use, relevant capabilities, etc.
The contract manufacturing sector in India is composed of various market players extending comprehensive manufacturing services in different sectors. These Contract Manufacturers adopt newer strategies like facility expansion, mergers, acquisitions, and strategic collaboration. They boost their potential and sustain themselves in the highly competitive industry.
In fact, as per a study, India's contract manufacturing market was valued at USD 9.04 billion in 2019. It is expected to reach a valuation of USD 23.72 billion by 2025. Plus, it is estimated to register a CAGR of 17.6%, during 2020-2025.
This growth is driven by:
Increasing outsourcing volumes of the Global leaders across sectors
Availability of low-cost skilled labour
Favourable government policies and more.
Policy Impetus
In order to support the contract manufacturing service sector in India, the Government of India has allowed 100% Foreign Direct Investment under the automatic route. This acts as a great boost to drive foreign investments in the sector.
Further, the Government has also allowed contract manufacturers to sell the products manufactured in India after they abide by the 30% of the local sourcing norms for the foreign single-brand retail companies.
Also, to boost India's domestic handset production capability, the Government of India had launched the National Policy on Electronics (NPE). It targets a production of 1 billion mobile phones, including export of 600 million by 2025.
In order to succeed in the highly competitive and volatile Indian market and deal with the fluctuating demands, it is extremely crucial to conduct detailed research and analyze the budgetary aspects before investing in Contract Manufacturing services.
Foreign organizations that are planning to undertake manufacturing plant set up in India must, therefore, avail of assistance from the leading consultancy firms, like Tecnova, to reduce investment risks.
With a detailed market analysis and end-to-end assistance in aspects like company incorporation & regulatory compliance, partner search, green-field manufacturing plant set up in India, incubation support, etc., these consultancy firms will allow you to frame an adequate market-entry strategy and make an informed decision.
The growing manufacturing sector across various industries in India is anticipated to boost lucrative opportunities for contract manufacturing services in India. In order to capture this potential scope for growth, investors in Contract Manufacturing must conduct detailed research on the market.
They should also analyze government policies and frame adequate India-specific strategies to maximize profit. Further, to thrive in the competitive market space, business owners should collaborate their efforts with leading consultancy firms in India and reduce investment risks.