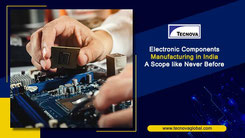 The electronic industry is one of the most dynamic and diversified sectors, evolving at robust rates with constant innovations. One of the world's fastest-growing industries across the globe, Electronic System Design and Manufacturing (ESDM) continues to amplify lives, economies and businesses.
In 2012, India's contribution to the global electronic market was only 1.3% and in 2019, it was over 3.6%, as per the reports released by Invest India.
As per recent reports: by Government bodies:
By 2025, India is expected to reach a USD 1 trillion digital.
The Electronics Manufacturing Service (EMS) industry of India is projected to grow from USD 5 billion to USD 152 billion by 2025.
Since the foreign market considers India a fertile land for sourcing electronics and products, it is best for foreign investors to explore this sector. And this is where electronic industry consultants in India play a crucial role in ushering hosts of opportunities to potential foreign investors in the electronic components manufacturing segment.
India: The Ideal Alternative Electronic Components Manufacturing Destination for Foreign Investors
India's consumer and appliance electronics industry saw a valuation of USD 10.93 billion in 2019. You can expect it to reach USD 200 billion by 2025, as per recent reports.
The appliances and consumer electronics sector is anticipated to reach USD 21.18 billion by 2025. And this figure is substantial to understand the pool of opportunity that awaits both domestic and foreign electronics manufacturers. It will not be wrong to say that the Indian electronics component market is all gearing up to replace some of the world's largest electronics manufacturing countries.
Today, more and more countries turn towards India for sourcing electronics components. Foreign investors looking for doors to venture into the market and setting up a factory in India must seize this golden opportunity.
The Government of India's National Policy on Electronics, 2019, aims to achieve a USD 400 billion turnover by 2025. Moreover, by 2025, it targets to manufacture a billion handsets valued at USD 190 billion. This figure is inclusive of exporting 600 million handsets with a total value of USD 110 billion. Altogether, the Indian electronics components manufacturing industry is witnessing robust demand for high-end electronics and products.
Samsung Factory Shifts from China to India with an Investment of USD650 Million
One of the leading consumer electronics manufacturing brands, Samsung, gears to relocate a mammoth portion of its production line to India, according to news reports. Samsung is investing USD 652 million to shift its IT display and mobile production factories to NCR in Uttar Pradesh from China.
This is South Korea's first high-tech project set up in India after shifting its base from China. With this, India will become the world's third to have such a unit.
This project will make Uttar Pradesh one of the leading export centres, attracting foreign direct investments (FDIs). And there is no doubt setting up a factory in India in this industry is a wiser investment.
However, without complete knowledge of the industry, it can be a risky undertaking.  Several professional factory setup consultants in India and industrial engineering consulting firms in India can guide foreign investors with their proposition.
Robust demand: Indian Electronics and Products Consumer Market
The Indian Electronics hardware production increased from USD 72.38 billion to USD 89.38 billion from FY19 to FY20. You can expect it to reach USD 200 billion by 2025
According to India Cellular & Electronics Association (ICEA), by 2025, the country has a significant growth potential to achieve USD 100 billion in manufacturing of tablets and laptops.
Opportunities for Electronic Components Manufacturing in India
In addition, the Care Ratings show that by FY22, consumer electronics and appliances manufacturers are gearing to increase production by 8% approximately. Reliable electronic industry consultants in India are the ideal companions for foreign investors to establish their business in this market.
Also, according to the Department for Promotion of Industry and Internal Trade, exports of electronics goods valued at USD 11.1 billion between April 2020 and March 2021 FY21 in India.
Government Initiatives
The GOI further plans to boost its electronics manufacturing industry through several policies. The production-linked incentive (PLI) schemes worth USD 23 billion are attracting foreign companies to establish manufacturing plants in India.
Moreover, the modified electronics manufacturing clusters (EMC 2.0) scheme, scheme for promotion of manufacturing of electronic components and semiconductors (SPECS), and remission of duties or taxes on export products (RoDTEP) scheme are other ways to boost Indian electronics market.
Opportunity for Foreign Investors
Foreign investors can now venture into this booming market with strategic help from the best factory setup consultants in India.
One of the leading electronic industry consultants in India, Tecnova, offers customized India-centric blueprint and manufacturing facility set-up support to overseas firms.  Thereby, it helps them venture into this lucrative electronics components manufacturing market.
Such Industrial Engineering Consulting firms in India offer:
Customised market study to define the precise addressable market and formulate the go-to-market strategy
Roll-out distribution- dealer, and distributor search or setting up own network
Retail roll-out support – from site identification to complete store set-up and financial and operational management
Set-up manufacturing facilities (Greenfield Projects)
Source and contract manufacturing partnerships
Assist companies to acquire distribution network, etc.
With the rollouts of IOT and Digital India, the transitions of technology are driving the robust adoption of electronic products. Moreover, government initiatives, such as 'Smart City' and 'Digital India' have further raised the market demand for IoT. These initiatives are ushering in a new era for electronics and associated products.
Besides, Indian appliance and consumer electronics (ACE) market is anticipated to reach USD 48.37 billion in 2022.
This clearly demonstrates India's potential future growth, making it one of the sought-after electronics markets for foreign countries. And, foreign investors, with the help of industrial engineering consulting firms in India, can explore this growing sector perfectly.
Therefore, if there's a good time to set foot in the Indian market, it's certainly NOW.
Image Courtesy:-
https://static4.arrow.com/
Reference Links:
https://bit.ly/3xM4VIG
https://bit.ly/3lWkbAF
https://bit.ly/2VW1XEy
https://bit.ly/3jUddJA