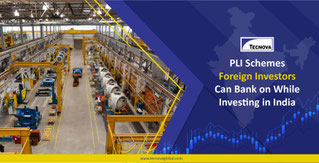 Latest PLI Scheme Scenario: Foreign Investors Should Bank on These While Investing in India
In terms of economic activities and growth, India has emerged as one of the fastest-developing Asian countries in the world and a lucrative hub for foreign investments. These growth trends are due to Government of India initiatives like the PLI Scheme and other ease of doing business measures. India's real GDP at its current price stands USD 2.71 trillion as of the financial year 2021.
Such immense improvement in the economic scenario has attracted foreign investments in Indian industries across various sectors. In 2020 itself, the total investment deal value stood at USD 80 billion with about 1268 transactions. Business management consulting firms in India also played a significant role in consolidating these investments and framing out strategic plans to encourage the growth of foreign business in this country.
In order to further boost international transactions in business and encourage foreign investment in the country, the Indian Government is also actively formulating favorable policies. Among others, Product Linked Incentive Scheme (PLI) introduced in the year 2019-2020 brought with it the potential to attract foreign manufacturers to build production units in India and facilitate ease of doing business in the country.
Production Linked Subsidy Scheme (PLI Scheme): A Brief Overview
BackgroundThe PLI Scheme was an initiative taken by the Indian Government as a part of the National Policies on Electronics on 1st April 2021. It aimed to position India as one of the potential global hubs for Electronic System Design Manufacturing (ESDM).
This was initiated because the domestic electronic manufacturing sectors suffer certain limitations in terms of lack of proper infrastructure, logistics, domestic supply chain, limited R&D facility, etc. To mitigate these hurdles, the Government cannot alone continue to invest in these capital-intensive sectors due to their slow rate of return. Therefore, the Indian Government is willing to create a favorable ground for foreign companies to invest in these sectors and set up capacities.
The PLI Scheme is designed to offer a 4-6% incentive on incremental sales of electronic products manufactured in India. The scheme is being gradually extended to other sectors as well to support the Make in India drive and improve foreign business in India.
Purpose
The purpose of the Production Linked Incentive scheme can be broadly stated as:
Protect the identified product areas and boost growth.

Introduce non-tariff measures to compete with cheap imports.

Focus on improving the domestic market while 

also acknowledging the importance of export in a robust industrial growth strategy.
To support the Make in India Drive-by encouraging both foreign manufacturing set-ups in India and increasing involvement of domestic companies in various sectors.
Sectors That Are Already Under PLI Scheme 
Around March 2020, the PLI scheme was introduced by the Government for two sectors which include:
Mobile and Electronics Sector
We have already discussed this in the above section but let us understand in detail.
The Product Linked Subsidy Scheme for electronics and mobiles stated that the Government will offer 4-6% incentive on incremental sales for manufacturing products, like mobile phones, transistors, diodes, resistors, capacitors, nanoelectronic components, and microelectromechanical systems.
Moreover, according to the scheme, any foreign business in India that produces mobile phones valued at INR 15,000 or more will receive an incentive of 6% on incremental sales on those products manufactured in the country itself.
Pharma & Medical Devices
In March 2020, along with electronic goods, the Indian Government extended the Production Linked Incentive Scheme for the Pharma and Medical devices sector as well. About 53 bulk drugs are eligible for a PLI scheme of USD 925 million. This scheme is expected to benefit about 150 manufacturing units that generate incremental sales of nearly USD 6187 million. This scheme will boost the production scale of 50 important pharma ingredients, including Penicillin G, Dexamethasone Vitamin B1, Aspirin, and Atorvastatin.
To understand the eligibility criteria for the PLI scheme and its process of registration of foreign company in India, it is essential to consult a reliable business management firm in India. This will help you decipher the complex legal and administrative process and ensure a hassle-free experience while setting up manufacturing units in the country.
8 New Sectors Which Will Enjoy the Benefits of Production Linked Incentive Scheme
As per reports, the Indian Government is willing to introduce the Production Linked Incentive Scheme in several other sectors to create optimistic opportunities for foreign business in India across various industries. These sectors include:
1. Advance Chemistry Cell
In order to push India towards the future of clean energy and EV transportation systems, the Government has taken the bold step to extend the PLI scheme to the Advance Chemical Cell industry. The ambitious target is to achieve 450 GW of renewable energy.
The scheme states that private firms will be able to get a government subsidy if they achieve a value addition of 60% within 5 years of the commencement of a project and for any new technology that evolves over the following 10 years.
2. Automobile
Indian Government has allocated about USD 7.7 billion under the PLI scheme for the automobile sector for 5 years. The Government will pay a set subsidy, subjected to a discount every year for a time frame of 10 years.
The scheme states that private firms will be able to get a government subsidy if they achieve a value addition of 60% within 5 years of the commencement of a project and for any new technology that evolves over the following 10 years.
Foreign business in India must bank on these beneficial schemes and also hire business management consulting firms in India to achieve profitable and sustainable growth in the future
3. Telecom
The cabinet has approved a PLI scheme worth approx. USD 1.66 billion for the next 5 years. The scheme is extended for domestic manufacturing of telecom equipment like core transmission equipment, 4G/5G next-gen radio access network, wireless equipment, etc. This scheme has been operational from 1st April 2021.
4. Textiles
The PLI scheme for the textile industry is introduced to improve India's global presence in MMF apparel and technical textile. Under the PLI scheme, the Government of India will offer a 3-5% incentive on the stipulated incremental turn-over for the next 5 years.
5. Food Processing Sectors 
The Government of India has passed the PLI scheme for the food processing sector on 9th April 2021. The total budget amounts to USD 1.46 billion for 6 years. Eligible companies will be able to get an incentive of 4% to 10%, depending upon the sub-sector.
6. Steel Sector
In Specialty Steel Sector, the Indian Government has approved the Production linked Incentive Scheme with an outlay of about USD 1.1 billion for the next 5 years to promote manufacturing of specialty steel in the country.
The incentive is divided into 3 slabs of 3%, 6%, and 9%, respectively, and depends on the type of products.
7. Solar Photo-Voltaic Modules
For the Solar PV sector, the PLI scheme is proposed with an outlay of USD 0.61 billion for the next 5 years. Any domestic manufacturers and foreign business in India will be rewarded for achieving higher efficiency of Solar PV modules. Therefore, PLI incentive rates will increase with improved efficiency in modules and local value addition.
8. White Goods
Indian Government has approved a PLI scheme amounting to USD 0.85 billion to boost domestic manufacturing of white goods, including Air-conditioners, LEDs, etc. The scheme will offer a 4-6% incentive on incremental sales from FY 2021 to FY 2028.
Under this revised PLI scheme that has included the above-mentioned sectors, various companies, both Indian and global, will be able to extend their business operations in the country. Foreign companies will be able to expand their business in multiple sectors and business avenues that were unapproachable before.
However, to achieve a competitive edge and enjoy a hassle-free business expansion in India, foreign organizations must collaborate with business management consulting firms in India, like Tecnova. This will help you mitigate the complex registration of a foreign company in India and also devise an adequate market entry strategy.
Tecnova offers comprehensive support, like:
Expansion and growth advisory

End-to-end Merger and Acquisition support

Complete HR management

Partner searchAssistance in Greenfield and Manufacturing Setup
Business management consulting firms in India like Tecnova are, thus, making investing in the nation far more profitable and hassle-free.
Foreign business in India, therefore, must actively bank on these lucrative Product Linked Subsidy Schemes to enjoy sustainable growth. Under this strong and optimistic manufacturing ecosystem, enterprises are now getting a wide range of avenues to invest in. Therefore, they can look forward to improving their production capability and service line for maximum profits and ROI.
Image Courtesy:-
www.freepik.com