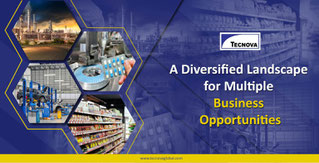 India: A Diversified Landscape For Multiple Business Opportunities
As per Economic Survey 2020-2021, India's expected GDP growth for the financial year 2022 is projected at 11%. Also, as per reports in January 2021 forecasts growth of 11.5% in FY2022 and a 6.8% increase in the year 2023. Furthermore, reports shared by the International Monetary Fund (IMF) project that India is one of the fastest-growing economies worldwide.
The primary reason behind this economic development is the rapid growth in business opportunities across various sectors like automobile, pharmaceutical, FMCG & retail, manufacturing, and more. India's diversified landscape, access to natural resources, support of strong infrastructure, low-cost skilled laborers, and well-defined services of business consultant India have created optimistic grounds to attract foreign investments and facilitate profitability in the country.
Apart from this, lucrative government policies across different sectors like the PLI scheme, 100% FDI, and GST have also significantly boosted the diversified business sectors across various states. Business expansion in India, therefore, requires thorough market research on industry-based business opportunities and strategic planning to secure sustainable growth and development.
States That Ranked Best For Business Opportunities In India: An Overview
Foreign organizations who are willing to undertake business expansion in India must check out how and which states ranked best in the Ease of Doing Business metrics published by the Government's DPIIT in 2020  to gain a fair idea about market opportunities.
As per the report, Andhra Pradesh topped the rankings because of its favorable business reform action plans, while Uttar Pradesh and Telangana came second and third respectively. These states are followed by Madhya Pradesh, Chhattisgarh, Himachal Pradesh, Jharkhand, Rajasthan, West Bengal, and Gujarat, with rank between 4 and 10, respectively.
These rankings were based on each state's level of compliance with the Business Reform Action Plan (BRAP) recommended by the DPIIT to facilitate Ease of Doing Business (EoDB) in the country. The plan consisted of 80 points like administration, labor regulation, supply permits, obtaining electricity environment regulation, etc. The primary aim of these recommendations is to rationalize, digitize and simplify the regulatory and administrative framework in the state.
Territories And The Type Of Business Opportunities To Invest In 
Having learned about the best states to do business with, let us now look into the major industrial regions in India and the type of business that proliferates in such states or UTs.
Gujarat- Ahmedabad
Also known as The Manchester of India, the Industrial sector in Ahmedabad contributes about 45.0% in the GSVA. The main industries that drive the city's growth are textile and chemical. Other key industries of Ahmedabad include Automobile & Ancillaries that includes companies like Tata Motors, Honda, Fo
rd, etc., and Pharma & Life Science with major players like Cadila Pharmaceuticals, Claris Life Sciences, etc. Moreover, Ahmedabad ranked 2 in exports and is one of the most favorable territories for business expansion in India.
Karnataka- Bengaluru
Bengaluru is home to a major range of IT-ITES industries. Apart from this, Heavy & Light engineering industries also play a maj
or role in the state's economic development. In fact, Karnataka has recorded a GSDP (Gross State Domestic Product) growth of 6.8% Y-O-Y as of 2020, and the contribution of its Industrial sector in GVA is around 26.9%. Some of the key industries include Aerospace with companies like HAL, NAL, Airworks, Mahindra, etc.; Pharma with firms like Beacon, Cipla, Glaxosmith; and Heavy Engineering with major players like BEML, ABB, Bosch, etc.
Therefore, foreign organizations must consult a business strategy firm in India to identify the opportunities, hurdles, and administrative framework in each state before investing. This will help to reduce business risk and secure consistent growth.
The market competition in this state is extremely high. Therefore, foreign organizations willing to invest in these markets must actively collaborate with a business strategy firm in India to formulate an adequate market entry strategy.
Tamil Nadu- Chennai
Chennai offers a diversified economic base and consists of a range of industries like automobile & ancillaries, electronic hardware, and IT SEZs that drive the city's growth. It is one of the main contributors to the economic development of the state which clocked a GSDP growth of 8.2% Y-OY as of FY 2019-2020. The state also ranked 4th in terms of export in 2019 and created optimistic opportunities for business expansion in India.
Some of the most important industries of the state include Petroleum with investors like Manali Pharmaceuticals, Indian Oil Corp, etc., Automobiles, which includes companies like BMW India, Nissan, Renault, Apollo tires, etc., General Engineering and Electronics with competing firms like Bosch Electricals, Coramandel Electronics, etc.
Telangana- Hyderabad
Hyderabad is also known as the Genome Valley of India and is one of the major cities that drive the growth of Telangana. In fact, Telangana has about 8435 MSME units registered with an estimated investment of USD 1.5 billion. The state recorded a GSDP growth of 8.2% with key industries like Aerospace & Defense and Pharmaceutical.
Some of the major players in these sectors are Tata Boeing Aerospace, Dr. Reddy's Laboratories, etc. Apart from this, the Traditional Clusters industries also contribute a great deal to the economic growth with businesses like printing /dyeing leather, zari works, etc.
NCR, Haryana & Rajasthan
NCR, Haryana & Rajasthan act as a key growth driver for India's automobile and ancillary industries. You can find the presence of some major auto-players like Honda, Suzuki, Hero Motocorp, Harley Davidson, Musashi Auto, etc., in these states. In fact, these states receive active investments from big-shot Japanese companies, owing to their favorable state policies and administrative structure.
These states marked a GSDP growth of 7.7% Y-O-Y as of the financial year 2019-2020 and contributed about 32.4% to the country's GVA. Apart from the automobile industry, the other major sectors are Glass and Sanitary Fittings and Consumer Durables with important players like Saint-Gobain, Daikin, Panasonic, etc.
NCR, Haryana, and Rajasthan do provide impeccable scope for business expansion in India. However, a thorough understanding of market competition and administrative framework is primary towards consolidating business growth in these states. Therefore, you must avail assistance from a reliable business strategy firm in India to strategize your investment and reduce risk.
Maharashtra- Mumbai & Pune
Mumbai and Pune account for about 20% of the economic growth of the state of Maharashtra. In fact, the state clocked a GSDP growth of 6.0% and ranked 1 in exports in FY 2019-2020. Some of the key industries in these cities and the state collectively are Automobile, Textiles, Sugar, MSME Clusters, Chemical & Petrochemical Engineering, Pharma, and Consumer Durables.
You can find some of the major business players in this state across all these industries like Castrol India, Bharat Petroleum, Reliance Industries, Exide Industries, Genova, Hier, Phillips, Mercedes Benz, Volkswagen, etc. In fact, Maharashtra offers a diversified scope of investment and business expansion in India.
Growing Importance Of A Business Strategy Firm In India
With unparalleled economic development and lucrative government policies, India is certainly emerging as a favorable and profitable hub for foreign companies. However, the diversified business opportunities are mingled with specific hurdles related to dynamic consumer behavior, complex legal and financial structure, and immense competition. Therefore, most foreign organizations actively take help from reliable business consultant India like Tecnova to formulate an adequate market entry strategy.
Tecnova, a renowned business strategy firm in India, offers a comprehensive industry-specific consultation service and makes investment in India easy for foreign firms. We offer you:
Consulting services like market research, formulating strategies, business plans, etc.

Help you in identifying organic and inorganic growth opportunities for favorable business expansion in India.

End-to-end assistance in performance improvement like identifying issues in business strategy, assessing impacts, offering quick solutions, etc.
Complete HR solutions.
Partner Search and formulating merger and acquisition strategy and more.
By investing in the Indian industrial sector, foreign organizations can certainly achieve profitable returns. The diversified business opportunities offer a broad spectrum of growth momentum for foreign investors. However, owing to the varied state & territory-specific policies, business regulations, and consumer behavior, plans for business expansion in India can face a severe setback if not formulated with active assistance from a reliable business strategy firm in India.
Therefore, it is imperative to understand the multiple business opportunities with active support from business consultant India to achieve sustainable growth and ROI.
Image Courtesy:
www.freepik.com