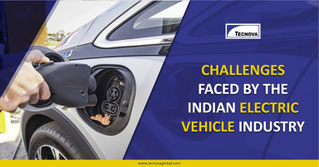 As per recent Industry reports published, India's electric vehicle market (EV) is estimated to emerge as a $7.09 billion opportunity by the year 2025. Furthermore, the Indian government is also revamping measures with an aim to achieve 100% electric vehicle mobility by 2030. In fact, the Indian EV market is anticipated to witness a robust CAGR growth of 42.38%.
Such immense transition in the Indian EV industry certainly promises a proliferating opportunity for foreign investors who are willing to expand their businesses in the country and has given rise to a lot of curiosity in the market. The process will be far easier with the help of an automotive consulting company in India.
However, the estimation of growth is also accompanied by concerns about certain specific challenges related to inadequate supply chain, certain government policies, consumer behavior, infrastructure, etc. These hurdles must be duly considered by the foreign investors to formulate an adequate India market entry strategy and avail assistance from India entry strategy consulting firmsto achieve the desired results.
5 Challenges Faced by the EV Industry in India: Importance of India entry strategy consulting firms
Lack of Charging Stations and Challenges from the Grid Side
The Central Electricity Authority (CEA) reported that India had established 927 charging stations nationwide as of June 2020. Since this is at a nascent stage, it is significantly less when compared to the 57,000 petrol pumps which the country has across various states. Furthermore, it is also reported that about 85% of charging of electric vehicles takes place at the owner's home, which becomes a daunting task for those living in community apartments and have no reserved parking area.
Apart from this, the challenges which the grid might face when EVs become main-stream in India are also a matter of concern. According to an industry analysis, increased use of EVs by 2030 will shoot up the electricity demand by 100 TWh which is yet to be streamlined. This lack of adequate charging infrastructure poses a severe impact to garner substantial demands for electric vehicles in India and clouds the profit-making strategies of foreign firms willing to expand in the country. Under such circumstances, one can opt for a reliable India entry strategy consulting firm for a robust India market entry strategy.
Lack of Trained Personnel
In addition to the problem of inefficient infrastructure, the lack of skilled personnel in electric vehicle markets is a significant challenge that foreign investors have to deal with. The Senior Executive Director (Engineering) at Maruti Suzuki also said that the EV industry in India is still at its nascent stage, and almost every automobile organization will face a challenge in areas of EV talent acquisition and development.
This makes it imperative for foreign firms expanding in India to avail assistance from a reliable India entry strategy consulting firm that can offer a comprehensive human resource development and talent acquisition strategy to scout for adequate experts on designs, product, infrastructure and manage pay packages.
Uncertain Consumer Behavior
Uncertain consumer behavior associated with the higher costs of EVs and the issues about inadequate charging infrastructure is also a major impediment in this sector. The average starting price of an electric car in India is about approximately USD 18000 (INR 13 lacs), whereas average starting price of a regular fuel-powered vehicle is approximately USD 6000 (INR 4.5 lacs). This nearly 3X price is a severe market entry barrier and requires an adequate India market entry strategy that will help to identify the right consumer segment and their needs and preferences to achieve a sustainable profit in a short span.
EV battery manufacturing in India is still largely dependent on imports due to the lack of Lithium, and this poses a major hurdle for companies willing to invest in India's EV industry. The head of metals and mining of Bloomberg NEF, had said that though companies in India are trying to prospect for stakes in overseas resources and are transferring more raw material production chains in India, there is very little synergy as the battery manufacturing capacity still demands adequate planning.
This has also created the need for joint ventures to acquire adequate lithium-ion battery resources. Foreign organizations, therefore, are increasingly turning to India entry strategy consulting firms that help to assess technology and market trends and offer comprehensive entry India business opportunities to achieve profitable long-term growth.
In the year 2019, the Indian government approved the FAME II scheme, by which the government has proposed to invest about USD 1.4 billion to incentivize the production of electric vehicles in the country. However, FAME II policy also requires 50% localization in vehicle production is required to avail of the incentive. This is a significant India market entry strategy barrier for most organizations as the Indian component suppliers are not yet ready to manufacture components in the face of the present low value of electric vehicles in the market. Therefore, most firms will not be able to enjoy the benefits of the FAME II incentive, which consequently impacts the entry of India business opportunities.
All these factors collectively establish the need to understand the Indian EV automotive market before making an investment and re-consider the importance of an India entry strategy consulting firm like Tecnova. It can help with a unique and robust India market entry strategy.
With its end-to-end solutions, from planning to implementation, Tecnova also helps overcome the initial India market entry strategy hurdles with a cost-effective Plug and Play model that lowers the administrative requirements. Furthermore, with a team of market experts, it also helps in formulating a strategic plan, identifying market trends and competition, and creates an opportunity to grow through profitable joint ventures for long-term success in the future.
The electronic vehicle industry in India is certainly a profitable area of investment for foreign organizations, but it is not bereft of challenges. Thus, one may require the help of a reliable automotive consulting company in India. There are yet several developments that are needed in the sector to make Electric Vehicles a mainstream mode of transportation in India.
New and foreign organizations looking for entry India business opportunities require thorough market research and analysis of government policies and consumer behavior to achieve sustainable development. It also necessitates the improved roles of India entry strategy consulting firms in this regard, which can help to face the forthcoming challenges with end-to-end India market entry strategy.