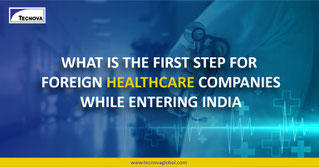 The Indian pharmaceutical industry is a booming sector that promises impressive business avenues for foreign companies. Hence, it is facilitating more and more investments with a steady growth trajectory. Recent industrial reports estimate the Indian pharmaceutical market will reach a valuation of 100 billion USD, while the medical device market in India will grow up to a size of 25 billion USD by 2025. Hence, India serves as a great playground for foreign companies to establish a strong foothold.
However, the Central Drug Standard Control Organization (CDSCO) and the Drug Controller General of India (DCGI) formulates a strict registration and licensing process. Every new firm willing to enter India's pharma industry must necessarily complete these legal registration processes to initiate its production or import.
But most foreign firms lack knowledge about India's regulatory framework. Hence, they find it difficult to adequately comply with the legalities. A comprehensive assistance from a reliable pharma regulatory consultant in India, therefore, becomes mandatory. It will help to complete registration needs and mitigate all other legal requirements without any hassle and ensure a smooth operation of the business.
Registration and Licensing Rules for Medical Device Industry in India
The Medical Device Rules, which came into effect in 2018, regulates the registration process of all medical devices and In-Vitro Diagnostics (IVD) in India. Till 2020, only 37 devices were regulated and needed formal registration.
For other categories, the manufacturers needed to obtain a NOC from the DCGI to manufacture and import devices in the country. Moreover, there was no formal classification of medical devices in India till 2020. A draft regulation categorized the devices into the following classes: 
A (low risk) 

B (low-moderate risk)

C (moderate-high risk)

D (high risk)
However, a new MDR amendment came into effect on April 1st, 2020. It requires manufacturers to register all present unregulated medical devices with the DCGI. This new category of medical devices is known as Newly Notified Medical Device.
The amendment also states that manufacturers and importers will have to obtain a certificate of compliance with the ISO-13485 standard accredited by National Accreditation Boards for Certification Bodies or International Accreditation Forum.
Further, by August 11, 2022, and August 11, 2023, all importers, manufacturers, distributors, whole-sellers, and retailers of current unregulated Class A & Class B and Class C & Class D devices will have to obtain a license. In case any firm fails to obtain the registration within the stipulated time, it has to stop the import or manufacturing process until the registration is complete.
Regulatory Requirements to Enter Indian Pharmaceutical and Medical Device Industry in India
Here are some important forms, documents, and registration requirements which are compulsory to formalize and commercialize your products in the medical devices market in India.
Form 41 is also known as the Registration Certificate for Medical Devices. New foreign firms entering the Indian market must obtain Form 41 to gain approval for initiating production or import. Form 41 makes a medical device registered with the CDSCO for 3 years. 
For this, the applicant needs to file an application in Form 41 along with the prescribed fee and all required documents to seek permission for production or importing medical devices in the Indian market. The licensing authority solely lies with the DCGI and requires a timeline of about 9 months. 
Once a particular organization has obtained the registration certificate, it has to register for an import license which is form 10. This form allows a foreign manufacturer to clear customs and import pharmaceutical products and medical devices into the country. The licensing authority for form 10 again lies with the DCGI. Validity for Form 10 is the same as that of 41.
Registering for form 28 is essential to obtain the license for manufacturing Notified Medical Devices under the CLAA scheme in India. It is the State Authority which grants the Form 28 license to manufacture products like Disposable Hypodermic Syringe, Disposable Perfusion Sets, In-vitro Diagnostic Devices, etc. For other notified medical devices, the licensing authority strictly lies with the DCGI. Furthermore, it is essential for a company to be registered with the CDSCO SUGAM online system.
Form 20-B and Form 21-B
To import medical devices into the Indian pharmaceutical market, foreign organizations also need to register for Form 20-B and Form 21-B under Rule 61(1) and Rule 61(2) (for sutures, ligatures, and In-Vitro Devices). Form 20-B and 21 B are basically wholesale licenses. These forms allow the sale, stock and distribution of drugs and medical devices in the country. 
The licensing authority for these two certificates mainly lies with the State Drug Licensing Authority. The approximate timeline to process and obtain the license is between 3 and 6 months.
Importance of a Pharmaceutical Regulatory Consultant in India
The regimen of formal documentation and registration to enter the Indian pharmaceutical and medical device market is, therefore, extremely complex. It requires a thorough understanding which often proves extremely difficult for foreign firms unaware of the regulatory framework in India. This is what establishes the importance of a pharma regulatory consulting firm in India, like Tecnova. 
With customized India-centric policies and services, Tecnova caters to the diverse registration and licensing regulations in India. It, thus, helps to mitigate major hindrances for foreign pharmaceutical firms. A professional pharma regulatory consultant in India covers services, like:
End-to-end assistance in medical devices, drugs, and cosmetic registration with the Drug Authority of India.

A comprehensive market entry strategy through extensive market research.

Complete project management for setting up Greenfield/Brownfield. 

In and out-licensing of medical devices and products.

Identification and selection of partners for distribution, clinical trials, CRAMS, and others. 

Structuring and assisting for a wide range of complex transactions in JVs with an experienced merger and acquisition team.

A 360-degree competitive assessment and research for assessing project improvement.
In India, about 70-90% of the domestic medical device requirement is met through imports. Furthermore, with the benefit of 100% FDI, India is certainly offering a promising and profitable ground for foreign players. However, stringent and complicated registrations and licensing processes are a pressing concern. This must be addressed with comprehensive support from pharma regulatory consulting firms in India. This has become further important with the MDR amendments about "Newly Notified Medical Devices", which became effective from 2020. 
Therefore, new firms willing to expand in India must duly formulate a strategic plan with reliable consultants. This will help to avoid market entry hurdles and promise sustained long-term growth in the future.