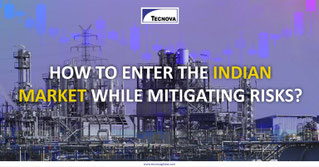 According to an industrial and logistics consultancy report, India's economy has doubled over the past decade, and its FY-2020 GDP  saw an increase of 4.2%. The report also estimates that India will become the 3rd largest consumer market for the United States by 2030. Another consultant also reports that India is currently the 5th largest Unicorn base worldwide, with about 21 unicorns collectively valued at USD 73.2 billion and is expected to have approximately 100 unicorns by 2025. The Government of India is also actively working towards boosting the country's economic development with favorable policies and initiatives like a Make in India drive, Digital India, etc., which are offering incentives to several foreign industries to set up their facilities in this country.
With development on various economic fronts, the country is witnessing rapid foreign direct investments across multiple sectors and clocked a total deal value of USD 80 billion in 2020. However, foreign firms setting foot in the Indian market face a significant challenge in planning out market entry strategies to meet target business ends. Therefore, business consultancy services in India have become imperative to thoroughly understand the market and conduct personalized research to make an informed decision.
lower your gestation period while entering India
Pharmaceutical and Healthcare Sector: According to a report shared by India Brand Equity Foundation (IBEF) in 2021, the Indian pharmaceutical and healthcare industry and medical device market are estimated to reach a valuation of USD 100 billion and USD 25 billion, respectively, by 2025. To support the brilliant development in these sectors, the Government has also initiated 100% Foreign Direct Investment under automatic route to support Greenfield investments.
Why opt for a pharma regulatory consultant: However, foreign firms willing to expand their foothold in India need to conduct thorough market research and meet several bureaucratic and licensing requirements from CDSCO, like Form 41, Form 10, Form MD14, Form MD15, etc., which pose a serious challenge. An experienced pharma regulatory consultant firm, like Tecnova, can help to deal with these standard procedures conveniently.
With a comprehensive and personalized expansion and growth advisory and 360-degree competitive assistance, pharma regulatory consulting firms in India cover partner research, partner acquisition, product registration, formulating adequate market access, distribution networks and manufacturing plant set up. Furthermore, the implementation of new trends, like AI, blockchain, big data analysis, etc., in the health sector also creates the demand for skilled professionals with knowledge in cloud computing and other advanced technologies. With a professional HR team, pharma regulatory consultants also offer complete assistance to organize the workforce and trace systematic growth.
Automotive Sector: A recent automobile industry survey in 2021 stated that the FDI inflow in the automobile sector stood at USD 24.62 billion by the end of September 2020. Apart from rising investments in India, it is also noted that automobile firms save around 10-20% operational costs as compared to other countries, like Europe, Latin America, etc. India's electrical vehicle market also holds significant opportunity for growth and is estimated to transform into a USD 7.09 billion opportunity by 2025.
The Government of India is undertaking several measures as incentives for Automobile OEM and components manufacturers to support this rapid growth, and also want to develop the country as a global automobile manufacturing sector and research and development hub.
Why to opt for automotive consulting services: Understanding the complex consumer behavior and diverse regulatory laws poses a substantial challenge to foreign firms trying to enter and expand their presence in India. Growth of an automotive company is also driven by factors like affordability, fuel economy, alternative fuel vehicles and building brand loyalty, which require a thorough market analysis. This is where you will need the help of automotive consulting services.
Through an India-centric marketing strategy, such consultancy firms help to achieve customer value and profitable growth. Automotive consultants in India help you identify the recent trends, opportunities, and competitor analysis required to achieve target business goals. With a team of mergers and acquisitions experts, they also help tie-up with the right manufacturing partners and monitor dealers' performance as well.
Consumer Goods & Retail Sector: In a recent survey, FICCI stated the FMCG sector is the fourth largest sector in the Indian economy, and according to IBEF, the packaged food market is expected to reach a valuation of USD 70 billion by 2025.
The retail sector, on the other hand, reportedly has achieved a cumulative FDI inflow of USD 3.35 billion as of September 2020, and the market value is expected to increase to about USD 220 billion by 2025.
Why opt for FMCG Consultants: With a proliferating opportunity of impeccable growth, foreign firms entering the sector in India often face significant challenges. Hence, the importance of FMCG consultants and retail business set-up consultants in this regard cannot be overstated.
A reliable FMCG business consultant in India offers a customized market study to locate the precise addressable market and formulate a comprehensive strategy for long-term success. These firms also help understand how to start a retail business in India by offering consumer insights, setting up distributor and dealer networks, backed by complete PR management support.
Industrial Manufacturing Sector: The industrial manufacturing sector in India is one of the major growth sectors and hubs for foreign investments. In fact, as per records, the cumulative FDI in India's manufacturing sector reached a valuation of USD 89.40 billion between April 2000 and March 2020.
Why opt for a manufacturing consultant: One of the vital areas of focus and challenges for foreign companies willing to enter or expand their businesses in the Indian industrial manufacturing sector is the growing need to digitalize vertical and horizontal value chains in areas like product development, manufacturing, and logistics. Apart from this, the hassle of strict land and labor regulatory rules and insufficient knowledge about inventory and supply, change management, etc., also create serious impediments to a manufacturing setup in India.
A professional manufacturing plant consultant, like Tecnova, helps to efficiently mitigate these challenges by offering a comprehensive corporate and business growth strategy that includes pricing, marketing, value addition, tracking technology and market trends, forming a new business entity, and more. It also helps establish proper distribution channels and cost-effective vendor development, sourcing and technology transfer and meet all bureaucratic requirements to facilitate an easy market entry.
With supportive government policies and exceptional growth in every sector, India is creating path-breaking business opportunities for foreign investments across various sectors. However, these opportunities come with industry-specific challenges, like lack of available data, complex consumer behavior and more, which require thorough market exploration. Consultancy firms in India help you to overcome these challenges with a personalized approach by solving several concerns, like how to start a retail business in India or create a manufacturing setup in India, and more.