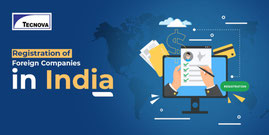 Foreign Companies can register themselves in India according to rules laid down by the Ministry of Corporate Affairs and statutes under the Companies Act, 2013. If you're looking to set up a business in India as a foreign company, you can either create a registered Indian company or open an offshoot of your parent company in India. This guide will tell you everything you need to know about registration of foreign companies in India.
Registration of a Foreign Company in India
A foreign company is defined under the Companies Act as a body corporate that has been created outside India but engages in one or both of the following:
It has a place of business in India either in its own name or under an agent or has a mere digital presence in India.
It conducts business activity of any kind in India.
As a foreign business you can mark your India entry in either of the following ways.
As a wholly owned Indian subsidiary where 100% Foreign Direct Investment (FDI) is allowed.
As a Joint Venture in partnership with an Indian business entity where 100% FDI is not allowed. 
If you don't intend to operate commercially in India then you have the following options for India entry

:
Create a liaison office, 
a representative or project office or,
a branch office
A company in India is registered with the Registrar of Companies under the Companies Act and rules brought out by the Ministry of Corporate Affairs. Before you register, you have to choose a unique company name.
You can apply to register a particular company name by using the RUN (Reserve Unique Name) service available on the MCA website.
You also need to consider the type of company you want to form – whether private or public limited or any other. Registration procedures are different for each type of company. You must also incorporate your company with the Registrar of Companies in India. Consult a qualified accountant in order to incorporate your company in India.
You essentially need to complete four processes for successful company registration in India:
Digital Signature Certificate (DSC)

 
A DSC is required to digitally sign electronic documents and forms. They serve to notify the MCA of the existence of your business association. Foreign entities require passports of owners, own-government issued photo IDs, bank proofs, etc. as documentation to obtain a DSC. 

Director Identification Number (DIN)

 
Every company must have a minimum number of directors depending upon its company type. Each Director must have a unique Director ID obtained by applying with a for called SPICe (Simplified Proforma for Incorporating a Company). 
You must have articles and memorandums of association prepared by a qualified Chartered Accountant in order to fill up the SPICe form.  

Registration on the MCA Portal as a New User

 
Once you've obtained a DIN for your company you must register as a new user, usually a business user on the MCA website. 

Certificate of Incorporation

 
A certificate of incorporation is given to you when you incorporate your company according to procedures outlined in the Companies Act. 
A foreign company must establish its place of business in India by submitting eForm FC-1, where the Information needs to be filled up by the foreign company.
The electronic form needs to be digitally signed by an authorized representative of the foreign company. There is no need to apply and obtain DIN for Directors of an existing foreign company. However, it is mandatory to register the DSC of the authorized representative of the foreign company via the associate DSC service on the official MCA site.
Note that it could take up to 15 days to register your company assuming you have all the documentation in place. You need certified accountants, company secretaries, and lawyers to expedite the process and achieve project objectives within set timelines. 
Leverage business opportunities in India now.Connect with a Tecnova Foreign Company Registration Expert to find out more.