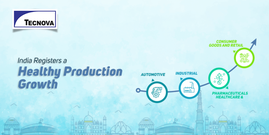 According to a new survey report, India's production growth has seen tremendous growth during December 2019 owing to healthy demand conditions and new product drives. The IHS Markit India Manufacturing PMI claimed that the country's manufacturing output increased at a significant pace in December 2019—which is the fastest in the last 10 months. 
The PMI reading increased to 52.7 in December 2019 from 51.2 in November 2019. As per the report, "an index reading of above 50 indicates overall increase compared with the previous month, and below 50 the decrease."
The report suggests that the growth at the sub-sector level was driven by consumer goods as well as intermediate goods that showed a good contribution to the production growth. Another factor contributing to this growth in sales is higher demand from overseas. The survey stated that the export orders grew for the twenty-sixth month in a row.
"Factories benefited from a rebound in demand and responded by scaling up production to the greatest extent since May. There were also renewed increases in input purchasing and employment during December," Pollyanna de Lima, Principal Economist at IHS Markit, said.
In terms of price points, indicators showed an accelerated rate of inflation for both input costs and output charges.