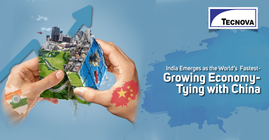 According to a recent report by the International Monetary Fund (IMF), India has once again emerged as the fastest-growing major economy in the world—tying with China. Its projected growth rate for the current fiscal year is 6.1%.
The IMF's World Economic Outlook (WEO) released on Tuesday suggests that India's economy is doing far better than other countries.  The projected growth rate of 6.1% by IMF for 2019-20 is consistent with the Indian Monetary Policy Committee's forecast.
"The global economy is in a synchronized slowdown, with growth for 2019 downgraded again – to 3 percent – its slowest pace since the global financial crisis (in 2007-08). This is a serious climb down from 3.8 percent in 2017, when the world was in a synchronised upswing," wrote IMF's Chief Economist Gita Gopinath in the foreword to the WEO—explaining the international scenario.
According to WEO, China's growth will face a sharp slowdown next year. It will come down to 5.8%.
In Europe, the economic growth is likely to be 1.2% this year and 1.4% next year—owing to a dismal growth of 0.5% this year in the German economy. On the other hand, the United States is projected to do slightly better with 2.1% growth this year and 2.4% growth next year.
Growing trade barriers, uncertainty surrounding trade and geopolitics, and structural factors such as low productivity growth are some key reasons behind the economic slowdown in developed countries.
However, Indian economy will continue to grow. WEO states that India's future growth will be supported by the lagged effects of monetary policy easing, a reduction in corporate income tax rates, recent measures to address corporate and environmental regulatory uncertainty, and government programs to support rural consumption.