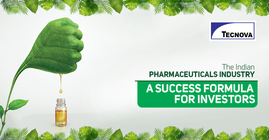 The Indian pharmaceutical industry is one of the largest and most advanced in the world. It supplies a whopping 50% of global demand for a wide range of vaccines, 40% of generic demand in the United States, and 25% of all sorts of medicines in the United Kingdom. 
The country's increasing pool of prodigious scientists and engineers is driving the industry to new heights. According to a report, Indian pharmaceutical firms supply more than 80% of global demand for antiretroviral drug used to fight off AIDS (Acquired Immune Deficiency Syndrome). This industry is a treasure trove of countless opportunities for investments and trade. 
To help understand better why investing in the Indian pharmaceuticals industry is a sure shot success formula, we have compiled a list of a couple of factors in this blog for you. Here we go: 
1. 
Market expansion 
The Indian pharmaceutical industry is poised to grow at a compound annual growth rate (CAGR) of 22.4% to reach USD 55 billion by 2020. 
2. 
Biotechnology industry expansion
The country's biotechnology industry is likely to grow at a rate of 30% annually to reach a whopping USD 100 billion mark by 2025. 
3. 
Strong position 
India's pharmaceutical industry will become the third largest in the world in terms of incremental growth. 
4. 
Manpower
India has the largest manpower in the world with strong scientific and technical knowledge. 
5. 
Low research and development cost
The cost of research and development in India is way lower than other countries. 
6. 
Low production cost
The cost of production of quality drugs in bulk is quite low in the country. 
7. 
World class facilities 
India is a home of world class high quality facilities, which specializes in the process development effectively and development of cost-efficient drug manufacturing technology. 
8. 
Self-reliant producer of bulk drugs
Over 70% of the requirements for the formulation of drugs is handled within the country itself. It is truly a self-reliant producer of bulk drugs.
9. 
Home to different medicine systems
India is home to some of the most popular medicine systems such as Siddha, Naturopahy, Ayurveda, and Homeopathy among others. Their presence makes the country an ideal hub for investment. 
10. 
Rise in export
Branded drugs are soon going off patent. According to a study, this will boost the export of generic drugs to the United States by USD 55 billion. 
With so many great things happening in the Indian pharmaceuticals industry currently, it is no doubt that the country is a boon for investors looking to expand their businesses. The initiatives taken by the Indian government has made venturing into the Indian pharmaceutical market even easier than it was some years ago. Partner with a seasoned India Entry Strategyfirm today to ensure success of your business in the country.