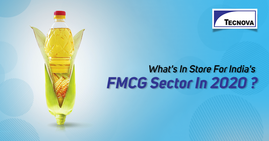 India's FMCG sector has undergone a substantial transformation in the past few decades owing to a number of factors such as rising income levels, changing consumer behavior, and urbanization. The future of the industry is quite positive also as major players seem to gain huge post GST implementation. The rural consumption has surpassed the industry expectation as modern retail is set to grow 3 times in the next 5 years. Increase in disposable income and change in lifestyle choices are two main reasons fueling this growth.
However, with all these developments in the industry has come a wide range of other products that compete for customer loyalty and attention. Here's a glimpse at the trends for the FMCG market in 2020.
Digitalization
People in rural areas will have easy access to online shopping on various e-commerce platforms due to growing internet penetration. Availability of online payment options will lead to increase in orders from tier 2 and 3 cities.
Direct to Consumer (D2C) Model
D2C model is experiencing a rise in popularity recently as several e-commerce players are opting it to woo consumers by allowing them to save money on their purchases.
Shopping on Social Networking Platforms
Apart from shopping on e-commerce platforms, users in 2020 will make most of social networking platforms such as Facebook and Instagram among others for making purchases. This will kick in an overall interactive shopping experience as users will have both the world of entertainment and shopping.
Family-Focused Shopping
Consumer behavior is hard to predict because its keeps on changing with time.  However, after analyzing a couple of patterns in the past, it seems that some of them will continue to stay throughout 2020 also. Consumers will continue to buy family packs and combo offers since these save their time and money.
Foreign Brands
Foreign brands continued to rise in popularity in 2019 owing to their huge demand among Indian consumers. This has actually forced both local as well as domestic industries to up their game and provide better alternatives to these foreign brands without compromising on quality.
India's FMCG sector will continue to grow exponentially with these trends setting in 2020.