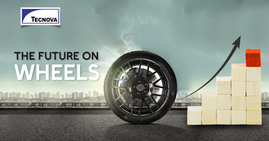 Backed up by a strong economy, the Indian automobile sector seems to be ruling the roost as a key growth driver and global force exporting to not just subcontinents but also developed nations all over the world. According to a recent report by Society of Indian Automobile Manufacturers (SIAM), overall automobile exports have improved by 14.50% between April-March 2019. The auto component industry of India has also experienced significant growth simultaneously in the past few years to reach a $15.16 billion mark at the rate of 17.1% in 2018-19. The auto component sector has grown at a CAGR of 11% over a period of 6 years.
The Wave of Change in Automobile Industry 
India earns its reputation as the 4th largest automobile market in the world. And the strides it has taken to reach this milestone is an inspiration in itself.  In 1990s, foreign automobile sharks in both two and four wheeler segment entered India to ride on the tides of liberalization. And, over a period of time, as the localization needs of these original equipment manufacturers (OEMs) increased, a robust component manufacturing base started emerging in India. To meet global standards, the Indian component manufacturers started evolving and became competitive on the international platform.
Today, a lot of Indian component manufacturers are Tier 1 suppliers of major players such as Bosch. This means the parts made here in India are actually installed in cars like Mercedes, Audi, Mazda, Jaguar, and Renault-Nissan. And that is not it. Many Indian component players are Tier II and III suppliers to companies like Magna International, Denso, Continental, Hyundai Mobis, and ZF Lenksysteme. 
Regarded as the 7th largest manufacturer of the commercial vehicles in the world today, the Indian automobile industry is poised to reach $251.4-282.8 billion mark by 2026. We bring you reasons why you should invest in Indian automobile industry if you are planning to expand your business. Here we go:
Increase in Domestic Sales 
Over 26.27 million vehicles have been sold in FY 2019 at a CAGR of 6.71%
Foreign Direct Investment (FDI)
According to a government report, the total FDI the Indian automobile industry has received is worth $21.38 billion between 2000 and 2019.
Increase in Domestic Production 
More than 30.92 million vehicles have been manufactured in FY 2019 at the rate of 6.96 CAGR.
Leader in Shared Mobility by 2030
India will become a leader in shared mobility by 2030. It means electric and autonomous vehicle manufacturers will have ample of opportunities in the Indian market.
The government of India has come up with a variety of policies to boost the Indian automobile industry. It wants to transform India into a global manufacturing hub. GST has helped the automobile industry a lot.
But just exotic numbers and statistics won't help you much. You need a seasoned consulting partner to take your business to India's exhilarating automobile industry. Get in touch with Tecnova—the most trusted India Entry Consulting firm with a legacy of 35 years.