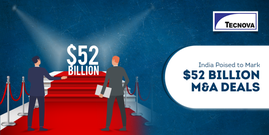 According to a recent report by Baker McKenzie, India is poised to mark M&A deals of over USD 52 billion in 2019. This proves that India's mergers and acquisition scene is way more stable than other countries currently battling a stiff headwind.
One of the major reasons behind M&A stability in India is growing private investments owing to promising business environment. Baker McKenzie's Global Transaction forecast has also predicted that India's GDP will grow by 7% between 2019 and 2022. This is way more than the global GDP average of 2.8% for the same period.
"India M&A shows resilience amidst the current global economic turmoil. While domestic consolidation will continue to be a key driver in M&A activity, India's business-friendly reforms and high consumption growth potential will help garner interest from both local and foreign investors. We are hopeful that India will remain one of the world's fastest-growing economies despite the headwinds," said Ashok Lalwani, Global Head of Baker McKenzie India Practice.