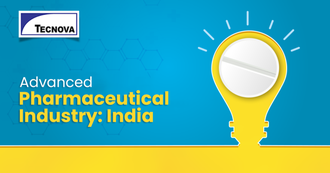 India has once again topped the list of the fastest growing economies in the world along with China. The overall growth in the economy has substantially encouraged growth in other crucial sectors of the economy also such as pharmaceuticals. As a result, the Indian pharmaceutical is now hailed as one of the world's most progressive sectors.
The industry is a mine of gold for companies planning to expand their businesses to India. We bring to you 10 reasons why investing in the Indian pharmaceutical industry is a recipe of success. Here we go:
Hub of Generic Brands 
The Indian pharmaceutical industry is a source of some 60,000 generic brands across 60 therapeutic categories.
Manufacturer of Active Pharmaceutical Ingredients (APIs)
The Indian pharmaceutical industry earns its reputation for manufacturing over 500 different APIs.
Pharma Vision 2020 Project
The Department of Pharmaceuticals India is planning to transform the country into a hub of end-to-end drug discovery under its ambitious 'Pharma Vision 2020' project.
Home to Best Pharma Companies
India is home to 3,000 pharmaceutical companies and over 10,500 manufacturing facilities. 
Domestic Turnover
The Indian pharmaceutical industry's market turnover stood at $ 18.12 billion in 2018. It experienced a growth of 9.4% from 2017.
Third Largest Market
The Indian pharmaceutical industry is poised to become the third largest market in the world by 2020 in terms of incremental growth.
Lower Cost of Manufacturing
The cost of manufacturing in India is 33% lower than that of the United States.
Increase in Export Growth
India's pharmaceutical exports stood at $ 19.13 billion in 2018-19 with a growth rate of 10.72%.
Foreign Direct Investment (FDI)
The Indian government has allowed 100% FDI under the automatic route for Greenfield pharma.
FDI in Brownfield Pharma
The Indian government has allowed 100% FDI in Brownfield pharma. In this 74% is allowed under the automatic route while the rest through government approval route.
The ever increasing pool of prodigious scientists and engineers is one of the key reasons behind the exponential growth of the Indian pharmaceutical industry. Government initiatives have also proved immensely beneficial. Leverage the growth of Indian pharmaceutical industry and expand your business with a seasoned India Entry Strategy firm today.