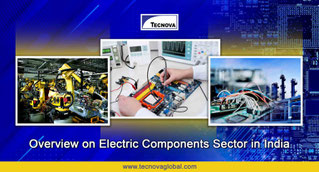 In the financial year 2021-2022, India's manufacturing exports have escalated by USD 418 billion. It was a massive leap, by around 40% compared to the previous year. One of the predominant Indian sectors that rule the Indian market and contribute to exports is the electronic systems manufacturing industry. India is the third largest producer of electricity. Export Electric Components from India has increased by 88%, a notable boost from USD 6600 million in FY2013-2014 to USD 12,400 million in FY2021-22.
The electronic industry is evolving at a faster rate. Hence, it is anticipated that the EMS (Electronics Manufacturing Service) industry will reach USD 152 billion by 2025. However, if foreign investors want to flourish in this sector, they must seek prompt assistance from a reliable business consulting firm and proceed with proper sourcing from India.
How Can Foreign Investors Benefit by Entering the Indian Electrical Components Industry?
The enhanced industrial consumption and the push to incorporate renewable energy in the Indian power sector offer several opportunities to foreign firms. Moreover, the liberalized FDI policy has attracted foreign investment of around USD 15.36 billion in the last two decades.
The National Monetisation Pipeline is a holistic approach that provides a major push in seeking investments worth USD 6.12 billion and USD 5.40 billion.
The electronic products that enhance the growth in the sector are IT hardware, industrial electronics, telecom equipment, mobile phones, etc. Moreover, constant research in this industry makes way for enhanced products, innovation, and exports.
Foreign investors have a high propensity toward India's power sector. FDI approval will enable investors to enter the sector, helping raise funds and incorporate advanced technology. Moreover, the government is keen to bring changes in the power sector by boosting privatization and ensuring technology transfer through foreign investment.
According to the RBI statistics, India's software services exports to Canada and the USA have together risen by 4.6% in FY2020-2021. This is perhaps the largest share of overall exports. All these parameters make India a fertile ground for foreign investors to explore the sector and make the most out of it.
The government has taken numerous steps to enhance exports. Even the Indian Government is keen on establishing districts in India as export pivots by implementing initiatives like ODOP (One District One Product).
The government is taking measures to lower the compliance burden and widen exporting opportunities. Various initiatives are also integrated to simplify the ease of conducting business and improve the value of branding and uplift India's global standing. Major Government initiatives and favorable FDI policy have streamlined and simplified the entry of foreign investors into India.
Under the automatic route in the ESDM sector, 100% FDI is allowed. The appliances and consumer electronics industry is projected to rise by USD 21.18 billion by 2025 from USD 9.84 billion in 2021. Moreover, the roll-outs of Digital India and IOT drive robust electronic product consumption.
All these figures and initiatives are full-fledged proof of lucrative opportunities for both domestic and European electronic manufacturers.
Role of the Indian Government
The Government of India has implemented several schemes to enhance the production of electronics. As a result, with robust government support the electronic systems manufacturing industry is projected to reach USD 250 billion by the financial year 2025.
To meet the growing demand for electronic goods, the Ministry of Electronics and Information Technology has incorporated several visionary policies like the 'Make in India' initiative, the National Policy on Electronics, etc. These have boosted the growth of the Indian Electric Components Industry in India.
The National Policy on Electronics intends to place India as a global fulcrum for Electronics System Design and Manufacturing (ESDM). Furthermore, the government has integrated several schemes like the PLI (Production Linked Incentive) scheme, SPECS (Scheme for Promotion of Manufacturing of Electronic Components and Semiconductors), etc. These schemes enhance the electronics sector and create a stable ecosystem.
The Software Technology Parks of India (STPI) scheme is a 100% export-oriented scheme. It intends to develop and export computer software. The Remission of Duties and Taxes on Exported Products (RoDTEP) scheme is a reform that allows exporters to access a rebate in the form of transferable duty credit. Even this boosts exports and competitiveness.
Why Should Foreign Investors Enlist the Assistance of Entry Management Consultancy Firms?
The Indian electronics manufacturing industry is continually expanding and capturing share in the global market. Moreover, the Ministry of electronics and IT vision have anticipated that the sector will reach USD 120 billion by 2026. Even the IT sector is a significant contributor to the country's GDP. The ACE sector is also projected to reach USD 48.37 billion in 2022.
All these statistics clearly show India to be a sought-after electronic market in the future, opening a wide range of scopes for foreign investments. To make a prominent business presence, foreign investors can take the assistance of reliable business consulting firms in India like Tecnova Global.
Tecnova offers all-inclusive support to foreign firms and gives them a deep insight into market research, regulatory compliances, and retail roll-out support. In addition, such firms provide expansion and growth advisory, 360 degrees competitive assessment, source, and contract manufacturing partnership, etc.
Industrial engineering consulting firms in India extend the customized market study to foreign investors and assists them in setting up manufacturing facilities. With the robust assistance of industrial engineering consulting firms, foreign investors can enter this sector and establish their strong business presence.
Reference
https://bit.ly/3s6FRMl
https://bit.ly/3s980Cb
https://bit.ly/3ERq63o