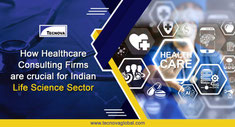 For the last two years, the global medical community has been forced to rethink its strategy when it comes to large-scale disease prevention. Discovered during the last month of 2019, the SARS-CoV-2 had led to the disruptive coronavirus pandemic, bringing the world to a sudden halt.
In India alone, 43,979,730 people had been affected by the virus. However, with a 99% recovery rate and multiple vaccines becoming available to the general public, the tide seems to be turning. With the universal healthcare sector realizing the mutual dependency to ensure comprehensive growth, healthcare consulting firms in India have become the frontrunners in enabling foreign pharmaceutical firms to venture into the Indian life science sector.
Why Global Pharma is Relying on Healthcare Consulting Firms in India?
Health officials in India have administered more than 2.12 Billion vaccines against the coronavirus pandemic. These vaccination drives had become a reality because of the collective approach of the leading medical authorities of this country and abroad.
Suffice it to say, these collective efforts have opened up new possibilities for global pharmaceutical companies to explore when considering Indian market entry. Because of the dense population, there is comparatively higher demand here for vaccines and other preventive measures against a highly infectious and rapidly spreading disease.
So, these foreign companies feel confident about catering to the masses with adequate assistance from healthcare business consultants in India. Moreover, with a large pool of trained professionals and less stringent protocols, administrating foreign medicines have become significantly easier in recent times. With the Russian-made COVID vaccine, Sputnik Light granted permission for phase 3 trials here in September 2021, the evolving and globalized approach to resist the disease's spread had been apparent.
So, healthcare business plan consultants in India are capable of helping out these investors when it comes to necessary paperwork with the Drug Authority of India. These agencies can also craft effective strategies for foreign companies to license and distribute their products or conduct a thorough clinical trial.
The successful effect of such a collaborative effort to combat the COVID-19 virus has been evident. For instance, Covaxin manufacturer Bharat Biotech has been working in tandem with the USA-based Washington University School of Medicine to develop India's first intranasal COVID vaccine. Notably, this vaccine entered its phase 3 trial in January 2022.
How Can Healthcare Consulting Firms Strengthen Cross-Border Strategic Liaison?
Healthcare strategy consulting firms are crucial in offering foreign investors an in-depth knowledge of the hitherto uncharted marketplace. So, these firms employ specialists with regional expertise in this field. This, in turn, can provide an international perspective on the medical issues and one step forward to establishing a connective, cross-border pharmaceutical community.
In this pandemic era, the Indian healthcare industry has been a prime example of such efforts churning out fruitful efforts. For example, AstraZeneca's Indian subdivision signed an MoU with the country's start-up company Docon Technologies to digitize 1,000 clinics here by implementing EMR systems. Moreover, another start-up, Virchow Biotech, has been collaborating with the Russian Direct Investment Fund [RDIF] to manufacture up to 200 million Sputnik V COVID-19 doses in India.
The recent technological progress of the Indian medical community also makes this nation an ideal place for such clinical trials, as mentioned above. The untapped potentiality of the resources here allows a far more cost-effective measure for research and development than in traditional first-world nations.
According to the trend analysts of the field, the cost of phase-I and phase-II trials in India can be around 50% and 60% lower, respectively, compared to the better-developed markets. So, the healthcare business plan consultants in India can offer foreign firms high-impact strategies to de-risk this industry environment of clinical trials.
With proper market research and 360 degrees of competitive assessment from consulting firms, these companies can enjoy an edge over their rival contenders. As the Indian Government has allowed the French multinational pharmaceutical company Sanofi to conduct a late-stage clinical trial for protein-based vaccines, the scope for future investments seems promising.
How Can Healthcare Consultancy Firms Lead To Increased Foreign Direct Investment?
With the Union Budget of FY22-23 allocating US$ 11.28 billion to India's healthcare sector, the Government's approach to ensuring a substantial growth of this industry has been palpable. In a significant measure to boost this sector's development, the Indian Government has allowed a 100% FDI in this country's healthcare market.
Needless to say, as a business opportunity, such initiatives are extremely lucrative – especially if they are trying to form a blueprint regarding Indian market entry. Healthcare strategy consulting firms, consequently, can play a crucial role in helping these companies make profitable greenfield and brownfield investments.
In a greenfield investment, a company builds a brand-new facility for itself. On the other hand, a brownfield investment is conducted via purchasing or leasing an existing property. So, a potential investor must have a comprehensive idea about the site it wants to secure. So, these healthcare consulting firms in India offer crucial infrastructural and social know-how about the land parcels and their cost, coverage area, Development Control Regulations, etc.
India's healthcare sector is expected to reach US$ 372 billion by this year.  Consequently, healthcare strategy consulting firms like Tecnova can facilitate hassle-free implementation for these companies by efficiently networking with the state and central government bodies on behalf of their clients.
Reference
https://bit.ly/2N1l6OV
https://bit.ly/3PX1Hv6
https://bit.ly/3AAB9dB
https://bit.ly/3wHTDrw
https://bit.ly/3AZIXXs
https://bit.ly/3e4jtPP
https://bit.ly/3Q3TjKv