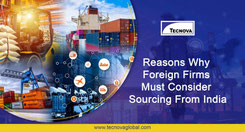 Reasons Why Foreign Firms Must Consider Sourcing From India:
Consumer demands are increasing rapidly worldwide. Meanwhile, disruption in the international supply chain following the US-China trade war has highlighted the need for stability and suitable alternatives for sourcing to secure coherent business operations. Many foreign firms are now eyeing India due to several competitive advantages. In fact, global sourcing companies in India are attracting favorable Government support that is helping to achieve sustainable growth.
In fact, as per recent records, the American E-commerce Giant has decided to invest around USD 6 billion to improve its infrastructure in India. Also, another  American Company in the Solar energy sector has announced an investment of USD 645.7 million in India. All these statistics indicate that sourcing India is being considered a favorable investment by foreign enterprises across the world.
India provides several competitive advantages that help reduce overall production cost and ensure better ROI to foreign companies willing to relocate or establish their manufacturing unit in the country.
Let's understand why
One of the biggest strengths of India is its cost-effectiveness. Low-cost skilled labor, affordable land, and utility costs help global sourcing companies in India cut down on the production cost significantly. Furthermore, India has emerged as the cheapest producer of solar energy. As a result, the cost of electricity is considerably lower than in other nations. Foreign firms are therefore turning towards India as their favorable sourcing destination to secure higher returns on investments.
Availability Of Raw Material And Ancillary Industries
India also stands in an advantageous position due to its huge resource of raw materials. Cotton, silk, jute, and metals like aluminum, copper, bauxite are readily available in India. In fact, India is the world's 8th largest producer of aluminum and possesses the 5th largest bauxite reserves worldwide. Also, India contributes around 3.5 to 4 % of the total production of copper in the world. This makes raw material sourcing from India favorable to foreign companies
Along with raw material sourcing from India, foreign companies are also attracted due to a large number of ancillary industries. The ancillary industries also help boost the production of bigger firms in the Indian market. It contributes around 2.3% to the total GDP. In fact, growth in the auto-ancillary industries is helping India emerge as the global hub for automobile component sourcing.
Availability of Skilled Workforce
India has a massive pool of human resources. In fact, 1 in every 5 Indians in the labor force are skilled, making India 129th among 162 countries as per the Human Development Report (HDR) 2020. Also, the cost of labor in India is lower than in other competing nations.
Strategically Positioned Shipping Ports For Shipments To Europe And South East Asian Countries
The geographic advantage of India proves extremely beneficial for foreign firms. India is connected to the other major countries in the world through various modes. The country has a long coastline of 7500km. There are 13 major seaports and 10 international airports connecting India to almost all continents and around 55 countries.
This strong support of infrastructure facilitates improvement in the manufacturing and service industries. Foreign organization can easily export their products manufactured in India across the globe and secure stability in supply chain management. Also, the strategic geographic positioning can facilitate easy raw material sourcing from India.
Government Benefits In Exports
The Indian Government also extends several benefits in exports. In recent years the Government has undertaken liberalization of several Indian trade laws and policies to promote exports and foreign investment in the country. In fact, under the MEIS scheme, the Indian Government offers an incentive of 2-5% of the Free-On-Board value of exports irrespective of the annual turnover. Also, under the SEIS scheme, an incentive of 3 to 7% of the net earning is offered to the service exporter.
Due to all these policies, the volume of India's exports has grown significantly. In fact, as per statistics, in FY 2020-2021, India's exports stood at USD 291.80 billion and rose 22.63% year-over-year to USD 33.79 billion in September 2021.
Advancements In Technology In Terms Of Logistics And Supply Chain
In India, the logistic sector has been undergoing a gradual transformation in terms of technology for the last few years. However, the onset of the Covid-19 pandemic severely tested the supply chain's resilience in India. Consequently, there is accelerated adoption of technological advancement in the logistics and distribution channels of the country.
As per reports, India's logistic industry is expected to grow at a CGAR of 10 % to USD 215 billion by 2022. Also, the market value of 3rd party logistics in India is expected to reach a valuation of $6 billion in the year 2025. The overall focus is towards establishing complete visibility in the consignment, real-time tracking of shipments, route optimization, and more. Such developments in the logistics and supply chain make India a favorable destination for sourcing.
India has also become a highly competitive ground for investors due to all such advantageous aspects. Hence, foreign companies must adequately plan out their India market entry strategies and identify the best investment channels to reduce risks and ensure profitable returns down the line. Hence, entrepreneurs must avail themselves of the help of top business consultants in India like Tecnova. These business consultants will provide end to end support in business integration, sourcing India, and vendor development support like:
Expansion and growth advisory
Evaluating vendors
Reducing resource and time of deployment
Effective leveraging of supply base cost-competitiveness
Assistance in the supplier selection process, and more.
In recent years there has been an unprecedented development in Indian industrial sectors. Furthermore, with increased liberalization in the business laws across different industrial sectors, the country has emerged as a lucrative destination for foreign investment and sourcing. Big shot foreign firms are now shifting their production unit in the country due to the cost-effectiveness and growing ease of doing business. However, this has also paved the way for high competition.
Hence, foreign firms must consult reliable India sourcing and vendor development consultant firms for comprehensive support. This will help in business integration, operation, raw material sourcing from India and achieve sustainable growth and development.
Reference

https://bit.ly/3IRD0gA
https://bit.ly/3HvuGTz
https://bit.ly/3IWjHTr
https://bit.ly/3s3RAL3
https://bit.ly/3ITnEs2