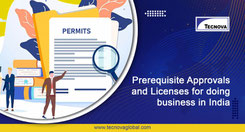 Doing Business in India! Find The Permits and Licenses You Need
Obtaining the right license and permits is a fundamental prerequisite for doing business in India. Foreign companies looking forward to entering India need to follow the same to establish their business successfully in different industrial sectors. These licenses and permits make it compulsory for foreign organizations to conform to the regulatory framework impacting the business operation in the country.
A Brief on the Scope of Business in India for Foreign Companies
The Indian market is booming with opportunities. Unmatched growth across several industrial sectors like automobile, FMCG, retail, e-commerce, etc., creates lucrative business opportunities for foreign companies. In fact India's GDP at current prices stood at USD 694.93 billion. Furthermore, with an improvement in the economic scenario, there has been steep growth in investment across various sectors. Some notable developments include:
The Index of Industrial Production (IIP) of India for July 2021 stood at 131.4
As per DPIIT, the recorded growth in the FDI equity inflow stood at USD 547.2 billion between April 2000 and June 2021.
India's Manufacturing Purchasing Managers' Index stood at 52.3 in 2021.
Merchandise exports and imports between April 2021 and August 2021 experienced a YoY increase of 67.33% and 80.89%, respectively.
Such statistics show the brilliant growth of the Indian economy in recent years. It also points at the profitable investment opportunities for foreign firms in various industrial sectors.
Foreign firms planning to extend their operation in the country need to abide by all registration and licensing requirements. However, it must be noted that the method of obtaining licenses and permits changes from one type of business to the other. The requirements will strictly base on several determining factors like chosen sector, employee strength, type of business, place of business, and more.
Let's understand in detail! 
Company or LLP Registration
Most firms in India begin their operation as a private limited company or collaboration company with no enrolment from Central Government. Registration of a company and LLP is solely regulated by the Ministry of Corporate Affairs. All entrepreneurs who plan to operate a business with an expected annual turnover of around USD 27,000 or more should obtain an LLP or company registration. In doing so, the firm will secure a separate legal identity. Also, the promoters will be able to get limited liability protection. LLP registration will also make business easily transferable, and the firm can obtain a perpetual existence.
All firms with an aggregate annual turnover in most states of more than USD 27,000 and more than USD 13,000 in the Special Category States must obtain a GST registration. Also,  any business entity involved in the intra-state supply of goods should register for GST, irrespective of the total turnover. Furthermore, every e-commerce aggregator should also obtain their GST registration.
Besides this, there are several other requirements enlisted under the GST Act to determine the eligibility for GST registration. All foreign entrepreneurs must understand these criteria and should secure their GST enrollment within 30 days of starting a company in India. They can also take the assistance of reliable business consultants in India to fulfill all the regulatory requirements. A trusted India Market Entry Consulting Firm can help better in this aspect.
This registration compliance is a must for entrepreneurs who are looking forward to establishing and operating micro, small or medium enterprises. The eligibility criteria to enroll for Udyog Aadhaar registration is strictly based on the investment made by a manufacturer in the plant & machinery or a service provider in software and equipment. On obtaining the Udyog Aadhaar registration, a firm can enjoy several subsidies and schemes extended by the Indian Government.
Registration and License FSSAI
Foreign firms willing to enter India's food and beverage sector should obtain FSSAI registration and license. Under FSSAI, the permits and registration are classified into three categories: Central License, State License, and Basic registration. Based on the size of the business, annual turnover, and export & import, foreign firms need to opt for the right FSSAI permits. For detailed knowledge, foreign organizations can take the help of reliable Indian business consultants.
Shop And Establishment Act License
The Shop and Establishments Act" essentially regulates the conduct of business like work hours, general safety and health of employees, child labor, payment of wages, etc. The State Governments in India issue this license and it varies in respective states. Hence, entrepreneurs will have to obtain the Shop and Establishment Act License from the concerned Government of the Indian State in which they are about to establish their business.
License For Import Export (IE) Code
All entrepreneurs who want to import for export products and services from India will have to register for Import Export or IE Code License. The company must also list this IE code in relevant custom records. Also, all financial institutions need a valid IEC registration to facilitate internal transfers. Furthermore, some organizations also require NBFC identification from fin-tech or non-banking institutions. The DGFT department is solely responsible for issuing IE codes.
Any foreign organization looking forward to starting a company in India that involves flammable materials must secure a fire department permit.
The fire license guarantees all safety measures are duly incorporated to safeguard and protect the workers against any hazards. Foreign firms must obtain their fire NOC from respective State Governments.
Air And Water Pollution Permit
All foreign enterprises that deal with industrial operations and the use of natural resources should obtain a permit from the Environmental Department. A firm will have to secure this authorization before the completion of the production unit. This will help eliminate the issues of air or water pollution being raised in the future by the environmental department.
How To Get A Business License In India?
The process of obtaining the necessary license and permits depends on several determinants like company size, position, nature, and scale. To precisely understand what sort of business license a respective firm must obtain in India, it is essential to contact a legal provider. Firms can also seek the guidance of a reliable India Market Entry Consulting Firm like Tecnova.
These business consultants in India will offer end-to-end assistance in securing the right legal processes. They will help to identify the license and permits an enterprise needs to begin its operation successfully.
India provides optimistic opportunities for foreign organizations. However, there are strict regulatory frameworks and licensing requirements that all investment firms need to adhere to. The business permits and license registration are carried out in various forms of market systems and demined by several factors. For a clearer insight and comprehensive support in company registration, corporate & tax advisory, and obtaining all statutory approvals, foreign firms must imperatively take help from reliable legal consultancy firms in India.
Reference

https://bit.ly/3oKl9kb
https://bit.ly/3J5sD98
https://bit.ly/3HqT8Fy
https://bit.ly/3oo3kXO
https://bit.ly/3shElGQ
https://bit.ly/3LaT7Yo