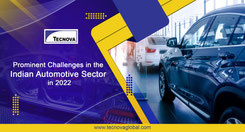 The Indian automotive industry is one of the strongest business sectors in the country. As of FY 2021, the annual contribution of this sector stood at 49 % of the manufacturing GDP. Also, reports state that the automobile sector in India is estimated to reach a valuation of USD 251.4-282.8 billion by 2026.
However, irrespective of the impeccable growth statistics, the Indian automobile industry is undergoing a significant structural slowdown in all 4 segments (passenger, two-wheelers, commercial, and three-wheeler vehicles) due to multiple economic reasons. In fact, in the last 2 fiscal years- 2020-2021, the total automobile sales have fallen significantly, affecting the overall growth rate.
In the following section, we have discussed some key challenges that are working as speed bumps towards the development of the Indian automobile sector. Foreign investors must review these challenges and collaborate with reliable automotive consulting services for strategic planning.
Key Challenges Affecting Indian Automobile Sector
A host of factors are challenging the growth rate of the Indian automotive sector, like the new environmental safety regulations, fuel price hikes, liquidity crunch, amongst others. Some of the most crucial issues that all automobile manufacturers are currently facing include:
Global Shortage Of 

Semiconductors
The worldwide shortage of semiconductors has significantly affected the sales of automobiles in India. The semiconductor chips are a crucial vehicle component that regulates a wide array of functions like navigation, infotainment, and traction control. India's demand for semiconductors stands at around USD 24 billion and can reach a valuation of USD 100 billion by 2025. Consequently, with the global supply shortage of semiconductors, India's passenger vehicle production is severely affected. In fact, the sales of passenger vehicles are reduced 11 to 13 % in the current financial year.
Rising prices of raw materials and essential commodities for production also affect the growth of India's automobile sector. For example, as per SIAM's data, the copper prices are still about 66% more than a year ago. Also, most automobile companies are facing difficulty due to the high steel prices, which continue to rise even in FY21. As a result, they are now increasing the price of the car models, which in turn is affecting consumer demand. Therefore, as the cost of commodities continues to rise, foreign investors in the Indian automobile sectors need to strategize their production costs. For comprehensive planning, consulting with an automotive consulting company in India can be of great help.
Upcoming BSVI Phase 2 Regulations
The BSVI phase 2 regulations petrol vehicles must have a 25% reduction in the Nitrogen Oxide emission. Also, diesel-powered vehicles will have to reduce the hydrocarbon + nitrogen oxide emission by 43%.
Also, the average permissible CO2 level for any car should be reduced from 130g/km to 113g/km. This move towards more stringent emission control norms is severely challenging for automakers because meeting new emission standards, good fuel efficiency, and low costs are absolutely contradictory. Furthermore, electrification of any form, programmed fuel injection will increase car prices affecting demand.
Though there is a growing demand for EV vehicles in India, and the EV market is estimated to become a USD 7.09 billion opportunity by 2025, the segment faces considerable challenges. To name a few, the high cost of batteries like Nickel-metal hydride (NiMH) and Lithium-Ion (LiON), due to demand-supply gaps, is increasing the overall price of EVs in India. Furthermore, increasing demand for electricity to charge EVs is also creating challenges from the grid side. The cost of a private charging station is also a significant point of concern for EV buyers. All these factors are significantly challenging the production and demand for electric vehicles in India.
In order to overcome these roadblocks, collective efforts of both the Indian Government and investing firms is imperative. In fact, collaborating with a reliable automotive sector consulting firm in India for detailed insight and comprehensive planning can significantly benefit.
Here are some recognized ways to counter the challenges mentioned above
Promoting localization or domestic production of different auto components in the country itself will significantly lower the production cost and thereby the overall price of vehicles in the Indian market. The Indian Government has already urged 100% localization for auto components in India. This will significantly cut India's dependency on imports. However, it is not an easy process. This is because the dependency rate of the auto manufacturing sector on imports is around 70%. Hence, auto companies need to consult automotive management consulting services to frame an adequate localization target roadmap.
Focus on developing new powertrain technology
Investing foreign firms need to develop new powertrain technology with innovative R&D to conform to the new emission control demands. As per recent reports, Mild-hybrid powertrains coupled with standardization of exhaust after-treatment technologies are some major trends currently impacting the powertrain industry. Foreign firms, therefore, must take the help of an automotive consulting company in India to identify new avenues in the powertrain market.
The Government of India has approved an incentive scheme of USD 3.5 billion to boost the production of EVs in India.
The incentives will range from around 8 to 18% of the total sales value of the electric vehicles and components. However, foreign firms will have to meet certain specific conditions to qualify for these incentives. For detailed insight, investing automobile companies can avail the assistance of a leading automotive consulting company.
Achieve Better Resilience In Manufacturing And Supply Chain Dimension
Foreign organizations should also collaborate with top automotive management consulting services in India to modify their supply change management as per the recent market requirements. Companies must focus more on customer engagement. Furthermore, they must capture the recent digital retailing trend like Tesla. This will help reduce cost overall cost by removing dealer commission.
How can Automotive Consulting Services help?
Leading automotive consulting companies in India can help in overcoming the recent challenges that are blocking the growth of the automobiles industry in India.
Automotive industry consultants like Tecnova offers end to end assistance to foreign firms willing to enter the Indian auto industry with-
Comprehensive market analysis
Expansion and growth advisory services
Establishing and monitoring dealer networks
Setting up a production unit
Partner search and assistance in joint ventures etc.
Such all-inclusive support from top automotive sector consulting firm will help new firms frame Indian market-specific strategies and achieve unmatched growth.
EndNote
The Indian automobile sector is estimated to attract around USD 8-10 billion in both local and foreign investment. However, investment firms need to overcome several economic hurdles and market uncertainties to achieve sustainable growth. To explore the avenues better, it is crucial to hire an Indian automotive sector consulting firmfor in-depth market insight and strategic planning. This will ensure sustainability and better ROI down the line.
Reference Links:
https://bit.ly/3pxyBHA
https://bit.ly/3dtI6C4
https://bit.ly/3rJb0qa
https://bit.ly/32UYWYj
https://bit.ly/3DxyFfs
https://bit.ly/31GgIy5
https://bit.ly/3rILqRW