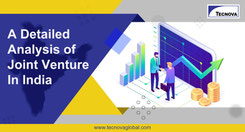 Establishing a Joint Venture in India
Joint ventures are one of the best ways to enter the Indian market. Most foreign companies are looking for a joint venture in India to enter the Indian market due to the promising growth in its business sector. As of December 2020, India recorded a nominal GDP of USD 2.87 trillion, which is higher than that of some major countries like the UK, France, Italy, Canada, and others.
Why India Is A Preferred Ground For Joint Ventures?
Joint ventures are one the most preferred India-entry strategy of foreign businesses. Economically, India is one of the fastest-growing nations that features a combination of traditional crafts with modern industry.
Several economic sectors such as retail and automobile are currently expanding rapidly and are expected to reach a valuation of 1.3 trillion USD by 2024 and 282.8 billion USD by 2026, respectively.
Apart from the economic perspective, most companies prefer joint ventures in Indiabecause –
Foreign firms can take advantage of the already established distribution network and marketing setup of their Indian partners. This helps them to streamline their business process and set up the operation faster.
Collaborating business with a local partner in India through joint ventures also allows foreign firms to utilize the established contact of the Indian partners. These contacts ease the process of business setup in India.
Moreover, India has permitted about 100% FDI through automatic routes in most industrial sectors. JV offers a safe and low-risk way to utilize this opportunity and enter the profitable Indian market.
Some Inherited Challenges
Although JV partnership in India is one of the most preferred ways for many foreign companies to enter India, it has some underlying challenges.
Different Financial Access
Most foreign companies entering India have access to larger funds at a lower cost. They can draw from several government funding agencies, market-driven banking partners, and other sources of capital not accessible to Indian partners. Also, their interest rate for bank debts is around 5% – 7% cheaper, with chances of foreign access depreciation in the future.
Whereas the local partner in India has to fund the joint venture at an externally higher cost from the very beginning. This creates an anomaly in the financial counterpart for both partners.
Most companies enter India from Europe or North America. The language for these countries is different from India. Hence, it automatically creates a communication gap which leads to different conclusions for both partners.
Apart from these, different work and corporate culture, timing, ethics results in lower productivity for both partners. Also, the above-mentioned difference results in difficult workflow management.
Different Start-up Culture
Many companies, who enter as joint ventures in India, are start-ups. Although India registers around 2-3 start-ups per day, they lack experience in handling joint ventures. This goes the same for the foreign companies looking to enter the Indian market.
Variable Ownership Context
Most foreign firms entering India are large corporate entities. They have institutional ownership and professional managers. On the contrary, most Indian companies are family-owned businesses. This leads to a difference in business goal ideology.
Managers of foreign companies have short to mid-term business goals, unlike their Indian partners. It creates a major dispute between the foreign company and their local partner in India.
Companies looking to explore the Indian market through JV may face a few challenges. Consultancy firms like Tecnova assist them in the successful implementation of their business through comprehensive partner search and M&A support. They also have a signature program, RISE, which is Recruit, Incubate, Support, Expand; it offers 3600 support for the ventures looking for a joint venture in India.
For a successful implementation of JV, it is important to understand the Indian market thoroughly. Thus, before entering into a joint venture in India, foreign firms can avail assistance from business consultants. It will help them get a detailed market analysis and identify suitable partners. Further, such consultancy firms will assist in total business development and ensure successful joint ventures.
Reference Links:
https://bit.ly/304KLz7
https://bit.ly/3oeaLjk
https://bit.ly/3BWgJKI
https://bit.ly/3wvE3xv
https://bit.ly/3BY2oxa
https://bit.ly/3mWDlX6
https://bit.ly/3H88oYe
https://bit.ly/3C1OGcC