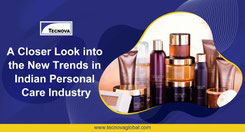 According to reports, India's personal care Industry and cosmetic market is expected to touch a valuation of USD 20 billion by 2025. Such massive growth is opening competitive grounds for foreign businesses.
It is also attracting a lump sum amount of foreign investments with comprehensive support from business expansion services. In fact, to cater to the increase in consumption of personal care products, various FMCG companies are now coming up with different types of products at a wide range of price range.
There are a wide number of factors that are leading to the boost mentioned above in the personal care market. Foreign investors willing to enter the personal care industry of India must therefore look into the recent trends that are shaping this development. This will help them frame strategic business plans.
Recent Market Size of Personal Care and Cosmetic Industry
Indian personal care industry reached a valuation of about USD 26.1 billion in FY 2020. Various market research reports expect the industry to grow at a CAGR rate of about 9.6 % by 2026.  According to Statista, the personal care market is projected to reach USD 32.7 billion by 2023.
Growth in online awareness, shift to organic products, and changing consumer preference are continually boosting the development in the sector. In fact, the total number of users in the personal care segment will amount to around 347.0 million by 2025, creating potential opportunities for future businesses. With all-inclusive support from vendor development services, foreign firms can capture the market opportunities and enjoy uncompromised ROI.
4 New Trends That Are Shaping the Future of Personal Care Industry in India
The consumption pattern of cosmetics, beauty and healthcare products has changed substantially in recent times. This has also changed the nature of personal care products' demand in the market. Listed below are 4 new trends that are driving the growth and change of the sector.
Growing demand due to increased disposable income
The rise in the disposable income of the middle-class population of India and the consequent shift in aspiration to look good and groom appearances is backing the rise of the personal care Industry. As a result, cosmetics, perfumes, general grooming products are outperforming generic and established categories like soaps, hair care, oral care, etc. However, generic products already have high penetration. Foreign firms can dominate these categories by introducing new and value-for-money brands. For strategic planning, they can consult with manufacturing consulting firms.
Increased option of men's grooming products
The rising aspiration in Indian men to look good is also boosting the demand for men's grooming products in India's personal care sector. In fact, there has been a 42% increase in the men's personal care market in the last 5 years. Consequently, one of the most ignored segments of the beauty and personal care business is now being tapped.
In recent years, there has been a growing demand for men-targeted moisturizers, cosmetics, eye creams, face masks, etc. Also, there is an increasing preference for personalized men's hygiene products. Hence, foreign firms willing to invest in the Indian personal care market can get profitable returns by expanding on men grooming products. To maximize the profit and ensure better product-line research & management for this segment, assistance from reliable healthcare consulting firms or business expansion services is a must.
A shift towards natural and organic products
In India, personal care products customers have started showing a preference for organic products. In recent times, a significant customer base is refraining from using cosmetics or healthcare products that contain parabens and sulfates. Instead, there is a growing demand for beauty products that are naturally sourced, sustainable, eco-friendly, and contain plant-based ingredients.
In fact, as per reports, the herbal cosmetic industry in India is pacing up a significant rise and is expected to show a growth rate of 12%. Domestic brands like Blossom Kochhar, Dabur, Lotus, etc., are posing significant competition to global giants in this sector. Therefore, foreign cosmetic firms must collaborate with top healthcare consulting firms in India to conduct detailed research.
Change in lifestyle in rural counterparts
Growing awareness among the rural population in India is also increasing the volume of demand for personal care products. The influence of social media, better exposure from online sales, and extended distribution channels support the rise of demand for personal care and hygiene products in India's rural population.
In fact, as per recent reports in rural India, demand for talcum powder saw a 26% volume growth. Similarly, there was a 12%  growth in demand for hair color products. Also, there is a growing propensity towards spending on high-quality products with good brand value.
How can Business Expansion Services in India help?
The personal care market in India is changing drastically. It has also grown significantly competitive. Consequently, recent investors in this market need to conduct a thorough competitor analysis and study the recent market dynamics of the personal care sector in India. This can only be possible with extensive support from manufacturing consulting firms in India.
A reliable business expansion service or healthcare consulting firm like Tecnova will assist foreign personal care brands in entering the Indian market with strategic planning. From market research, expansion and growth advisory, strategic advice, crisis management to all-inclusive vendor development services, these firms cater to all requirements of market entry planning.
The personal care and health care segment of India will change drastically in the coming years. As a result, there will be a rise in the demand volume for cosmetics, generic, and hygiene products. Indian personal care industry is also moving towards inclusivity following the preference for unisex or gender-neutral products. In the face of such impressive business opportunities, foreign firms can sustain only by targeting the current consumer preferences. This can only be possible with comprehensive support from healthcare consulting firms in India, who will help foreign firms identify the market structure and assist in the implementation process.
Reference Links:
https://bit.ly/30PAirf
https://bit.ly/3CFmug9
https://bit.ly/3oQAAGz
https://bit.ly/3HM66hq
https://bit.ly/30InN0u