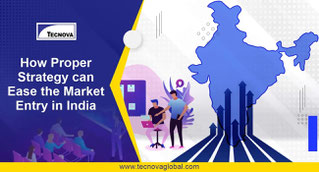 India Market Entry Strategy for Your Business
India is a vast country where several different factors come into play. A tailored plan is required that will include region-specific strategies. As the market differs regionally, zonal efforts must address language, cultural differences, and economic development to succeed.  So, foreign investors need to study these factors beforehand with assistance from an India market entry strategy consulting company. 
From average GDP to consumer needs, everything varies in India at a fine level. For a new player in the market, it is not easy to exploit the details perfectly. This is where market research companies in Indiacome to play.
Key Challenges In Market Entry And Expansion In India
India is a diverse country where businesses face challenges locally. Language, food consumption, clothing preferences change rapidly in India. A few of the challenges that business firms face while entering India are mentioned below.
Shifting Consumer Preference
According to research by Jin and Son, 2016, it is concluded that Indian lifestyle concerning their value, attitude, and consumption of foreign goods varies regionally. Hence, performing local market research before launching a business in the country is extremely necessary.
Also, with the dawn of the millennial generation and rising middle-class income India is quietly shifting towards Indian international brands. Indians started valuing experience over trying new products. So, giving attention to all these factors are considered crucial for market entry and expansion in India
Due to the different lifestyles and trends across various regions in India, demands for products and services also change. Hence it is important to optimize products or services based on regional preferences. Although most international brands looking to enter the Indian market do not have such diversity in their product or service, this is a major stone they need to turn.
The recorded salary of an average Indian is around USD 437, which is among the lowest. Moreover, India ranks 72nd on the global list if the monthly wage is concerned.
This makes an average Indian price sensitive. Furthermore, it should be noted Indians are more price sensitive to products that they use daily. Also, there is a great focus on the price-performance ratio.
Thus, India's market entry strategy must address this price sensitivity issue. It will help foreign firms to streamline the production line for affordability.
GDP of Indian states varies widely. As a result, consumer consumption differs significantly based on region. For example, Maharashtra has a GDP of USD 400 billion, which is the highest among Indian states and union territories. In comparison, Mizoram has the lowest GDP with USD 3.7 billion.
Also, the difference in consumer preference and lifestyle in India's rural and urban areas proves challenging for foreign investors. Hence, marketers should conduct thorough region-specific research to capture a larger consumer base and maximize profits.
For market entry and expansion in India, finding a suitable partner might be a bit of a challenge. This also requires reasonable research time to match a partner who has more or less similar goals.
Several market research companies in India have their own strategic approach to incorporate a partner in India. These strategies help to streamline the process for foreign companies and make finding a partner easy.
Developing a Winning Market Entry Strategy
For India market entry strategy, it is important to develop a fine-tuned plan to operate at the granular level. Although this varies for different ventures as per the level of operation, here are few points to expedite these strategies.
Having a clear goal is most beneficial. Before entering, setting goals for a venture can help to attract the right partner. Additionally, a business with the right partner having similar goals will assist foreign investors in setting up successful business operations in the initial stage as well as long run.
The mode through which a firm seeks to enter and expand in India is also important. There are several modes available, but choosing the right one is necessary. Market research companies in Indiaassist new ventures right from the start to successfully enter India and also to expand their business through profitable channels.
Documentation and financing can affect the new venture considerably. So, a new venture is always advised to look for proper documentation and seek the correct way of financing the entry.
Developing a proper market entry strategy assisted by market research companies involves three primary pointers.
Market research helps to address the answer related to a business establishment. The answers that thorough market research provides are:
✓ Estimating the market size.
✓ Opportunity to grow.
✓ Market demand.
✓  Need of certificates and permissions.
✓ Domestic and international competition.
For a successful entry into the Indian market, a growth partner is important. This involves a chain of organizations ranging from vendors, distributors to dealers. The involvement of every partner is crucial for a successful launch. Indigenous companies that assist in Indian market entry helps to form a complete value chain for a new entry.
Currently, most businesses need proper application of technology for its smooth functioning. Companies in India that provide market research assistance will help a new business to find all the related information related to business launches.
Consultancy firms like Tecnova provide all sorts of assistance regarding India market entry. They help in consultation, implementation, and also executive search for a business. Unlike other firms, Tecnova's RISE business model-assisted business to launch successfully in India. RISE is the abbreviation for Recruit, Incubate, Support, and Expand powers market launch in four different levels.
It is certain that there are several challenges a new business might face before its launch. To achieve sustainability, there should be comprehensive market research in the initial stage. With a management consultancy partner, foreign firms can easily solve those. Management consultants have a unique understanding of the Indian market, with all the strategies needed to succeed in India. Furthermore, this market entry strategy consulting companies makes it easy for foreign ventures to launch in India.
Reference Links:
https://bit.ly/3v4fkjd
https://on.wsj.com/3v4fO91
https://on.bcg.com/3mIUEJL
https://bit.ly/3mLx8Mx
https://bit.ly/3v2ChUc
https://bit.ly/3DqKLY7
https://yhoo.it/2X0S9Kd
https://mck.co/2YGMfPa
https://bit.ly/3AziIUq