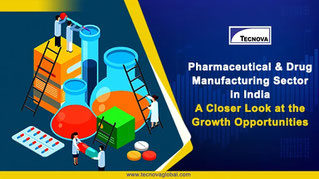 The Pharmaceutical and Drug Manufacturing sector in India is the 3rd largest by volume and the 14thlargest by value. This is a clear depiction of the room for growth that this sector has to offer. On the global Pharma map, India holds a vital position as the largest generic drug supplier.
More than 60% of the global vaccines come from India. It also has one of the largest pools of engineers and scientists who play an essential role in further leveraging the sector. What's noteworthy is the fact that manufacturing costs are lower by about 30% here. Hence, foreign companies see this as a lucrative opportunity to establish their foothold into the subcontinent, churning a better ROI by getting a pharmaceutical registration in India.
Recent Developments for Pharmaceutical and Drug Manufacturing Sector in India
Analysts have high hopes for the Indian Pharmaceutical Industry.
Based on the Indian Economic Survey 2021, the Indian Pharma market is likely to grow by three times in the coming decade. By 2024, the Pharma market is expected to hit USD 65 billion from the current USD 42 billion. Top pharmaceutical consulting firms in India can offer assistance to help foreign companies join the bandwagon.
With this, there is prominent scope in the biotechnology sector as well, which is likely to grow from USD 64 billion in 2019 to USD 150 billion in the coming five years.
Further, the Union Cabinet has decided to amend the current FDI policies in the Pharma sector. This is an excellent sign for market entry in which pharmaceutical regulatory consulting firms in India can be the best aids.
Based on reports released by the Department for Promotion of Industry and Internal Trade (DPIIT), from April 2000 to December 2020, FDI inflow has been worth a staggering USD 17.75 billion.
Consumer Demand: A Crucial Aspect
Tier-1 and metropolitan markets constitute 30% of the Pharma market, growing at around 15% in the last five years. Three factors push this growth, namely:
People are moving to the cities, and around 250 million people are likely to move to the top 70 cities in the coming 20 decades. Several foreign companies have their eyes on this demographic where a pharmaceutical regulatory consultant in India can be quite helpful.
Expansion of Medical Infrastructure
With rapid technical advancements, medical infrastructure is developing too. Privatized hospitals are expanding their network. With hospital chains in the leading 70 cities, the focus is on offering quality healthcare – another opportunity for foreign companies to tap into the full potential of the pharmaceutical and drug manufacturing sector in India.
A Rise in Medical Compliance
The increase in hospitals has led to the rise in compliance too. With the help of Indian pharmaceutical consulting firms, foreign companies can further leverage growth in this scenario.
The Tier-2 market may not show a lot of growth, but rural development looks promising. A rise in healthcare accessibility is also underway due to a rise in affordability.
In an estimate, more than 28 million rural households will free themselves from the deprived income class. This accounts for roughly 20% of the total rural households. Foreign enterprises view this as a rising opportunity in expanding their horizons, and a pharmaceutical regulatory consultant in India can further assist in this regard.
With the introduction of RSBY (Rashtriya Swasthya Bima Yojana), affordability in healthcare will further be enhanced. Rural patients will be able to treat themselves better even in case of serious illnesses. With better affordability, the revenue generation of Pharma will drive up. However, with this, the issue of the lack of healthcare workers may bottleneck the situation.
This problem is, however, unlikely to last very long as healthcare and Pharma pay well and there's a rise in literacy rates and overall qualifications. People will pick up on these lucrative career options and be a part of primary health centers (PHCs) and community health centres (CHCs) in their best capacity. Aided by the best Indian pharmaceutical consulting firms, foreign organisations can, thus, also leverage excellent workforce assistance.
Some Non-traditional Emerging Opportunities
Opportunities are not just limited to conventional means. A rapid growth in biologics, patented products, vaccines, etc., is also on the rise and promising further growth to foreign companies in the future.
These products are likely to work on the subcategories of metabolic, neuropsychiatry, oncology, and anti-infectives. The primary driver of this force is the rise in affordability.
With the limited competition that this sub-sector enjoys, even the 5% capture of the overall market seems like a good number. And with active assistance from a pharmaceutical regulatory consultant in India, this sub-sector is also easily accessible.
Vaccines pave the way for a lucrative opportunity to make it big in the Indian pharma and drug manufacturing sector. As of now, the market is worth USD 250 million, but this year itself, it may grow up to USD 3.5 billion!
Biologics and Biosimilars
The future certainly offers promising growth in biologics. This will not only improve the drug quality but also make it cheaper. Several clinical trials are run before license issuing. These licenses will ensure safety, efficacy, and quality. Pharmaceutical regulatory consultant in India can help foreign investors leverage this as a solid opportunity for higher ROI.
How to Enter, Registration Requirements and the Need for a Consultancy Firm while entering in Pharmaceutical and Drug Manufacturing Sector in India
Although extremely lucrative, entering the Indian Pharma market can be a little overwhelming. Yes, the Union Ministry allowing 100% FDI has made India-entry easy; however, the registration process is still pretty tough.
You will need several licences, like:
Wholesale Drug Licence number (D.L. No.)
Goods and Service Tax (GST) Registration, etc.
Pharmaceutical registration in India also includes
Company or Firm Registration
Trade Mark registration
CDSCO Registration
FSSAI Registration, etc.
Besides these, there are several other documents involved, and the process can be extremely tedious. This is where opting for assistance from top pharmaceutical consulting firms in India, like Tecnova, turns out to be extremely helpful. Such firms make establishing a hold in the Indian market rather convenient.
With the help of pharmaceutical regulatory consulting firms in India, foreign organizations can make the most out of the growth spectrum that the sector promises. Such firms take care of everything from registration to set up, thus ensuring long-term benefits and increased ROI.