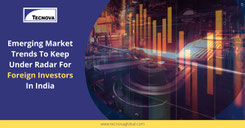 Emerging Market Trends To Keep Under Radar For Foreign Investors In India
India is one of the fastest-growing Asian economies. Various reports peg the country to emerge as one of the top 3 economic powers globally in the next 10 – 15 years, aided by robust market demand and growth in investments.
Foreign investments in various industrial sectors have surged significantly on the heels of an improving economic scenario and government initiatives. Reports reveal India's total investment value as of FY2021 stood at USD 80 billion.
Among all, M&A activity contributed about 50% to the total value. Moreover, estimates say India's domestic consumption will triple to USD 4 trillion by 2025 owing to rapidly shifting consumer behavior, presenting optimistic opportunities for foreign business in India.
Industry-wise Market Opportunities in India
1.  Agricultural Equipment And Dairy & Food Processing Market Trends
Agriculture Equipment
According to the EMR report and forecast for 2021-2026, the Indian agriculture sector reached a valuation of USD 751.77 billion as of 2020. It is also estimated to register a CAGR of about 12% between FY 2021 – 2026.
The rise in population and growing demand for agricultural products in the country are key drivers. Prompted by the trend, farmers are implementing technologically improved farming methods to maximize their yield.
Consequently, demand for agricultural equipment such as tractors, rotavators, threshers, power tillers, and more will likely reach a valuation of USD 901.41 billion by 2024, according to a report. This allows foreign investors a competitive ground for setting up a manufacturing plant in India.
Food Processing & Dairy
The Indian food processing and dairy product segment is growing rapidly.
According to reports, this industry is estimated to attain a valuation of about USD 535 billion by 2025-2026. Also, the dairy landscape in India clocked an impressive growth rate in FY2020, reaching USD 11357 billion in valuation per another report.
India is one of the largest producers of milk globally. Plus, there is increasing consumer demand for value-added dairy products like cheese, yogurt, and probiotics in recent times. Therefore, it increases the business scope for private players in this sector.
Also, in building a milk procurement network, the share of the private sector has topped the cooperative sector, allowing for more foreign investment.
Government Initiatives 
GOI has undertaken several initiatives to boost business opportunities, foreign investments, and profitability in this segment. Case in point, 100% FDI is allowed in the food processing and agriculture equipment sector via the automated route. It improves investment opportunities for foreign business in India.
The Union Cabinet also approved the USD 1.45 billion PLI scheme for the food processing and dairy industry to boost India's global food manufacturing potential.
2. Steel 
Overall Market Trends & Demands
Various statistical reports show an increased demand for steel from various sectors in India, such as infrastructure and oil & gas, automotive, among others. In fact, per a report, India's finished steel consumption stood at 6.78 MT.
The Indian steel industry is witnessing a consolidation of market players due to demand growth, attracting foreign investments. Reports shared by the Department for Promotion of Industry and Internal Trade specify that the steel industry and its associated metallurgical sector secured an FDI of USD 14.24 billion as of FY2020.
Production 
Advantages 
India is one of the largest crude steel producers globally. In fact, it clocked a production of about 111.2 MT as of 2019. Adding to that, the easy availability of low-cost manpower and abundant iron ore reserves make India a competitive space for steel production.
Government 
Initiatives 
To aid the steel sector's growth, the Indian government allows 100% FDI through the automatic route. It allows ample scope for foreign investors in setting up manufacturing plant in India. Also, under Union Budget, the Indian government has allocated roughly USD 75 million to the Ministry of Steel for the sector's robust growth.
3. Infrastructure Development 
Market 
Size
Infrastructure development is one of the key economic drivers in India. According to reports, it is estimated to clock a CAGR of about 7% between FY 2021 and 2026. Also, per reports, sectors such as energy, railways, highways, and urban development will account for 70% of India's total projected infrastructure expenditure during the FY between 2020 and 2025.
As a result, it will likely create profitable investment opportunities for foreign business in India.
Investments
India's infrastructure and construction development sector received an FDI inflow of USD 23.99 billion as of FY 2020. Moreover, the infrastructure development investment activities accounted for about total FDI inflow's 13% share in FY2021.
However, huge investments make the sector extremely competitive, increasing the significance of a well-planned India entry strategy to secure long-term growth.
Government Initiatives
Indian government allows 100% FDI in the construction development sector. Additionally, Union Budget 2021 provided a massive push to this sector by allocating USD 32.02 billion for the transport infrastructure. Consequently, it has boosted private players' role to undertake strategic infrastructural development projects.
Other Essential Sectors In India: A Quick Look Into Market Trends
Besides the aforesaid sectors, pharmaceutical & medical devices, chemical, automobile & component sectors, and electrical component manufacturing sectors also present ample scope for foreign investments and profitability.
Reports peg the domestic pharmaceutical market will secure a valuation of USD 65 billion by FY2024. Moreover, the Indian medical device market will likely register a 35.4% CAGR between FY2020 and 2025.
On the other hand, the automobile sector is clocking significant investment growth on the heels of growing domestic demand for passenger vehicles. As a result, estimates reveal the automobile sector may register an FDI of about USD 8 to 10 billion by 2023.
India's auto component exports have also increased by 7.6% as of FY 2020, reports reveal. Plus, government initiatives like 100% FDI and PLI schemes at present favor setting up manufacturing plant in India.
The Indian electronic manufacturing sector is also emerging as a lucrative hub for global investments. The electronic market will likely grow at a compounded rate of 9%, by USD 33.74 billion, creating attractive opportunities for foreign investors.
Hiring a Business Consultant: What are the Benefits?
To grab opportunities in a highly competitive and evolving Indian market, foreign investors must devise a personalized India entry strategy and learn how to register a foreign company in India.
To that end, reliable consultancy firms like Tecnova are of great avail. These firms leverage detailed market analysis, end-to-end incubation, M&A, and implementation support to formulate customized entry strategies for foreign companies. They also guide companies through how to register a foreign company in India to minimize efforts.
The exponential growth in various Indian industrial sectors and favorable market trends are creating robust business development and profitable foreign investment opportunities. However, the highly competitive market also necessitates reliable consultancy firms for a well-framed India entry strategy to edge out the challenges and achieve sustainable development.
Image Courtesy:-
Reference Links:
https://bit.ly/3zoHVkg
https://bit.ly/3BpSoOa
https://bit.ly/36STZOD
https://bit.ly/3wTUoLj
https://bit.ly/3wTUqCV
https://bit.ly/3iHm8NU
https://bit.ly/3zv2dbJ
https://bit.ly/3iwZyra
https://bit.ly/3hYX2ew
https://bit.ly/3kUJC4O
https://bit.ly/2V4mIgO
https://bit.ly/3xZzV8V
https://bit.ly/3rturAY
https://bit.ly/3x9KDc5
https://bit.ly/3rv0797
https://bit.ly/3ByiPkH
https://bit.ly/3eMQ3mQ
https://prn.to/3hVHl7E