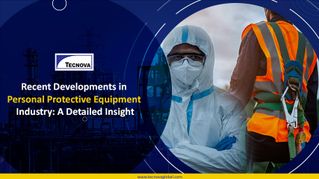 Recent Developments in India's Personal Protective Equipment Industry (PPE Industry): A Detailed Insight
In India, the PPE manufacturing capabilities have drastically expanded production following the COVID-19 crisis. With the increased demand for Personal Protective Equipment in the healthcare sector, the Indian Government has been ramping up efforts to support domestic production of PPE to build a massive supply chain. In March 2020, the Ministry of Textiles in India began monitoring the demand and production rate of PPE kits closely, and with an active collaboration in the entire textile industry, India's PPE production rose from 0 to 45 Lakh units in a single day!
As per reports provided by Invest India, the COVID-19 pandemic opened scope for a new market of PPE kits worth about USD 1.3 bn or INR 10,000 crores in FY 2020. India emerged as the 2nd largest PPE manufacturer in the world with an ever-growing potential and creating scope for foreign investments in the sector.
However, in order to attain sustainable development and thrive in an already competitive ecosystem, investors need assistance from the best healthcare consulting firms in India to eliminate the investment risks.
A Growth Analysis of the PPE Industry in India and the Growing Need of Healthcare Consulting Firms in India
An increasing need for workplace safety has led to a rise in India's demand for personal protective equipment. Not only the healthcare market in India, but sectors like the chemical and construction industries are creating a considerable market size demand for protective gears.
Therefore, industry participants are collaborating efforts in diversifying the Personal Protective Equipment production to cater to multifaceted requirements of the current market scenario. There is also a greater shift to enhance the quality, efficiency, and durability of safety equipment to meet their clientele's universal and diverse requirements. 
Let's get a brief insight into market size of PPE kits in India, some key drivers and figures.
Healthcare Industry
With the growing demand for Personal Protective Equipment kits in the healthcare sector in India, following the menacing impact of the virus, it has become one of the major drivers of the country's PPE production growth. Various reports and analyses suggest that the PPE demand for the healthcare market in India is estimated to reach a valuation of 278 billion USD approximately in the next few years. Such numbers project an impressive opportunity for foreign PPE producers to achieve sustainable profitability in the Indian market.
However, the lucrative market opportunity in healthcare Personal Protective Equipment production is marred with steep competition. Foreign investors, therefore, need to collaborate with industrial consultant in India to formulate a strategic plan that will ensure profitability in the future.
Consumer Personal Protective Equipment
The Consumer PPE segment is creating a massive demand for hand and arm protection gears. The pandemic has led to an enormous change in consumer behavior and will continue to grow with increasing healthcare and sanitization needs.
In fact, as per reports from Mallcom, the hand and arm PPE segment accounted for 26% of the PPE market in India as of FY 2020.
To capture this market and help foreign investors cater to the ever-increasing consumer demand for protective gear, industrial plant set up consultants in India are actively formulating India entry strategies to extend comprehensive business development support.
Industrial Personal Protective Equipment Demand
As per Invest India, as employers are becoming more concerned about the workforce resuming the work, the demand for industrial PPE is bound to see an upsurge. Also, reports from Mallcom states that 76.2% of all industrial projects related to infrastructural, industrial, and commercial construction are creating a massive drive for protective gear.
Consequently, the market demand for air-purifying respirators, durable gloves, safety helmets are increasing rapidly from sectors like mining, oil & gas, steel, chemical industries and creating a huge potential for PPE production growth. It is also developing a profitable scope for foreign investors, and with active support from industrial consultants in India, foreign PPE companies can achieve sustainable profitability in the Indian market.
E-Commerce Channels for PPE-Booming Opportunity Scope for Foreign Investors.
With the increasing demand and market size for PPE in India, there is a rapid integration of E-commerce channels to achieve better procurement of PPE. This is an emerging trend in the Indian market and is creating potential opportunities for foreign firms willing to capture the growing PPE market in the country.
In fact, the Indian B2B e-commerce market is still in its developmental stage, creating massive potential for growth and expansion. In fact, the market increased at a rate of approximately 700 billion USD by the end of FY-2020 and is expected to grow exponentially.
Foreign investors can utilize the potential of the e-commerce channel to consolidate their position in the Indian market with a detailed strategy from consultancy firms and achieve a competitive edge.
Demand for R&D in Personal Protective Equipment:  A Great Scope for Foreign Players 
In the road ahead, to achieve better growth and competitiveness, the Government of India seeks to leverage India's vibrant research and development ecosystem. To develop and improve the quality and efficacy of PPE, India is actively seeking collaboration with foreign firms from countries that are leading innovators in the PPE segment.
Knowledge transfer at the international level through active partnership has, therefore, become the new order in the sector. This is creating a huge scope for leading foreign PPE producers to invest in the Indian market and achieve a profitable return on their investments.
How Industrial Plant Setup Consultants in India Are Aiding Foreign PPE Firms?
The massive growth of the PPE sector in India across various sectors following the COVID-19 crisis is offering promising opportunities for various foreign investors. In fact, India has become a global hub for PPE, attracting foreign investments at a major scale.
Amidst such compelling competition in the sector, foreign investors willing to consolidate their position in the Indian PPE segment require thorough market analysis and planning to reduce investment risks.
This is where the best industrial consultant in India, like Tecnova, comes into play. With a comprehensive India-centric strategy and manufacturing plant set up support, such consulting firms are helping foreign films capture the booming PPE market in India without any lapse.
The services include:
Expansion and growth advisory

Regulatory compliances

Vendor and distributor accusation

Retail rollout

Partner search

Comprehensive merger and acquisition support

Greenfield project management and more
Firms, like Tecnova, are making investing in the Indian PPE market easy and profitable.
Amidst a huge market scope, India's impressive development in the PPE segment is being recognized by foreign firms as a huge opportunity for the future. 
In fact, as of FY 2020-2021, India has sealed a business of 260 million USD, which is itself a mark of the increasing market demand and scope for business.
The rapid increase in domestic demand is also growing the business competition in the PPE segment. Therefore, without a thorough market research and competitor analysis, achieving profitability in the Indian PPE market is becoming challenging for foreign firms.
Consequently, investing organizations are pressed with the necessity to avail comprehensive help from leading industrial plant setup consultant in India for a detailed understanding of the market and achieving sustainable development and growth.
Image Courtesy:
www.freepik.com