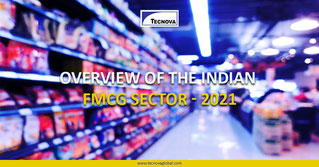 Indian FMCG sector is the 4th largest sector in the country, which promises attractive business opportunities for foreign investors. As per reports, the FMCG sector witnessed a healthy and promising FDI flow of 16.28 billion USD from April 2000 to March 2020. This was following a significant increase in private consumption as well as rural income since the last decade.
India's food and beverage sector is one of the essential components of the FMCG market, which accounts for about 3% of its GDP. Furthermore, the report also reveals that this sector is the single largest employer in the country, with more than a 7.3 million workforce.
Such impeccable signs of growth and statistical records certainly make the Indian FMCG sector and the food & beverage market a booming and lucrative ground for foreign investments.However, with opportunities, there is also a rise in competition and important recent trends, which calls for strategic planning to secure long-term success. For this, foreign investors must essentially collaborate with an FMCG consultant India or consumer good and retail consultant for formulating an India-specific market entry strategy and thereby secure profitable outcomes.
Important Insights into The Market Size And Understanding The Importance Of An FMCG Consultant India
Indian FMCG sector has witnessed unprecedented development on a number of fronts. As per another research, a significant change in the dynamics of the tier 1 and tier 2 cities of the country will account for a major shift in the market size of the Indian FMCG sector by 2025.
Here are some important pointers and growth trends in the FMCG industry in India, which reflect the fundamental transformation that the sector is going through.
The affluent and elite households from tier 1 towns having income above 10 LPA will account for 48% of the consumption by 2025. This is also characterized by a growing need for premiumizationand increased demand for branded products.
The report also states that all the Tier 2 towns of India will grow by 4.5 times and will account for about 45% of the FMCG consumption by 2025. It will be one of the main sources of growth for premium products – another lucrative playfield for budding foreign companies.
Furthermore, there is also a stark rise in rural consumption in recent times. The Indian rural FMCG market is estimated to reach a valuation of 220 billion USD by 2025.
To garner the benefits of these immeasurable changes in Indian FMCG market structure, foreign investors should adequately capture and analyze the shifting consumer behavior adequately.
A professional FMCG consultant India can be of great help in this regard. With detailed knowledge about the intricacies of the Indian market structure, consumer goods and retail roll out in India consultants can frame a definite market entry strategy after recognizing your goals and estimating the market competition.
Government Initiatives
In order to aid the growth of the FMCG sector, the Government of India is also actively framing lucrative policies, like:
In both Cash and carry and single-brand retail segments, the Indian Government has allowed 100% FDI. Furthermore, in the multi-brand retail segment, the Government has allowed a 51% FDI.
Production Linked Incentive Scheme (PLI) proposed by Indian union cabinet in 2020 has also provided a boost to the manufacturing capabilities and exports.
Furthermore, the initiation of GST has also reduced the tax bracket of many FMCG products by significant amounts. Most importantly, GST on food products is reduced to 0-5% only.
Some Recent Trends In Indian FMCG Sector
The COVID-19 pandemic and the nationwide lockdown unleashed a severe impact on the Indian food and beverage sector. To off-set the downward spiral in the industry and re-establish profitability, the industry has been formulating new measures as discussed below.
A professional consumer good and retail consultant can further help the cause.
Increased focus on Digitization 
Digitization has been an important trend in Indian FMCG sector during the COVID-19 crisis. Most FMCG brands collaborated with leading e-commerce websites like Flipkart, Big-basket, Groffers, etc., to deliver products to their customers by adhering to the safety protocols. An industry expert states that the sales share of e-commerce in Indian FMCG sector will increase from 2-3% in the Pre-COVID situation to 4.5% Post-COVID.
To capture this growth in digitization and e-commerce trends, foreign companies willing to expand their businesses in India must invest in tech tools and software in order to facilitate online shopping, product launch, and safe online transactions.
Collaboration with an FMCG consultant India has, therefore, become all the more important now.
With comprehensive human resource management and food and beverage consulting in India, a reliable consumer good and retail consultant can help you acquire skilled personnel and management teams for smooth business operations.
Owing to the stark reduction in customer footfall, most food and beverage businesses are actively shifting to cloud kitchen models.
This model is essentially serviced by tie-ups, who are collaborating with food aggregators that offer the facility of online ordering and delivery. This trend in India is expected to grow by 15% over the next few months.
Health and Wellness Category
There is a growing awareness among consumers about hygiene and well-being. Demands for organic products, healthy foods, and goods for self-care hygiene are significantly rising. Leading FMCG companies are embracing these new trends and are leveraging their efforts to create new products in the healthcare domain.
To capture this rapidly changing consumer behavior, foreign firms must take help from leading food and beverage consulting in India.
A professional consumer good and retail consultant will help to identify the new market opportunities and adequately formulate business strategies for long-term growth.
Increase in Packaged Products 
In the food and beverage segment again, there is a rise in demand for packaged food products following the health and hygiene trend of the COVID times. Consumers are looking for packaged ginger and garlic pastes, ready-to-cook food, and ready-to-eat food items. Furthermore, there is also a growing demand for immunity-boosting food and beverages like herbal tea, aloe-vera juice, and more.
Importance of consumer good and retail consultant in India
The recent trends, lucrative government policies, and impressive growth in the market size of the FMCG sector are improving the landscape for foreign investment in the industry. However, the overwhelming competition and complicated dynamics of urban and rural consumer demands certainly prove a critical hurdle for foreign organizations to formulate an India entry strategy.
This is why the importance of a reliable consumer good and retail consultant and FMCG consultant India, like Tecnova, is time and again established.
With a personalized approach, Tecnova, a leading FMCG consultant India, will offer you comprehensive services of food and beverage consulting in India, like:
Customized market study to identify approachable opportunities
Valuable consumer insights with thorough quantitative and qualitative research
A thorough operational and financial assessment with a strong implementation plan for retail roll out in India
End-to-end assistance in marketing and promotional activities
Help to source and establish manufacturing partnerships
Complete assistance in joint ventures and to acquire brand and distribution networks
Indian FMCG sector is developing rapidly and is creating optimistic opportunities for foreign organizations to expand their presence and establish a profitable business in the country. But amidst enormous competition, only a thorough market analysis and constant estimation of evolving consumer behavior will help in establishing a strong foothold in the respective industrial sector.
Therefore, it has become imperative for businesses to take the assistance of a reliable FMCG consultant in India. It will help to re-build the market entry strategy with robust food and beverage consulting in India and ensure higher returns and sustainable growth in the long run.
Image Courtesy:-
www.businessworld.in
www.freepik.com