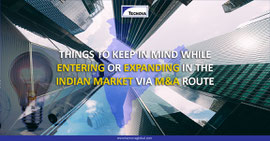 Things to keep in mind while Entering or Expanding in the Indian Market via M&A Route
In India, the mergers and acquisitions activity has been largely resilient despite the highs and lows throughout 2015 – 2019. The Indian market witnessed more than 3500 M&A transactions having an aggregate value of greater than USD 310 billion.
Sectors such as industrial goods, energy, telecom & media represented more than 60% of deals by volume and value. The Government initiatives and policies have brought tremendous trust in investors in India. The government's reform plan and the policies were mainly focused to encourage inbound overseas investments. There was also an uptick in Mergers & Acquisitions activity because of the introduction of new policies and laws such as the bankruptcy law, faster approvals started by the government as a part of its "Ease of Doing Business in India" campaign, and also by relaxation in Foreign Direct Investment ("FDI") norms.
The COVID-19 breakout which deranged the world last year has not left the Indian economy untouched. Several deals have been stalled in the country because of the pandemic, including the privatization of Bharat Petroleum Corporation Limited and Air India. Now with the start of vaccinations globally, several countries are able to decrease the spread of the virus and have gradually started lifting lockdowns, economies across the globe will look up to their governments for measures to revive the markets and help revive M&A activity. Also, with the pent-up demand because of last year, the question now is not "whether to deal or not" but it's "how to deal to create sustainable value".
Key Points to keep in mind while developing an M&A strategy: 
There is no doubt that M&A activities are going to take the Indian economy to greater heights this year but businesses need to have an effective and long-term market entry strategy evolving on the following key aspects:
Understanding the market size helps you to distinguish the addressable market and the available market. Understanding of both the market sizes gives you a better idea of the latest market trends and growth potential. The following five tips will help you understand the market size and the growth potential right:
– Bottoms-up analysis
– Competitor analysis
– Top-down market sizing
– Knowing market sub-segments
– Assessing the static market size
Selecting the Right M&A Entry Mode:
An entry mode is a formulated channel to enter into any new global market; The key entry mode mechanisms via the M&A route are:
– Joint Venture
– Acquisition
– Strategic alliance
Identifying the Right Business Partner(s):
Working with the new business partner(s) in a new market completely changes the dynamics of business operations. The following tips might be helpful to find the right business partner:
– Must be financially stable
– Must agree with your entrepreneurial spirit, vision, and values
– Must be free from personal liabilities
– Must have credibility and resources useful for your business
– Must have the necessary skills and experience
How can Tecnova help?
Tecnova is an international management consulting firm based in India which provides focused strategy solutions and implementation assistance to foreign companies for succeeding in the Indian market as well as helping companies to understand the market potential within emerging markets through research & advisory services.
Tecnova's Mergers and Acquisitions division has industry experts providing end-to-end solutions right from Market Mapping to Deal Closure and everything in between. By the virtue of working with clients across varied sectors, including a number of Indian companies – privately held, family-owned, and public – Tecnova has been able to garner experience and understand the intricacies of executing transactions or partnerships in India. Tecnova brings the following to the table:
Reduced risk –

Tecnova has ample experience in dealing with post-closure issues (which is why 50% of the total deals fall through, if not handled well).

Experience of working with Indian companies –

More than 90% of Indian companies are family-owned, which is important to understand while developing a long-term engagement.

Key focus on in-bound deals –

Tecnova has over three decades of experience in helping foreign companies to partner with or acquire Indian companies.