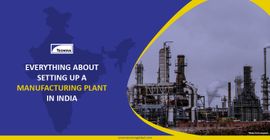 Manufacturing Plant Setup in India
The past year saw a slump in new greenfield projects in India, but with the pandemic now on its last legs, an affable attitude towards new greenfield projects is apparent in India. For instance, according to a report by Economic times, West Bengal govt. has put 6000 acres of land meant for Greenfield projects in a land bank and is now inviting industries to set up their manufacturing projects. Along with this, a 'mega greenfield' project is underway with 'Noida International Airport' being built in Uttar Pradesh. This project has drawn Rs.7,617 crores (USD 1.04 billion) in investment and this project has triggered massive developments in the adjoining areas with road and rail developments.
These are just a couple of the many Government initiatives that are now in motion in making India more favorable than any other emerging market for making it a manufacturing hub. Apart from the influx of new projects, there are new government implemented schemes that are conducive to the growth of a manufacturing project. These projects and schemes are making India a very favorable option for investors to start their greenfield manufacturing operations. Along with these schemes, there are several other benefits of starting a project in India.
Availability of Skilled and Unskilled Labor

India offers competitive gains with its lower wages and access to its huge skilled and unskilled labor work force than other countries. The Make in India initiative by the Government is expanding industrial investments and domestic operations, which are boosting the creation of technical jobs and factory and assembly work. In India, regional manufacturing hubs are clustered around major Tier-1, Tier-2 and Tier-3 cities in the northern, southern and western states, where majority of India's skilled labor is present.

Greater Access to New Markets

While planning a greenfield project in India, the target audience should not just be the domestic population market, but South East Asian markets as well. The trade linkages between India and ASEAN countries have witnessed rapid expansion owing to the increasing intensity of economic engagements between India and ASEAN countries.

Reduction in Corporate Tax for manufacturing Companies

To attract fresh investments in the manufacturing sector, any new domestic manufacturing company which is incorporated on or after 1st Oct 2019 will be allowed to pay corporate tax at the rate of 15% (plus applicable surcharge and education cess). No Minimum Alternate Tax or MAT will be imposed on these companies if they are not availing any other tax incentives or exemptions and are commencing production on or before 31st March 2023.

PLI Scheme

In order to boost domestic manufacturing as well as make India a global manufacturing hub, the Indian Government introduced sector specific Production Linked Incentive Schemes in 2020. Under this scheme, eligible companies can receive incentives which range from 4% to 6% of their production value for a period of 5 years. For this they need to achieve their investment as well as production value target for each of the 5 years. This scheme has recently expanded to 10 sectors after receiving initial traction in the mobile and electronics manufacturing sectors.
How Tecnova Adds Value add in setting up Greenfield manufacturing business in India
We take pride in our process which is based on the lean principles of management. Ensuring high-quality standards we provide an advantageous head start to all our partners. We have a strict and professional procedure that we follow-
Formation of Indian Entity and meeting regulatory Compliances

The journey of Greenfield business Setup here at Tecnova begins with the formation of an Indian entity. The process is facilitated by our industry and regulatory experts. Post incorporation, Tecnova helps the clients in procuring the required legal documents. This ensures setting up the entity legally, for further expansion and business activities.

Locating the site

We then deploy our on-ground experts as well as the highly specialized research team to locate the site for factory setup as per our extensive analysis mechanism. Our system accounts for multiple ground-level factors crucial for a greenfield manufacturing setup. Though extensive, this process marks the beginning of the physical setup of the factory. Thus, process forms the backbone of the whole engagement. Our team takes charge of ensuring that the site chosen for the factory setup is undisputed, secured and meets all the prerequisite criteria.

Drafting a Business plan 

Our research team then helps clients in developing a tailor-made business plan. We use our years of experience and local expertise in building a detailed and target oriented business plan. All financial planning and regulatory frameworks are taken into account.

Selecting local vendors 

The next step involves finalizing reputable, efficient and reliable vendors around the factory location. It is to ensure that all the processes such as engineering works, facilities management and logistics will be handled with utmost efficiency. We uphold our promise of providing end-to-end solutions. Therefore, we establish a manufacturing setup which upholds highest international industrial standards.

Recruiting workforce

Our in-house team of executive-recruitment experts follows a diligent process to recruit the best candidates for the Indian start-up team. Our experts follow an exhaustive process that is of the highest industry standard to recruit the workforce and employees for the facility.

Project Management 

Tecnova has successfully cut the resource and labor deployment time by more than 60%. Our next step is to take regular follow-ups from concerned vendors, authorities, and private contractors. It is to ensure the timely completion of the project. Building on our promise of 360 degree solutions, we also provide services such as inventory management, employee payrolls, supply chain management and other related activities.
Tecnova has till date assisted 100+ clients for setting up their manufacturing plant in India. It may become a tough task for companies to set up their operations in the country unless they have a trusted partner with an abundant on-ground experience. Tecnova provides end-to end Greenfield project management services to clients across the globe. Our services range from forming an Indian entity, location identification, drafting a business plan, vendor selection, recruitment to project management.