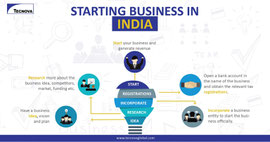 If you are planning Global Business Expansion these are the few reasons and factors to consider India in your plan.
One of the main reasons organizations decide to go global is to improve their expansion and growth potential. For growth-minded business owners, the world is their oyster. Seeking international growth by going global offers numerous opportunities. However, entering any new geography comes with its own challenges, which can be either establishing a new market for your products or services, learning the country's laws or even finding reliable partners. Now obviously, every business is not suitable for such an uphill task, but some are. Before you even decide to make the overseas leap, you need to be aware of certain important factors.
Why India should be on your Radar?
Ignoring one of the most optimistic emerging markets in the next decade could not be a wise decision. Indian economy is one of the fastest growing economies globally with a fast growing consumer class. Economists have forecasted India to be the 5th largest consumer market by 2025. Due to various Government measures and policy changes, India's ranking jumped by 79 positions to 63 in 2019 in World Bank's Doing Business Rankings, which makes it easier doing business in India. If the economy follows the trends pre-COVID, the numbers are only going to increase.
India, the 7th largest country by area, is ideally located right in the middle of South Asia and has a population of approximately 1.38 billion.
India is home to world's 2nd largest workforce, with approximately 501 million people.

It is a huge pool of skilled employees, qualified and professional managers as well as semi-skilled and unskilled workforce which is available at comparatively moderate costs which is often a fraction of the rates prevalent in developed nations.

Despite the COVID-19, business conditions in the Indian manufacturing sector are positive as the manufacturing component of Index of Industrial Production (IIP) is currently at 128.4
Factors to consider before starting India Operation.
Are your aspirations prompting you to debut your concept in India? 

Strategy and management consulting firms in India list some of the most important factors that can either make or break your business when you try to expand:
Local Market Knowledge: 

Through a thorough Market Research for your product or service, you'll know at an early stage if the product or service will sell?

Location:

 Since you or anyone from your team will probably have to be at the location temporarily to kick start and manage the operation in its early stages, you will need to have a basic language as well as cultural knowledge.

Infrastructure:

 Can you get similar level support you are familiar to, be it skilled manpower, electricity supply, water supply, vendors?

Pricing and Legalities

: You will need local know-how on how to set competitive prices, negotiate deals and navigate legal logjams.
Performing Background checks: 

Prior to entering into any contracts with any business partners, be it your vendors, distributors, dealers or logistics partners, you need to understand their past performance, reputation in the market and their impact on your business. Along with that prepare a market segmentation analysis to determine the salability of your product through different channels and also perform a product gap analysis against any domestic existing competitors. A detailed SWOT analysis should be a good starting point.

Organizational Readiness: 

Language barriers, regulatory and policy changes, local customs as well as cultural changes require any MNC to be adaptable during execution of strategies in the Indian market. With the one-size fits all attitude the organization can only benefit in the short-run, therefore it is imperative to develop a roadmap to achieve your objective which will bolster on-ground operations in the long run. Measures such as making compensation of employees attractive in line with local market standards as well as using domestic technology infrastructure which is compatible with the infrastructure at the parent organization level are few of the things to prepare for.

Financial Risks: 

If you are planning to enter or expand into new geographies or just business expansion into the Indian market with minimal risk but high concentration on sales as well as operations management; consulting firms in India can provide innovative solutions while mitigating your risks at the same time. Apart from that you also need to deep dive into analyzing the risks involved with every new market and address them one by one:
Analyzing the Supply Chain: 

Organizations must understand the supply chain as well as local distribution models from taxation and commercial standpoint.

Setting up systems as well as processes to capture financial performance: 

When any organization is entering the Indian market or any new market for that matter, through the indirect route, the local distributors and dealers become key reference points for authentic data.
Strategic Planning to Enter the Indian Market: 

Any MNC can start its operations in the Indian market by forming a local Indian entity according to the Indian Companies Act. The foreign direct investment that is allowed in such entities or companies formed under the Companies is up to 100%, depending on the sector. The foreign parent company can start its Indian operations by either a partnership or Joint Venture with an Indian company or by establishing a wholly owned subsidiary (not allowed in every sector) or even by  setting up a local representative office, establishing a branch in India or even a project office.

Local leadership: 

While planning for business expansion into India, it is logical to bring in expats from the parent organization in the starting phase, but it is imperative to gradually migrate to local senior management and leadership eventually for smooth running operations. This will also send an encouraging cue to the Indian executive team.
How can Tecnova help in your India Entry and Expansion plans?
Tecnova is a leading management consulting firm in India with more than 35 years of experience and has worked with 1500+ global clients. Furthermore, Tecnova equips foreign businesses to gain a strong foothold in the Indian market and achieve their business objectives and goals through its sector specific experience as well as a strong team of experts.