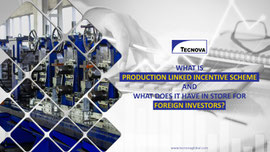 On April 1st, the Information Technology Ministry had notified a scheme, as a part of the National Policy on Electronics that would give 4-6% incentives to electronics companies, dealing with mobile phones and other components like diodes, resistors, capacitors and nano-components.
According to the scheme, companies producing phones in India that sell for Rs.15,000 or USD 200 or more will be awarded an incentive of up to 6% on incremental sales of such mobiles. In the same light, companies owned by Indian nationals making such mobile phones will receive an incentive of Rs 200 crore or USD 2 billion for the next four years.
The Production-Linked Incentive (PLI) scheme brought with it, the potential to attract big foreign investors, while encouraging domestic players to expand their units and production in India.
Extension of the original scheme
On 11 November, the Union Cabinet extended the initial scheme to 10 more distinguished sectors. Each of these 10 industries has untapped potential and with the required financial boost, these sectors can grow like never before. The sectors have been picked keeping in mind the need for job creation in India, as well as the potential of these sectors to attract international investors and achieve global growth.
Earlier, the goal of the PLI scheme was to boost domestic manufacturing and attract foreign investments in particularly three sectors, namely:
Large-scale electronics manufacturing,

Medical devices, and

Pharmaceuticals
Introduced by the Ministry of Electronics and Information Technology, this scheme aims to boost competitiveness and increase investments in the electronics chain, including mobile phones; electronic components like resistors, conductors, capacitors; and microelectronic instruments.
Initially, the targets for the scheme were eligible for incentives from 4-6% on incremental sales (over base year of the financial year 2019-20) of goods manufactured in India for five years after the base year. The PLI scheme was also approved for sectors of bulk drugs and pharmaceuticals, given the sector's immense potential to achieve significant growth and become a global manufacturer.
Accordingly, the Department of Pharmaceuticals then rolled out two PLI schemes –
PLI scheme for domestic manufacturing and funding of critical Key Starting Materials (KSM), Drug Intermediates and Active Pharmaceutical Ingredients (API), and
PLI scheme for promoting domestic manufacturing of medical devices.
Following a good reception for the PLI schemes, the government extended these incentives to ten more sectors with the same objectives, of boosting production and improving global competitiveness. This move is expected to increase India's exports, attract more foreign investors with higher financial investments, and make India an integral part of the global value chain.
Here is the list of the ten more sectors that have been brought under the PLI scheme:
Advance Chemistry Cell (ACC) Battery
Ministry: Department of Heavy Industries and NITI Ayog
Product lines: Advance Chemistry Cell Batteries
Electronics and Technology
Ministry: Ministry of Electronics and Information Technology
Product lines: Laptops and notebooks, displays, semiconductors, IoT devices, specific computer hardware.
Telecom and Networking Products
Ministry: Department of Telecom
Product lines: Core transmission equipment, next-gen radio access network, 4G/5G, access and customer premises equipment (CPE), IoT access devices, and other wireless equipment, enterprise equipment – switches, routers, etc.
Ministry: Ministry of New and Renewable Energy
Product lines: Solar PVs
Ministry: Department of Heavy Industries
Product lines: Automobiles and auto components
Ministry: Department of Pharmaceuticals
Product lines: Divided into three categories:
1 – biopharmaceuticals, patented drugs, cell- or gene-based therapy products. special empty capsules, complex excipients.
2 – Active pharmaceutical ingredients (APIs)/ key starting materials (KSMs), and drug intermediaries (DIs).
3 – i) repurposed drugs; ii) auto-immune drugs, anti-cancer drugs, anti-infective drugs, cardiovascular drugs, psychotropic drugs, and antiretroviral drugs; iii) in-vitro diagnostic devices (IVDs); iv) Phytopharmaceuticals; v) Other drugs not manufactured in India; vi) Other drugs as approved
Textile Products
Ministry: Ministry of Textiles
Product lines: Technical textiles, man-made fiber segments.
Ministry: Ministry of Food Processing Industries
Product lines: Ready to cook and ready to eat items, fruits and vegetables, marine products cheese, desi ghee, organic eggs, and poultry meat
White Goods (Air Conditioners and LED)
Ministry: Department for Promotion of Industry and Internal Trade
Product lines: Air conditioners and LED
Specialty Steel
Ministry: Ministry of Steel
Product lines: Coated steel, steel rails, high strength steel, alloy steel bars, and rods
What does this move have in store for foreign investors?
Under the revised scheme that includes 10 more sectors, various companies – both domestic and global – will receive incentives for producing goods in India. This move will foster a strong manufacturing ecosystem that will be backed by investors from far and wide. This will eventually boost the growth of MSME sectors of India, which will bolster India's economic growth and improve employment opportunities.
Successfully implemented, this scheme will provide the required strategies and incentives to promote the ten sectors mentioned above. This move will pull in more foreign investors, allow them a variety of businesses to invest in, and make India a renowned manufacturing destination post-Covid-19.