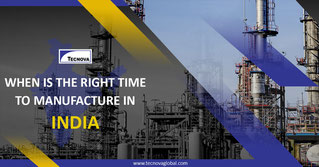 When officials or businesspersons think about manufacturing, China is the first name that comes to mind. However, different countries are preparing to grab the public eye, namely, India. India is proving itself to the other nations that it has the manufacturing potential, and there are various reasons for this. Firstly, India is the third-largest economy in the purchasing power parity, as compared to the US and China; its intellectual property is respected; it has a  large pool of engineers and factory workers, and lastly, it is easy to find an English-speaking Manager in India.
China and its inability to deal with the coronavirus outbreak has made it difficult for different countries to maintain their trust in the country and maintain good relations with it. Different experts have different viewpoints. Some say that India must be made a hub for manufacturing, post the COVID situation, as it will be beneficial for the country in various ways. There were many countries, which were dependent on China for their raw goods and materials, but now, they have started to re-think their ties with China and the way in which they will cover for their losses.
India, as such, canceled all its orders of the so-called 'faulty' rapid test kits from China, and it also revised its FDI policy to restrain the procurements of Indian establishments, which were targeted at China. Today, there is a huge prospect for the Indian economy to take a step forward, and become the manufacturing hub for the world, because now, these countries will be looking for altered pivots for manufacturing of their raw materials and goods.
Experts state that if India, as a country, works together and generates proper policies and laws, it can become the destination of choice for the global manufacturing sector in the post-COVID situation. They further state that the sectors concerning drones and robotics are bound to see a huge development and growth in India, along with investment and research, which will help the country to move forward into a digital age. This situation, the experts stated, is one of the greatest opportunities for the Indian economy to grow as a manufacturing hub.
A former President of the Confederation of the Indian Industry stated that going to offices and working is something, which humans are avoiding for their safety, to which, working from home has become a norm. He further added that the work from the home situation would add to the productivity of the workforce, as it will also involve women who choose to stay at home and work. They will have wider participation than men will in general.
The Secretary-General of the Industry Body stated that there is a widespread unanimity for the global manufacturing supply chain to be more spread rather than being concentrated in certain major countries, like China. He further added that if a country like India were able to survive the situation with minimum impact, then it would be able to become the manufacturing hub in different sectors, like computer hardware, pharmaceuticals, electronics, as well as medical devices, and engineering products.
Further, the Atmanirbhar Bharat Scheme may be able to provide the change and motivation, which India is looking for. This will allow the country's unsettled business set-ups to go forward with the Make in India campaign consisting of manufacturing, encouraging the production of local produce at lower prices as well as emboldening the switch of imports of low-technology goods from different countries, especially from China.
The Make in India scheme has a USD 265 billion or a 20-lakh crore-inducement compilation, which was publicized by the government that provides its main focus on giving tax breaks to small businesses, and encouragements for inland engineering. The MSMEs, under the Make in India scheme, have been provided with a USD 40 billion or Rs. 3-lakh crore collateral-free assistance, to help boost their maneuvers. India's factory output, in March 2020, was recorded at its lowest, which can be improved through collateral-free assistance.
According to the data by the World Bank, in 2018, China had a 14 trillion dollar GDP growth, which is an increase of more than $2trillion, when compared to its 2017 data. However, the Director-General and CEO of the Federation of the Indian Export Organizations, stated that there is a panic complex, which is clearly visible for China, as their exports have been banned entry in the US ports, which can lead to a huge breakdown in China's agricultural and consumable items. This stands as a great chance for India, as it is projected that the investment in the food-processing sector may proliferate and trade may move out of China.  Foreign businesses are planning to invest in India. For example, the UAE is planning to invest in India and increase its imports of Indian food grains and spices, which will, in turn, increase the GDP of the country.
It has been said that India's GDP will rise to 1.9% in the Financial Year 2021, which will make it the only country to have the most important economy in conjunction with China. It can further be stated that the entire economic growth of India might be the result of the post-COVID situation, with the world having anti-China sentiments. The factory set-ups in India is likely to be boosted by the COVID-19 situation and will also trigger the Global Supply Chain of India and the Distribution Partnership in India will also increase.
Today, setting up a factory in India is not such a difficult task, as Uttar Pradesh has been planning to offer incentives to the manufacturers who are planning to shift their base from China. This is a trend that has taken place due to the US-China trade war and it has disrupted the supply chains of China, owing to the COVID-19 pandemic.
If India wants to turn this calamity into a prospect, it needs to familiarize innumerable organizational improvements such as land and labor reforms, direct tax benefits, handholding investors, as well as allow industries to employ new employees or remove them. The tariff war between the US and China has delivered India with an opening to boost its market access to goods like cotton and steel.
Experts say that manufacturing is the only characteristic, which will allow India to revitalize half a million of its populace out of insufficiency. If the Prime Minister of India, Narendra Modi, is able to encourage people to unravel the country's land and labor for manufacturing, the international and native organizations will help hasten the progression of the economy.
Courtesy of Tecnova Global www.tecnovaglobal.com