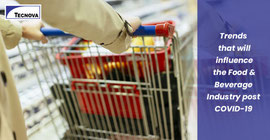 Key Trends That Will Shape the Food and Beverage Industry in a Post-COVID-19 World
Rising incomes and improving infrastructure in India along with its youth population have been key growth drivers in the FMCG sector. The urban FMCG has been the biggest contributor i.e. 55% to the overall FMCG sector in the country. Indian retail market was expected to reach to an estimated market value of US $1.1 trillion in 2020, whereas modern trade was expected to grow as a Compound Annual Growth Rate (CAGR) of 20-25%.
However, 2020 has pushed consumers throughout the world to change their life and work styles. COVID-19 has shaken the social and physical setting and this has greatly impacted consumer behaviour concerning the changing ecosystem. Habits such as responsible consumption, enhanced and improved convenience, and concerns such as provenance and personalization of food items have instilled quite fast and they are going to determine trends that will in-turn shape the food and beverage industry in India, not only in 2020 but in future as well.
Health and Sustainability:
Consumption of healthy food and concern for the environment are two key trends that have started to affect the food and beverage industry in India and this is also the first industry to witness such emerging trends.
India has had a rich heritage of herbal medicines and supplements and it reflects in the modern consumer behaviour as well. The nutraceuticals market in India is expected to grow from $4 billion in 2017 to $18 billion in 2025 due to the rising demand for dietary supplements from upper and middle class. The Indian natural healthy beverages recorded a robust 22% growth rate in 2016. Similarly, organic packaged food and beverages market in India is expected to grow at a CAGR of 10% by 2021.
Consumers' preference in food items has drastically changed towards immunity-boosting food items and beverages, and they have also become quite cautious about the origin of the food with regard to its nutritional value and taste. Products with high nutritional value have more appeal than conventional food. In addition, talking about the consumption of alcoholic and non-alcoholic beverages, people have started to avert careless consumption of both considering their impact on overall health and well-being. Such a trend has presented opportunities to both the established and emerging brands that are promoted and/or supported under the Make in India initiative to create and deliver products that will establish a personal connection with the consumer.
Transformed Convenience:
There was a time when convenience food meant that you can only eat unhealthy fast-food. Nowadays, the meaning of convenience in the food and beverage industry has transformed as consumers want the convenience that also goes in-line with their healthy and eco-friendly lifestyle. Therefore, many local brands in India have adopted a similar approach and started catering to the consumers as per their preferences, which again builds brand loyalty and a sense of trust towards the business. Small changes such as the use of paper bags or paper-based cartons can have a bigger impact on sales.
Similarly, using processed but healthy food is also becoming a trend where many businesses are supplying and delivering food items such as meats and easy to cook meals that virtually have no added chemicals and preservatives. While on one hand, such food items have a short shelf-life, but on the other, they are way healthier than their conventional counterparts.
Provenance and Personalization:
Consumers' focus on the authenticity and individuality of specific foods and beverages has pushed manufacturers and suppliers to emphasize on the quality of the food for meeting customer demands. This also has to do with preferences of millennials as they like to experiment with food from different
countries and cultures. Various brands have launched a mix of products that feature food in authentic Indian and western flavours, and they're doing quite well in those segments as well. So much so that Dabur has launched products that carry the taste of local foods to meet consumers' demand.
On the other hand, for personalizing and creating products according to customer preference, businesses require data. And, customers in India and across the globe have become quite aware of the use of their personal information. They want more transparency in terms of how their personal interests, likes, and dislikes are shared and used for creating personalise products and services. Talking about the FMCG sector in India, according to a report from Ipsos Global Trends, 69 % of Indian consumers agreed to share their personal information if online businesses use it transparently to create personalized services, products, and smart recommendations.
Conclusion: With increasing awareness about the health and well-being and impact of aspects of consumerism such as product packaging and life-cycle, customers have drastically changed their preferences in terms of what kind of products they want and how they want them to be delivered at their doorstep. Along with it, their viewpoint regarding personal information has also changed. Such trends clearly show the direction in which the FMCG sector of India is going and how these trends will shape up the sector once things get better after COVID-19.
Talking about setting up a business in the FMCG sector in India, Tecnova is one of the leading business consultants in India that has been facilitating market incubation services to its clients for more than 3 decades. We understand how Indian markets function and we've successfully helped more than 1200 business from all around the world to gain a foothold and thrive in various sectors in this country. Whether it is about understanding policies and regulatory framework, or mitigating risks and managing expenditure, Tecnova Global's high-impact strategies have ensured an extraordinary success rate.