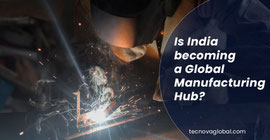 Manufacturing industry in India is a booming sector. Investments (in fixed assets) in the Indian manufacturing market are at an all-time high where Gross Fixed Capital Formation is currently at US $614.85 billion. Government initiatives such as 'Make in India' are sector-specific and are aimed towards making India a global manufacturing hub. And therefore, more and more global giants are turning towards business consultants in India for setting up their manufacturing bases in India
Indian Manufacturing Sector Market Size:
The Gross Value Added (GVA) at basic current prices from the manufacturing sector in India grew at a Compound Annual Growth Rate (CAGR) of 5% during FY16 and FY20 as per the annual national income published by the Government of India. The sector's GVA at current prices was estimated at US$ 397.14 billion in FY20.
Despite the COVID-19, business conditions in the Indian manufacturing sector are positive as the manufacturing component of Index of Industrial Production (IIP) is currently at 129.8. On the other hand, production of basic metals has also witnessed a robust growth at a CAGR of 10.8 %, intermediate goods at a CAGR of 8.8 %, food products at a CAGR 2.7 %, and tobacco products at a CAGR of 2.9 %. As a result, IIP of eight core industries stood at 131.9 in FY20. In addition, India's manufacturing sector capacity utilisation stood at 69.1% in the second quarter of 2019-20.
Recent Investments in the Indian Manufacturing Sector
The world economy is hurt by COVID-19 quite comprehensively. So much so that even economies of nations such as the United States, United Kingdom are suffering. Not that the India's economy is not hit, but the country has sought opportunities in such a crisis and emerged as a solid player in manufacturing. This clearly reflects its capability to produce goods at a faster rate given the financial restraints.
India is on the path of becoming the hub for hi-tech manufacturing as global giants such as GE, Siemens, HTC, Samsung, Toshiba, Apple, and Boeing which are ready to set up manufacturing plants in India. Some of that credit goes to India's market of more than a billion consumers and their increasing purchasing power.
Cumulative Foreign Direct Investment (C-FDI) in India's manufacturing sector reached US $88.45 billion from April 2000 to March 2020. Some of the major investments and developments in this sector in the recent include –
In October 2019, Berger Paints India Ltd, a Kolkata-based company, bought 95.53% stake of STP Ltd (STPL), which is primarily into waterproofing and protective coatings.
In September 2019, Mumbai got its first metro coach manufactured by state-run Bharat Earth Movers (BEML) under the 'Make-in-India' initiative.
Oricon Enterprises entered into a joint venture agreement with Italy's Tecnocap Group in March 2020 for setting up a new company, Tecnocap Oriental. The deal is about manufacturing lug caps in the Thane, Maharashtra.
Industry-wise Analysis of Indian Manufacturing Sector
Talking about the industry-wise analysis of the Indian manufacturing sector, the biggest industries are automotive, Pharmaceuticals and medical devices, chemical, electronic goods and equipment, defence, and textile. These are considered the backbone of the manufacturing sector. Here is a brief overview of several industries that contribute to one of the largest economies in the world.
Automotive Manufacturing


The automotive industry is approximately half of the manufacturing GDP in the country. The industry has slowed down a bit due to COVID-19 as the sales of vehicles have dipped approximately 15% in the FY 2019-2020. Most Indian and foreign brands have their R&D&I centres in India. However, on the other hand, raising environmental concerns have pushed the need for electric vehicles that has driven the trend of electronic vehicle ecosystem in which several foreign corporations are already active. The government is also thinking of reducing GST in auto sector to boost this sector.

Pharmaceuticals and Medical Devices Manufacturing


The healthcare industry in India was in 2017 the 4th largest employer in India. This sector is one of the growth drivers, supported by rapidly growing manufacturing of medical devices. In this sector, Internet of Medical Things (IOMT) and IT and robotic processes are considered driving factors in India. Similarly, the medical tourism industry in India is also thriving as the CAGR of the medical tourism industry has not dropped as it is already steady at 18% and the market value is estimated at US $9 billion.

Chemical Manufacturing


Indian chemical industry is quite diversified that manufactures more than 80,000 commercial products such as bulk chemicals, specialty chemicals, agrochemicals, petrochemicals, polymers, and fertilizers. India has evolved from a generic manufacturer to an innovative industry that works according to global standards with huge investments in R&D.

Electronic Goods and Equipment Manufacturing


One of the fastest-growing industries in India due to being the largest consumer electronics markets in Asia Pacific, India is an early adopter in technologies which makes it a high-growth segment. The industry is also placing its chips on AI and IOT driven R&D in manufacturing.

Defence Manufacturing


India with its 2

nd

 largest armed force in the world and the 5

th 

largest defence budget, the sectors is all set to spend US $130 billion on military modernization by 2025 whereas achieving self-reliance in defence production remains a key target. In recent years, the government has opened the defence sector for PPP for increased participation. However, foreign companies are yet to enter strategic partnerships with Indian companies. Even in the defence sector, the entry of private companies and PPPs are also encouraged by the government for releasing some pressure on the government-backed manufacturers and reduce imports.

Textile Manufacturing


India has been leading in the textile sector in the APAC region with high-quality garment and apparel manufacturing in addition to the traditional handloom and cottage industry, and not to mention the export-quality leather goods.
Conclusion: With improved policies and relaxed regulatory framework, India is quickly becoming a global manufacturing hub with the use of advanced technology and R&D. It is attracting increased businesses from all over the world for setting up a factory in India. On the other hand, many project consulting firms in India have seen this as an opportunity as they can help their clients in setting up and incubating businesses in India.
Taking this forward, Tecnova a leading business consultant in India with more than 3 decades of experience and having served 1200+ clients from all over the world. Furthermore, Tecnova enables foreign businesses to gain a foothold in the Indian market and achieve their business objectives through its decades-long experience in the field of consulting businesses.