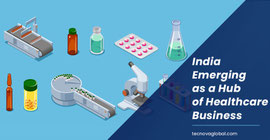 COVID-19 has pushed the whole world to accept the significance of producing and procuring generic pharmaceutical products. Exports across the globe have been affected immensely and more and more companies are entering pharmaceutical business across the globe. Being a major generic drug manufacturer, the world is seeing India as a Healthcare hub. And India has proved its manufacturing capabilities by quickly becoming the top PPE kit and face mask supplier.
Indian Healthcare Sector Market Trends
India's domestic market turnover has reached to US $20.03 billion in 2019 with a Compound Annual Growth Rate (CAGR) of 9.8 percent. By 2025, the pharma sector country is expected to grow to approximately US $100 billion market in which only medical devices segment is expected to be valued at approximately US $25 billion. In 2019-20, India made exports of US $20.70 billion which also makes the country the world's largest supplier of generic drugs with occupying of about 22 percent of global export volume in the industry.
Talking about different segments, wellness is particularly a high growth segment with an expected CAGR of approximately 18-40 percent by 20204. The market size is also likely to touch $33.37 billion by 2024 whereas the OTC drug market was evaluated at US $6.38 billion with a CAGR of 19.4 percent in 2019 which is expected to reach to a total market value of US $15.48 billion by 2024. Similarly, health supplements or nutraceuticals market is India is also expected to grow to a market share of approximately US $18 billion by 2025.
However, starting a pharmaceutical business for producing or procuring medical devices and/or drugs comes with a few challenges. In India, the regulatory framework under which the permission for importing/producing drugs and medical devices is given, is quite complex and Central Drugs Standard Control Organisation (CDSCO) oversees and regulates the entire process. The authority is responsible for any type of medical product registration in India.
CDSCO is responsible for approval of new drugs, clinical trials, import registration and licensing, license approval of blood banks, Large Volume Parenteral (LVP), vaccines, r-DNA products, medical devices, and banning of drugs and cosmetics.
Therefore, opting for the services of a pharma consultant in India is the best course of action that any business can follow. Business consultants in India are well-informed about the regulatory framework and guidelines, and above-all, how departments and its officials work on ground zero.
Regulatory Requirements for Setting up a Pharmaceutical Business in India
Central Drugs Standard Control Organisation (CDSCO)


The organisation holds regulatory control over the import of drugs and devices, approval of certain licenses as Central License Approving Authority (CLAA), approval of new drugs and clinical trials. The authority also oversees meetings of Drugs Consultative Committee (DCC) and Drugs Technical Advisory Board (DTAB).

Pharmacist


Pharmacists, also known as druggists, are health professionals who practice in the industry and are qualified professionals. These individuals also work in the field of chemical sciences and health sciences focusing on safe and effective medication use. Therefore, the companies will also need to hire such professionals for managing pharmacy-related operations.

Wholesale Drug License/Stock and Sales 


This license is a mandatory requirement for the businesses that want to buy and sell drug and medical devices in India. Along with it, the requirement of a pharmacist is mandatory to own WSL. The time line for this license is 45 days.

Registration Certificate for Drugs (RC, Form 41)


RC or registration certificate is only provided by the CDSCO authority once they successfully review the application with a validity period of 3 years. However, before a company applies for the RC, it is required to have a WSL and an online SUGAM account. This accounts is used for facilitating online application submission, processing application, and granting permission. The time line for this certification is 9 months.

Drug Import License (Form 10)


Form 10 or Drug Import License is required for importing drugs into India (issued by CDSCO) and obtaining a WSL is the minimum requirement for it. The validity of Drug Import License is equivalent to the expiration of RC (Form 41). The time line for this license remains 30-45 days.

Application Form for Medical Devices/Import Medical Devices (Form MD14, MD15)


After the implementation of Medical Device Rules, 2017 (MDR) in January 2020, import licenses are issued by CDSCO instead of RC for medical devices. The licenses will remain valid for lifetime unless there is any major change. However, the government fees is to be paid every 5 years. Import license MD15 is required for each appointed importer in India along with an individual SUGAM user ID is also required for each importer. In addition, No Objection Certificate (NOC) is not required from current MD15 holders. However, WSL still remains the minimum basic requirement for the same. The time line for this license remains 9 months.
How Tecnova Can Help Setting up a Healthcare Business in India
Tecnova is one of India's leading market entry firm with an experience of more than 2 decades in the field. Its India-centric policies and services cater to the clients from industries such as pharmaceutical and healthcare from across the globe and help them establish their business in India.
Here's a range of services offered by Tecnova in pharmaceutical and healthcare sectors along with healthcare consulting firms in India.
Drug, Medical Device and Cosmetic Registration with Drug Authority of India.
Identification & Selection of Partner(s) – Distribution, CRAMS, Clinical Trials and others.
In-Licensing and Out-Licensing of Products.
Setting up offshore R&D Labs in India.
Market Research & India market entry strategy
JVs/Acquisitions
Performance Improvement
Project Management for setting up Greenfield/Brownfield
Sourcing of API's, Formulations and Intermediates from India
360 degrees competitive assessment
Road-shows to connect with key decision makers and influencers
Conclusion – Setting up a pharmaceutical business in India has its own challenges. Different regulatory frameworks across the states, dynamic work culture, and changing economy are often hard to cope with. However, with the significant expertise in business set up and incubation, one can find India as quite a favourable place for doing business. And therefore, opting for the service of a business consulting firm in India becomes quite crucial.