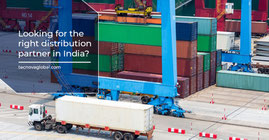 If your India market entry strategy is collaborating with an Indian distribution partner, then it is very important to make the right partner choice in order to be successful in a dynamic market like India.
India is on track to become one of the world's largest markets for Customer goods. Thanks to rapidly rising household incomes, its middle class is beginning to rival that of China. Better still, one third of India's population is between the ages of 20 and 35, a high-spending section in many niches.
The size of the pie in India is attracting the attention of consumer businesses around the world. Based on current projections, India is expected to turn into a $3.2 trillion economy at 2020 and hit $4.6 trillion by 2024. Needless to say, the diversity of India's civilization (which encompasses 16 languages, 350 tribes, and all significant religions) and the intricacies of its infrastructure pose critical challenges, but none could be as daunting as its complex distribution networks. Some outstanding businesses are starting to create advanced approaches for clearing that hurdle. A closer look at their practices indicates that success in India may not be as difficult as it seems.
There are many Multinational companies expanding into new markets, especially developing nations such as India, are often encountered with similar issues of the distributors underperforming even after engaging India entry consultant.If you are facing this issue then find out how you can manage underperforming distributors.
In this article, we will answer 5 key questions that every MNC is asking us before they decide on expanding into an incredibly lucrative and dynamic market. Let's first look at the India Entry Drivers.
1. Why Consider Expanding into India
Powered by a burgeoning middle class that's expected to grow to 89 million households by 2025 with rising per capita incomes, India will be one of the largest consumer markets by the mid-21st century. The consumption base is one part of the equation, the other being a robust business ecosystem capable of meeting its demands
While deciding to expand in India, you should consider the following –
India is a huge market

Second largest population at 1.3Billion
World's fifth largest economy

World's largest democracy
Strong appetite for North American and European Goods and Services
Consumption increasing @ 8.3% per annum
2. Is the market viable for my product and service
Once you have determined that India is in fact a huge dynamic market, the second question you have to ask yourself is whether or not this market is viable for your product and service.
There is only one way to accurately answer the above question and that is to perform an "In-depth" market assessment. And to do that, we strongly recommend that you engage an Indian Market Entry specialist, who can quantify and qualify whether there is a room for your product in Indian Market. Provided, you have engaged an experienced Business Consultant in India, you should be able to understand –
Market size for your product
What market share can you get
Effective pricing strategy
Local and federal laws
Impacts of regional Saliency
3. Why expand via distributor search
An effective distribution channel could be a source of strategic advantage for businesses. Yet, little research exists about the distribution channel structure in India, which is mostly traditional and rather unique. At Tecnova, we have successfully helped companies find the right distributors, aligning the company's vision and marketing strategy with the skill sets of the distributors, dispersed in different regions of the country, catering to diverse consumer needs. Based on our extensive experience in India Market Entry, we believe using distribution channel to enter Indian market has number of advantages such as –
Cost effective compared to other models
Can be implemented within 6-8 months
Provides management simplicity – No managerial layering and basic reporting structure
Go/ No Go Decision Supplement
4. What is the process of selecting a distributor partner
Successful exporters know the value and significance of participating in methodical and extensive due diligence before appointing a new distributor. Engaging an India Entry Specialist for distributor search and selection methodology can reduce the danger of false starts and squandering funds on distributor terminations in the future.
In India this is even more relevant as a result of existence of close-knit small business communities, a tiny distributor pool and the interconnectedness between many vendors and commerce partners. Distributors have also become very meticulous in their hunt for new manufacturers and provider partnerships and are looking for companies and brands that apply stringent and proven methodologies to their company research, selection and management campaigns as they view this as being vital for its long term success of the partnership.
a) Access wider Distributor Pool
One of the key responsibilities of a distributor is of moving the products. The right distributor enhances a company's exposure in the product market and can give an edge in terms of speed and efficiency.
In the start establish a broad pool of potential distributors using as many information sources as you can. Your market entry specialist should be able to help you cast a wider net so you can choose between the distributors based on your long-term business objective.
b) Create your ideal distributor profile.
The next step would be to narrow down the pool by creating a checklist of standards representative of an ideal supplier profile to your merchandise. For instance, if your product needs cold storage facilities and logistics this would be a key criteria to restrict your pool or if your export goal is to sell to the conventional trade (mom and pop shops), it might help narrow down your list to distributors with a large van revenue infrastructure and domestic reach. Creating and implementing this checklist strategy results in a shorter and more targeted list of prospects that meet your perfect distributor profile.
c) Pre-qualify and prioritize.
Sending an email showcasing the company, merchandise and forthcoming plans to travel to the marketplace gives the direct advance notice and sets the context to allow you to follow up with a pre-qualification call at which you're able to determine their level of interest and determine any conflicts of interest. By way of instance, ask if the supplier currently has a competing new product within their portfolio and if they do, ask them how they view your brand matching in. Sometimes a distributor may diminish attention right off the bat and may even recommend another distributor not on your list.
d) Prepare for the Interview
The next step is to prepare an entire collection of queries to the meetings with all the distributors which passed the screening and pre-qualification process. Some of the key areas to concentrate on are:
Number of years in business
Sales and supply structure (sales and merchandising force, distribution fleet, warehouse area )
Brands in their portfolio
Advertising and promotional activities
Channels serviced and variety of clients serviced by channel
Annual sales turnover or number of containers imported
Always set up the initial meeting in the supplier's office at which it's possible to get important clues and early answers to queries on your listing. For example, most of the best-in-class FMCG providers have a tendency to exhibit awards they have won within their waiting area or may have small product screens of the most coveted brands there. It is also possible to get a sense of the corporate culture based on how you are greeted at reception, that attends and participates at the assembly and if you're invited to tour the warehouse and offices after the assembly.
e) Assess the trade.
Always stop by the trade individually and before meeting with a prospective distributor to better comprehend the arrangement of your merchandise category in different distribution channels. For example, competing brands, SKUs accessible, category shelf space, prices, packaging styles and promotional and advertising material. This also provides an opportunity to concurrently evaluate how well the supplier's brand portfolio is distributed and merchandised.
f) Check references.
In the end of the process you must have a listing of two or three competent vendors. Now it is advisable to request a list of provider references so as to conduct background checks and to comprehend total operation and payment history before making a last selection.
5. Should I collaborate with an Market Entry Specialist
Having conducted over 2,500 projects in India, Tecnova has a strong database as well as network of organizations operating across businesses (B2B and B2C) and areas. Our extensive search ensure that you fully understand the market Economically, Culturally and are aware of the Barriers to Entry.
We consider every Distribution Partner search undertaking as a unique exercise, remembering the priorities and goals of the customer. We ensure that we are able to deliver an outcome after a thorough methodology according to our customer's preposition. Our assessment includes evaluation of strategic orientation, fiscal stability, supply reach, brand portfolio and functionality, business placement, clientele, adherence to regulatory compliances, reputation check and vendor management.
If you have any further questions, want to enter or expand your business in the Indian market, feel free to contact us!