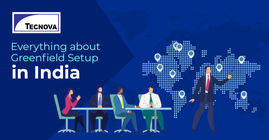 Since the last 10 years, India has become a lucrative manufacturing hub for companies from all sectors, with the foreign direct investment increasing speedily. The ample supply of the three essential facets of manufacturing – land, labour and raw materials have ensured continuous inflow of manufacturing projects in the country. Greenfield strategy is one that is of prominence for India, setting up a manufacturing base right from scratch is both viable and lucrative in India.
But, India is a very diverse country. This renders some doubts for foreign companies looking forward to making the country their next manufacturing or supplier hub. The process of creating a subsidiary company in a different country and building its operations from the ground up, is undoubtedly a very difficult task. The choice of when, how, and where to start is often a cumbersome process and requires local expertise.
With a plethora of experience, on-ground staff, local resources, and expertise, Tecnova has established itself as a frontrunner in providing Greenfield business setup in India. Tecnova has successfully implemented greenfield strategies for more than 50 companies to date and facilitated their India entry setup in a smooth and hurdle-free manner.
TECNOVA'S TREAD IN GREENFIELD BUSINESS SETUP IN INDIA
We take pride in our process which is based on the lean principles of management. Ensuring high-quality standards we provide an advantageous head start to all our partners. We have a strict and professional procedure that we follow-
1. India Entry Setup
The journey of Greenfield business Setup here at Tecnova begins with the formation of an Indian entity. The process is facilitated by our industry and regulatory experts. Their job is to make sure to provide you a hassle-free India entry setup. Everything is looked at with utmost care and legal importance.
With its broad established links, Tecnova also provides mergers and acquisition services. It is always available for the clients looking to adopt brownfield strategy.
2. Legalities
After the incorporation, Tecnova helps the clients in procuring the required legal documents. This ensures setting up the entity legally, for further expansion and business activities. We believe in building relationships. Therefore, we handle every process with utmost responsibility, integrity, and honesty.
3. Locating the site
We then focus on our on-ground experts as well as the highly specialized research team. They are the resources to locate the site for factory setup as per our extensive and detailed system. Our system accounts for multiple ground-level factors crucial for the greenfield entry setup. Though extensive, this process marks the beginning of the physical setup of the factory. Thus, it is on the top priority list of our team. Our team takes charge of ensuring that the site chosen for the factory setup is undisputed and secured.
4. Drafting a Business plan
Our experts help clients in developing a tailor-made business plan. It can be customized as per the needs and concerns of the clients. We use our years of experience and local expertise in building a comprehensive,
profitable, and achievable business plan. All financial planning and regulatory frameworks are taken into account. We understand the value of your money.
5. Selecting local vendors
Moving to the next step, we focus on finalizing the most efficient and reliable vendors from the local area. It is to make sure that all the processes ranging from construction to lighting will be handled efficiently on time. We uphold our promise of providing end-to-end solutions. Therefore, we establish a manufacturing setup that upholds the highest industrial standards and fulfills all needs of our clients.
6. Clearing and settling regulatory obligations
Before setting up the manufacturing facility, we know how essential and difficult it is to get all the legal approvals and settle all regulations. Hence, with its established sources, Tecnova initiates the process of procuring necessary approvals from all the concerned authorities. Once again following the highest commitment and integrity to assure all compliance and legal frameworks are well accounted for.
7. Recruiting workforce
Our talent-management experts then follow a rigorous process to recruit the best brains for the work. It is made sure that they are capable of running the facility as well as following up on the business plan. Our experts follow an exhaustive process that is of the highest industry standard to recruit the workforce and employees for the facility.
8. Managing the project
Over the years, we have compounded our expertise. We have successfully cut the resource and labor deployment time by more than 60%. Our next step is to take regular follow-ups from concerned vendors, authorities, and private contractors. It is to ensure the timely completion of the project as outlined in the business plan.
Building on our promise of 360 degrees solutions, we also provide services for retail rollouts, inventory management, employee payrolls, supply chain management, and other concerning activities. These have historically ensured that our clients get a head start in the Indian market and develop a lean approach to achieve both, short-term and long-term goals.
TO CONCLUDE-
We at Tecnova understand all your concerns and worries. From forming a local entity to procuring the labor and vendors for manufacturing, we stand beside you. We take pride in our process which is based on the lean principles of management. Ensuring high-quality standards we provide an advantageous head start to all our partners.
We try to leave no stones unturned in providing you a relaxed and smooth process of the factory setup.