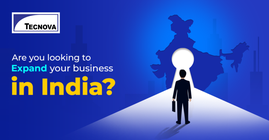 So you own a business and are looking to expand your business into India? India is undoubtedly one of the largest growing economies in the world, which also means that India offers great opportunities for you in a wide array of sectors.
If that's not enough, the purchasing power of Indians has never been higher, and the Indian retail market is growing steadily due to changes in consumers' lifestyles and a significant rise in their income.
Getting into the Indian market may seem easy, but sustaining a business requires the right expertise and guidance. Your entry into India will be welcomed by complex consumer behaviour, diverse culture, and diverse languages making your job quite daunting. The need of the hour would be to plan your market strategy, well in advance before laying foot on the Indian soil. Here are some tips which can help you to enter and grow in India while expanding your business–
Find the right growth partner
In all probability, you might find the entire situation to be quite intimidating. You may even back away from the thought of investing here just by looking at how things work in India. This is especially true when you are not exposed to the Indian business landscape before. This is where an ally like Tecnova, an India entry expert, who has an excellent understanding of the local ecosystem, can help you.
Understanding the Market
Developing a Business Strategy
Developing a strong and sound strategy that acts as an end-to-end directive for your business to establish its feet firmly in India is highly imperative and hence, finding and trusting a reliable growth partner is very important.
Search For A Partner
Unless you have the financial power to play alone in a foreign land, it is always better to join a local business that is strategically aligned with you. As they say, a team is always better than playing solo, especially on unknown turfs. For instance, the partner search service of Tecnova can help you to do just that. Through their wide network and multiple years of expertise, they can help you to find the right partner. It should be someone who is financially stable, has a wide distribution network, a large brand portfolio, and adheres to all regulatory compliances and other legal processes.
Remodel Your Product
Rule number 1 of business – Never make assumptions or generalize your target audience. A product that may work in your country might not work in another. So remodel your product that matches the culture of the country.
Hence, if you wish to expand your business in India, it is important to bring in innovative twists in your products. This will attract local customers, for it will be a fusion of local culture & your innovation.
h3>Have solid pricing strategy in place
When you enter the Indian market, the most important point to ponder over is your price strategy. It is vital to get it right in a country like India, where the vast majority of the population is middle-class. India may seem to be a precious conscious market, but in fact, the Indian market is value-conscious.
On top of it, most of these people have to pay for education and healthcare without any major support from the government. This means the market is extremely price-sensitive, and you have to keep the price just right for them to consume it. Hence, find an Indian consultant who would help you come to a price that is best suited for the market.
Invest Big
Do you know why some international brands are doing well in India? Because these companies were ready to take huge risks early on and invested heavily in the Indian markets. Your investment could either be in setting up your own verticals and plants in India, or talk about the M&A route.
Though the risks are high, the returns are significant in this. This is crucial to edge out all your competition out of the race.
Aggressive Marketing
Every consumer likes to be wooed into buying a product, and Indians are no different. Indian consumers are also extremely loyal. When they are part of a brand that treats them with respect by offering attractive offers and discounts, they will respond by eternal loyalty.
Thus, aggressive marketing is extremely crucial in the Indian business terrain, and you should invest your time on getting your marketing strategy right.
Taking The E-Commerce Route
India is the 7th largest nation in terms of size, which means the population is extremely distributed. It is an arduous task to reach your customers located in different parts of the nation. One of the easiest ways for Retail organizations to reach the entire nation is to go the e-commerce way.
The Internet and smartphones have penetrated the deepest corners of the country, and many Indians are shopping online these days. On top of it, the shipping and logistics services in India have matured in India.
The best part about e-commerce is that you don't have to invest in setting up multiple warehouses immediately when you land in India, and you can save considerable costs in it.
Summing Up
When you are entering India, you have to blend with the vast diversity of the country, and you must choose the right methods to reach the right audience. There is no doubt that the market is booming and there are endless opportunities for you, but it is not without its fair share of challenges.
You need a complete understanding of the country's market elements and the state of mind of the billions of buyers here to establish a strong foothold here. Hire a consultant like Tecnovawho will do all the critical work if you wish to penetrate in the Indian market. It ensures that your presence in India is fruitful through the myriad of services it offers.