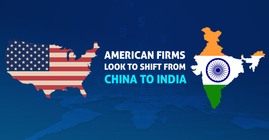 India is seeking to attract US businesses, including a medical device giant to relocate from China. The government reached out to over 1,000 US companies through an overseas mission to give incentives to the manufacturers who are seeking to move out of China in April.
The priorities of India include the medical equipment suppliers, auto parts, leather, textile makers, and the food processing units among the 550 products.
Japan and the European Union members have already planned to reduce their dependence on Chinese suppliers, with Japan allocating $2.2 billion to shift their factories.
This move would help growing the manufacturing industry to 25% of the GDP from 15% by 2022 after the lockdown to control the Covid -19 outbreak.
According to the officials, serious investments, governance, and infrastructure may help India gaining a position in the supply chain market.
Advantage of the Indian market
Officials attracted the US companies by stating them that India is more economical in comparison to countries like Japan and the US. Land and labour are more affordable in here. 
Taxes and labour laws
In addition, the companies have also been assured that India will consider making changes in specific labour laws that will make it easier for them to enter the Indian market. The taxes on the digital transaction may also be postponed considering the request of e-commerce companies.  
In this context, the Indian trade ministry is also seeking feedback from US companies regarding the modifications that can be made to make favorable labour and tax laws. According to an official, India is targeting the American healthcare devices and services companies. The advantages for these companies are (1) these companies have a presence in India (2) have worked with large hospital groups in Mumbai, making it easier for them to relocate their supply chain to the country. 
Efforts made by the Indian government
The Indian Prime Minister has made efforts like increasing the US investments, cutting the corporate taxes, massive public rally and a defence deal of worth $3billion. On the request raised by Trump, the ban of hydroxychloroquine and paracetamol export has already been lifted by the Indian government.  
The US has approved the investments worth $1.7 billion for the manufacturing of medical devices and drugs.
Indian states like Maharashtra and Tamil Nadu are also offering benefits to foreign manufacturers like (a) The supply chains will remain functional even during the lockdown (b) Tamil Nadu in the south and Uttar Pradesh offered a concession to foreign manufacturers. 
Government has made significant changes in its policies and efforts to make India an attractive alternative destination.  It may emerge as a trusted supply chain partner in the future.