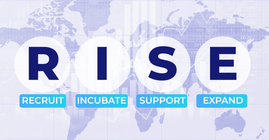 For companies planning to expand into other countries, India presents a fascinating opportunity, thanks to the stability in the region and it's scale.  The country has the fastest growing economy in the world and has deep untapped potential for foreign firms. According to the World Bank's Ease of Doing Business Index 2020, India jumped 23 places to the 63rd position. The report further noted that India made it to the world's top ten improvers list for the third year in a row due to four new business reforms being introduced. 
However, despite all supporting factors, hundreds of foreign companies fail to find a foothold in India and are forced to exit each year. This trajectory can be traced back to the numerous regulations, legal and financial complexities, and cultural challenges that the country's market poses. 
There are certain nuances that foreign businesses find hard to navigate through as they are starkly different from the usual procedures back home. This is where an experienced consulting firm with extensive knowledge of the market can be a game-changer and tip the chances in your favour. Tecnova's experience of over three decades has given us a strong understanding of the country, its policies and regulations and the kind of challenges that businesses can face. 
To help Global businesses expand into India, we have introduced a program called R.I.S.E.
R:Recruit – Recruiting experienced professional with industry-specific skills
I:Incubate – Fully equipped office space available pan-India 
S:Support – Availability of complete backend support services 
E: Expand – Assisting clients with deeper engagements in the market 
Objective: To offer a low-cost team set-up with minimalistic administrative requirements for business operations. We are hereby offering a complete plug-in-play solution; acting as a gateway for businesses looking for market entry in India. This comprehensive offering will include but not limited to – 
Staffing solutions;
Office solutions with ready to move in office space;
End-to-end office management and support functions;
Maintenance of HR, IT, communications, front desk and administration;
Curation of customized delivery model;
Option to lead business development activity in the region. 
Benefits: 
Restrained Financial Risk: Savings of capital investment leads to reduced financial risk with increased chances of liquidity availability. Also, the risk/loss on investments sums up to minimal with clean exit options.
Undivided Concentration: We ensure to handle the entire business operation while our clients focus on strategy and plan their market-entry and market gain. The resources hired will be under our payroll, thereby eliminating any red tape, whatsoever.
Expedited Market Entry: With undivided focus, clients have a better opportunity for operational functioning and market capture over a shorter span of time.
Cost-Effective: No fixed investments, competitive pricing, minimal time investment with a complete support system.
To facilitate your new office in India, R.I.S.E will deliver a seamless access to fully managed – 
HR Advisory 
Expense management 
Payroll Management 
Dual Redundant business grade fibre connectivity 
Power Back up 
R.I.S.E. aims to  further assist businesses to find their hold in the Indian market and achieve their objectives. Over the past years, the cumulative growth of Indian industries and increased purchasing power of customers, lead to an exponential increase in foreign investments and demand for entry into the Indian market. Further, our business outlook still marks positive growth despite the prevailing global grim situation. Our team is dedicated to helping several foreign businesses script success stories in the Indian market. 
Embark on the journey to tap into one of the fastest growing economies in a stable region.