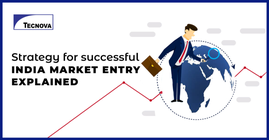 India has emerged as the fastest emerging global economy in the world and is also poised to enter the league of the top three super economic powers soon—supported by the government's futuristic policies and growing foreign investments.
According to a report, India registered GDP growth at 5% in 2019-2020. It is the world's third largest startup base with a labour force expected to reach over 170 million by 2020. Additionally, India's foreign exchange reserves were USD 448.59 billion till November 22, 2019. With these improvements in the economic landscape, India has been witnessing huge investments from all over the world in various sectors.
However, the country's cultural diversity encompassing different languages, religions, and laws can sometimes prove a hindrance for organizations seeking business opportunities for expansion. The following guide is a glimpse of the roadmap for successful India market entryand an opportunity to understand why expanding a business to India is a stake that promises big returns on investment.
Why Choose India for Business Expansion?
According to a new FDI policy, 100% direct investment is allowed.  
India is the world's fastest growing major economy along with China.  
India is the world's largest democracy with a labour force of more than 170 million.  
India's Total Exports recorded USD 26.0 billion in January 2020  
Merger & Acquisition (M&A) activity in India reached USD 48 billion from January to September 2019.  
Companies in India have raised more than USD 114.1 billion through 768 initial public offers (IPO) in the first 9 months of 2019.  
FDI equity inflows reached USD 436.47 billion between April 2000 and June 2019. 
India is poised to become a USD 3 trillion economy by the end of 2020—according to the union budget for 2019-20 tabled by Nirmala Sitharaman, Minister of Finance and Corporate Affairs.  
India is poised to attract an investment of USD 100 billion for the development of oil and gas infrastructure.  
Agriculture export from India to meet export target of USD 60 billion by the year 2022.  
The government of India is all set to increase public health spending to 2.5% of GDP.  
The cabinet committee of economic affairs has approved to increase the authorized capital of food corporation of India (FCI) from USD 500.79 million to USD 1.43 billion.  
The union budget 2019-20 states that public sector banks (PSBs) will be provided with a capital infusion of USD 10.02 billion to help NBFCs raise foreign debt.  
Indian automobile industry is the world's fourth largest and seventh largest manufacturer of commercial vehicle.  
Indian automotive industry is poised to reach USD 282.2 billion by 2026. 
The government is planning to turn India into a global manufacturing and R&D hub.  
Luxury car market in India is growing. It is poised to increase with 25% CAGR in 2020.  
India fulfils over 50% of global demand for vaccines, 40% of generic demand in the United States, 25% of all medicines in the United Kingdom. 
According to Pharma Vision 2020, the government's department of pharmaceutical is planning to make India a hub for end-to-end drug discovery. 
India's retail market is expected to hit a milestone of USD 1.1 trillion by 2020.  
 The government of India has given green signal to 100% FDI in the cash and carry segment and in single-brand retail.  
The government has approved 51% FDI in multi-brand retail.  
GST will completely transform the entire India FMCG sector.  
Indian government's initiatives such as Make in India have been garnering accolades world over. They are all set to place the country on the world map as manufacturing hub and give global recognition to the economy.  
Make in India is poised to grow the share of India's manufacturing sector to the gross domestic product to 25% by 2022.
The fore mentioned figures and statistics combined with the  right strategies can help any business gain ground in India. If you are keen on expanding your business to India, contact the most trusted India market entry firm today and make your expansion journey risk free.